Philippine Presidential Election: Binay, Poe Keep Lead In Latest Poll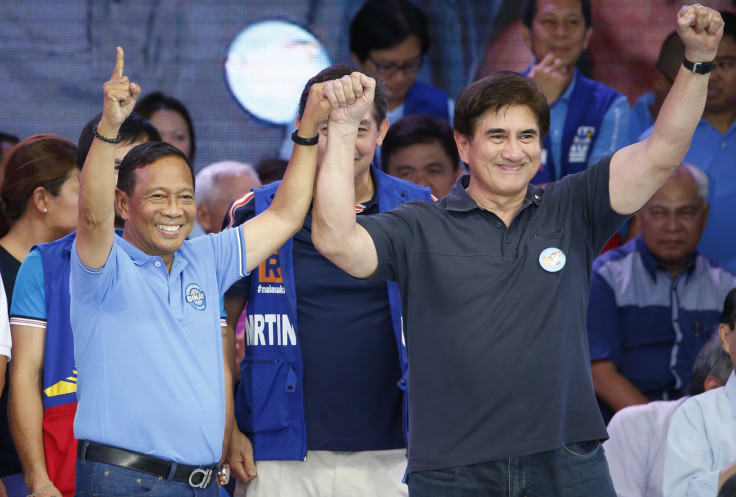 Philippine presidential candidates' popularity was little changed in the latest survey by one of the country's two biggest polling organizations. Vice President Jejomar Binay saw his support slip marginally while Sen. Grace Poe's numbers were steady.
Binay's support fell from 31 percent in January to 29 percent in a survey conducted Feb. 5-7, according to a BusinessWorld-Social Weather Stations survey that had a 3 percentage point margin of error and was released on Monday. Poe held steady at 24 percent.
Davao City Mayor Rodrigo Duterte's backing rose from 20 to 24 percent, while former Interior Secretary Manuel Roxas saw his support dip from 21 to 18 percent. Roxas is the candidate of President Benigno Aquino, who is barred from seeking a second six-year term.
Binay also dropped in the latest survey by Pulse Asia, the country's other big political pollster. Poe surged in that poll, which was released a week ago.
Poe has recovered from a dip that coincided with heightened speculation she may be disqualified over citizenship and residency issues. The citizenship issues stem from her being abandoned as a baby, leaving the nationality of her biological parents unknown and raising questions about whether she meets the constitution's "natural-born Filipino" requirement. She was adopted by one of the country's biggest movie-star couples, then studied and lived in the U.S. for much of her 20s and 30s, leading to questions about whether she meets a 10-year residency requirement. The case is now with the Supreme Court.
Binay faces corruption allegations stemming from his and his family's 30-year rule over Makati, the Philippines' richest city. He says the allegations -- and the freezing of his bank accounts -- are politically motivated. While Roxas has maintained a clean reputation in 20 years in government, he has been painted as an ineffective executive and uncharismatic. Duterte, a surprise candidate, has attracted support in spite of (or because of ) his reputation for vigilante justice and womanizing. Analysts say his campaign will falter because he lacks a strong national organization and funding.
Aquino's successor will have to maintain one of the fastest growth rates in Asia while pursuing "inclusive growth," or spreading the wealth across an economy that has one of the highest unemployment rates in the region, forcing millions to work abroad. He or she will also have to decide whether to maintain Aquino's tough stance against China's expansion in the South China Sea. Poe has backed Aquino while Binay has proposed joint exploration for gas and other natural resources.
© Copyright IBTimes 2023. All rights reserved.