Philippines Typhoon 2011: Nesat Kills at Least 16 in Manila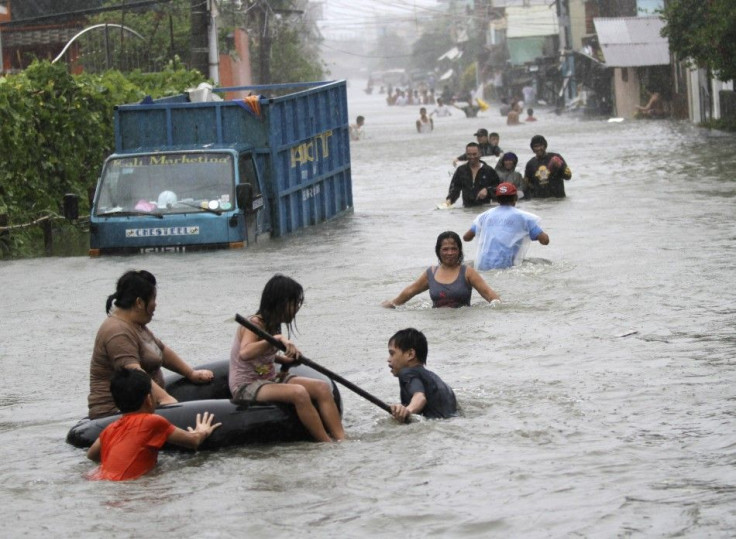 Typhoon Nesat killed at least 16 people when it made landfall in the Philippines Tuesday morning, and at least eight more were missing.
Nesat, which spanned about 400 miles in diameter, was packing sustained winds of about 75 miles per hour when it reached Manila, with gusts exceeding 90 miles per hour. Many areas saw overwhelming flooding, with water waist-deep and waves as tall as trees. The flooding was made worse by the fact that the ground was already saturated from monsoon rains.
There were widespread power outages in Manila and other cities and villages in Luzon, the largest island of the archipelago that makes up the Philippines. The national stock exchange and the U.S. embassy there were both forced to close.
Benito Ramos, undersecretary for the National Disaster Risk Reduction and Management Council, told Gulf News that the typhoon affected 64,431 people, 13,629 families, 153 villages and 10 cities, mostly in the northern provinces of Luzon.
The confirmed casualties were attributed to a variety of factors, including drowning, landslides, downed trees and car accidents. They were as young as 1 and as old as 63. At least 104 people were rescued, mostly from floodwaters, in various parts of Luzon, Ramos said.
Typhoon Season
About 20 Pacific typhoons and other severe storms hit the Philippines every year. In a sad coincidence, the typhoon came just a day after the two-year anniversary of a cyclone that killed nearly 500 people in the Philippines in 2009.
Typhoon Nesat was expected to leave the Philippines by Tuesday evening on its way to southern China, but the Philippines wasn't quite out of danger yet. Christian Science Monitor reported that there was still some risk of mudslides from the Mayon volcano southeast of Manila. Mudslides there killed up to 1,600 people after a typhoon in 2006.
Nesat may have some long-term effects, too, if a large number of crops in the rice- and corn-growing regions of central Luzon were damaged by the storm. The governor of Isabela province told Reuters that up to 15 or 20 percent of rice crops in the province could have been damaged.
© Copyright IBTimes 2023. All rights reserved.