Pininfarina Battista Electric Hypercar Is Faster Than A Fighter Jet
Yes, you might call German carmaker Automobili Pininfarina GmbH the Tesla of luxury electric cars.
The world's newest car brand, and the only one solely focused on producing a full range of luxury and premium electric cars, unveiled its first electric vehicle -- the Pininfarina Battista electric hypercar -- that can accelerate faster than a General Dynamics F-16 fighter jet.
Is that possible? Yes, because the Battista can accelerate to 180 mph (290 km/h) in less time than it takes an F-16 to do the same. Equally impressive is that the hypercar's four electric motors can generate a combimed 1,900 horsepower, allowing it to hit 60 miles per hour (97 km/h) in less than two seconds!
This fantastic speed makes Battista the fastest street-legal car ever built. It also makes it more than a match for any gasoline-driven Formula One race car in a duel to reach 60 mph first. Obviously, it trumps any other electric vehicle, including all Tesla models.
Automobili Pininfarina's vision is to combine sustainability and luxury and make the brand a pioneer for sustainable mobility. And to support this aim, the company will produce only 150 of the Pininfarina Battista.
The Battista was revealed at the New York Auto Show on Tuesday and already over half of the 50 hypercars allocated to the United States and Canada have been reserved. This machine can be yours for $2.5 million.
Deliveries of the Battista to North American clients begin in late 2020.
Automobili Pininfarina CEO Michael Perschke said the Battista's arrival in New York "is a proud moment for the entire Automobili Pininfarina team, as we can finally begin to bring the next generation of hypercars to discerning customers throughout North America. We're quite confident that this is the car that makes the United States fall in love with ultra-high-performance electric vehicles."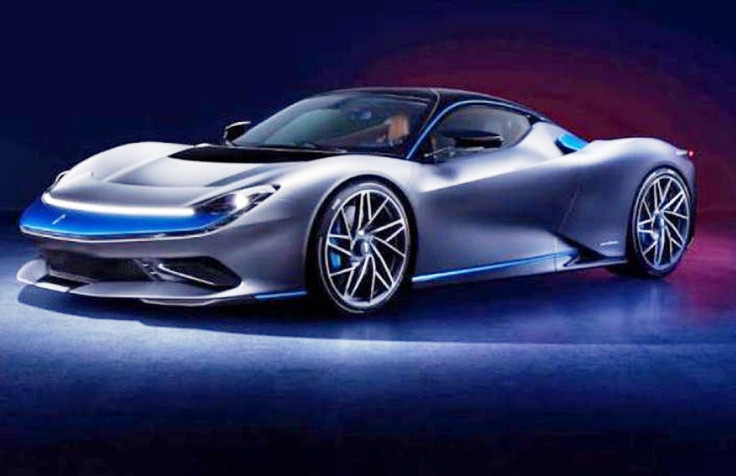 The Battista's Rimac T-shaoed 120 kWh battery drives four non-synchronous electric motors -- one at each wheel -- that combine to produce a targeted 1,900 hp and 1,696 lb/ft torque.
It can reach a top speed in excess of 349 km/h (217 mph), can accelerate from 0 to 100 km/h (0 to 62 mph) in less than 2 seconds, and 0 to 300 km/h (0 to 186 mph) in less than 12 seconds.
This speed machine is built on a carbon fiber monocoque chassis and carbon fiber body panels to keep the weight low.
© Copyright IBTimes 2023. All rights reserved.