PointPay: Redefining Banking Through Blockchain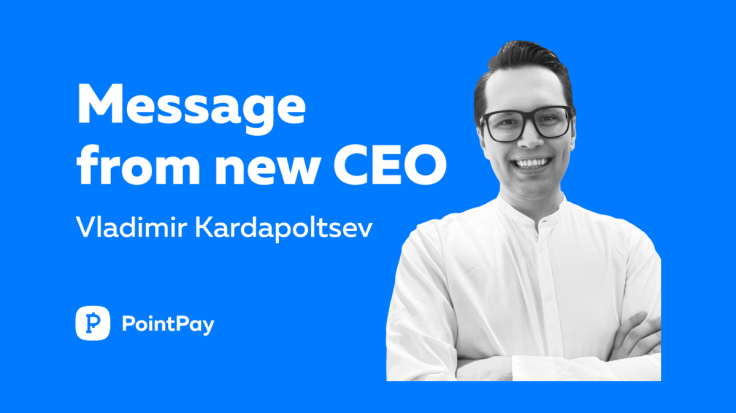 With the growth in demand for blockchains, it is only a matter of time we start seeing blockchain-based banking systems.
The blockchain space has evolved, and every industry is looking for ways to integrate blockchain into existence. The advantages of a blockchain go beyond reasonable doubt as more and more companies are looking for growth and efficiency.
Many people want a platform where they can access a range of blockchain services without going back and forth on different platforms, which led to the rise of the PointPay ecosystem.
PointPay: Redefining banking through Blockchain
PointPay was created due to the need in the market for blockchain-based banking. It is an all-inclusive cryptocurrency ecosystem with several products of financial services. They are all related to blockchain banking to give users convenience and efficiency. Members-only need to create one account to access all of PointPay's features.
PointPay is built on the Ethereum blockchain. Some of the products of the PointPay ecosystem include blockchain-based banks, crypto exchanges, crypto wallets, payment systems, crypto schools, native off-chain technology, mobile crypto banking apps, and a PointPay loan module.
PointPay blockchain-based bank allows users to have both crypto checking and crypto savings accounts. Through the accounts, users can earn compound interest on their tokens. The bank supports multiple cryptocurrencies such as Bitcoin, USDT, Ethereum, tokenized gold, Bitcoin Cash, and the PointPay token PXP. The platform gives the highest interest rates in the industry.
The crypto loan module allows users to get instant crypto credit while using crypto assets as collateral. The best part is that users are not subjected to expensive Ethereum network fees and long confirmation times since the system uses PointPay native off-chain technology. With the off-chain technology, users of the system can complete instant transfers between PointPay products.
PointPay payment system allows customers to use their credit and debit cards to buy and sell crypto. The platform supports Visa, Mastercard, SEPA, MNP, and bank transfers.
The crypto exchange enables users to trade their cryptocurrencies. The platform gives a convenient custom trading UI with the market limit, stop-limit orders for PROs, and the Quick Exchange option. In addition, there are video tutorials if you are a beginner and need guidance or a PRO that is looking to possibly learn something new.
PointPay crypto wallet gives you the convenience of monitoring your cryptocurrency price changes in your portfolio. The wallet provides the option to send crypto through email and track any price changes in the cryptocurrency portfolio. The wallet is convenient as it has a multi-currency capability.
Blockchain Banking is the PointPay way
PointPay token is what fuels transactions in the ecosystem. PXP is an ERC-20 compliant token that is issued on the Ethereum blockchain. It is compatible and linked to all products of the ecosystem. All payments in the ecosystem are made using the PXP token.
Many advantages come with using the PXP token as a means of payment in the platform. With the PointPay bank, you can get 20% APR on the savings account using the PXP token. When it comes to PointPay exchange, you can reduce your trade trading fees by up to 80% from the system fee. When it comes to Crypto School, users can access premium video tutorials with advanced trading strategies.
All token holders get up to a 40% discount on all internal cryptocurrency transfers in the system.
When it comes to taking loans, you can instantly get loans and at a discount. PointPay payment system helps users to get a cashback of 1% in PXP when they purchase cryptocurrencies.
PointPay ecosystem has mobile apps hence you can access all of the services in the palm of your hand. With the apps, you can earn daily interest, instantly exchange currencies, trade crypto and etc.
PointPay: Disrupting the Financial World
Since its launch in 2018, PointPay is making progress. There are over 60 fiat currencies supported; there is military-grade encryption to store private keys, over 300,000 Community members worldwide, over 200,000 active users, over ten launched products, and a high user rating from users.
PointPay is no longer a "start-up", and it is currently becoming a market leader. As part of this change, Vladimir Kardapoltsev has been appointed as CEO of the company. He has more than 7 years of software development and is highly knowledgeable when it comes to cryptocurrencies. Vladimir has worked on numerous successful FinTech projects before and he will be a great asset to the company.
In Q4 of 2021, PointPay plans to integrate SWIFT payments, integrate ACH payments, enable the ability to list other projects and tokens, and enable classic exchange on apps.
A lot is in store for 2022.
What does the future hold?
There is so much more to expect in the industry. The fact that the market responded well to PointPay, shows there is a need. In the future, we will have many more platforms that will offer similar services. There is no doubt that blockchain adoption is rising, and the trend is not going down any time soon.
FOLLOW MORE IBT NEWS ON THE BELOW CHANNELS