'Pokémon Let's Go' Games Require Players To Use Motion Controls To Catch Pokémon
"Pokémon: Let's Go Pikachu" and "Let's Go Eevee" won't be out until Nov. 16, but new details about their gameplay have surfaced online. Catching Pokémon in the games will require players to use the Nintendo Switch motion controls.
"In handheld mode with both Joy-Con attached — you are still required to move around to aim, but you press a button to throw the Pokéball," the statement Eurogamer received from Nintendo read. "It is not touch screen like on a smartphone because the Switch is quite a bit heavier than your smart phone."
This means that motion controls in "Pokémon Let's Go" are compulsory regardless if users are playing the game in TV mode or handheld mode. This might become an annoyance for many who prefer to primarily play Switch games in handheld mode. How motion controls will work in handheld mode wasn't explained, but it's possible that players will be required to move the console around.
There are users who are completely fine playing Nintendo Switch games with motion controls, but usually there's a way to turn it off or just not use it. For "Pokémon Let's Go," having motion controls as a required playing method might turn off some users, and it could also prevent people with limited movement capabilities from enjoying the game, as pointed out by Nintendo Life.
This isn't actually the first time that Nintendo required motion controls for its games. In "The Legend of Zelda: Breath of the Wild," motion controls are required for some shrine puzzles, as pointed out by Comicbook.com. The difference here is that motion controls in "Pokémon Let's Go" are deeply integrated in the new games.
Nintendo also announced the Pokéball Plus controller for the games. It doubles as a Joy-Con controller and fully supports the motion controls of the Nintendo Switch. It also lights up, vibrates and makes sounds of Pokémon that's been captured. It's possible that Nintendo and The Pokémon Company introduced this new controller because it's the ideal device for the compulsory motion controls of "Pokémon Let's Go."
In other news, The Pokémon Company confirmed this week that gamers will be required to pay for a Nintendo Switch Online Service subscription in order to take part in online battles and trading in "Pokémon Let's Go Pikachu" and "Let's Go Eevee." A monthly subscription costs $3.99 a month, while yearly subscription costs $34.99. The Nintendo Switch Online Service is scheduled to launch in September.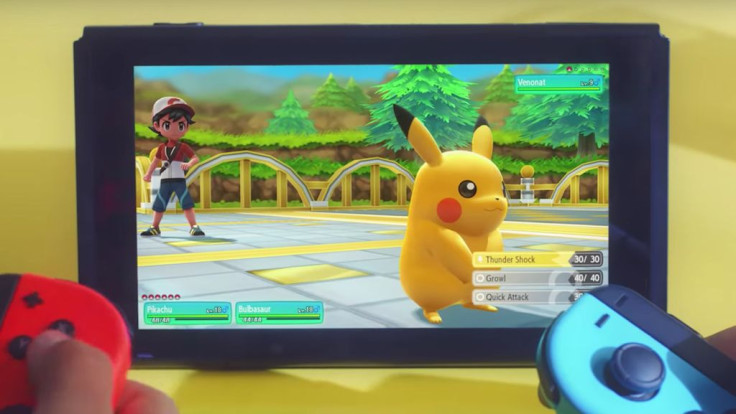 © Copyright IBTimes 2023. All rights reserved.
FOLLOW MORE IBT NEWS ON THE BELOW CHANNELS