GOP 2016: Emails Show Carly Fiorina Super PAC Helps Out At Campaign Events, Despite Coordination Rules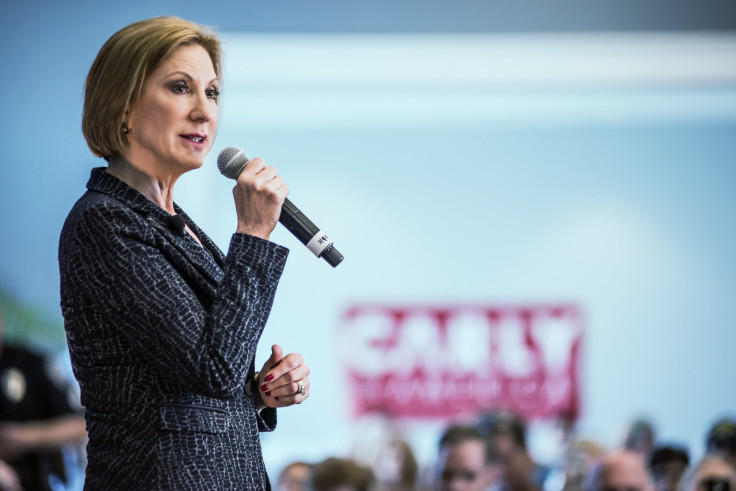 Carly Fiorina's presidential campaign may be fizzling out. But her campaign could have an impact far beyond the 2016 race with the questions it's raised about U.S. campaign finance rules.
Federal election regulations are meant to bar campaigns and outside groups from coordinating, but Fiorina and other presidential hopefuls have relied on super PACs to fill crucial roles traditionally handled by campaigns. She is among a handful of Republican candidates who exploited an apparent loophole in the campaign finance system, filming videos and advertisements with super PACs before formally announcing their campaigns. On the Democratic side, one super PAC contends it's allowed to coordinate directly with Hillary Clinton's campaign because its work is posted online only.
There's a financial incentive to this approach: Campaigns can take in only a few thousand dollars from an individual per election cycle, while super PACs can accept unlimited donations. With the Federal Election Commission (FEC) slow to act, the lines between campaigns and outside groups have become increasingly blurred. This is in part a function of the FEC's structure. The commission comprises three Democrats and three Republicans, and routinely deadlocks on policy decisions — including on the question of whether candidates may record ads with super PACs before announcing their bids.
In the 2016 field, Fiorina's campaign appears to be working more closely with a super PAC than her opponents. The group, named CARLY for America, frequently handles advance work for her campaign events. Its staff members collect voters' contact information and hand out CARLY for America materials, and often manage the Eventbrite websites where people sign up to attend her events. At event after event, Fiorina can be seen speaking in front of signs bearing the super PAC's logo.
(The super PAC's name is in capital letters in order to comply with FEC rules prohibiting them from using a candidate's name. CARLY is, technically, an acronym for Conservative Authentic Responsive Leadership for You — and for America.)
In interviews with National Journal and the New York Times, representatives for CARLY for America have said the group doesn't coordinate with Fiorina's campaign. They say its staff members learn about Fiorina's events online through a public calendar and show up with super PAC materials and signup lists.
But an International Business Times review of documents from two public universities and one college where Fiorina attended events suggests it's not so simple.
The super PAC appears to have played an active role in helping organize a September event at Winthrop University in South Carolina, according to a review of emails between the school's employees, staff for the Fiorina campaign and CARLY for America.
When a Winthrop University employee could not reach a Fiorina about correcting details on the Eventbrite website for the event, she reached out to Taylor Mason, a super PAC staff member listed as a contact on the Eventbrite page.
"I have a few questions about the location," Mason wrote back after fixing the details. "What is the address of the building? Where should people park? Is there handicap parking available? Do y'all plan on putting something out to your students to let them know she'll be there?"
Soon, the super PAC received an advance walkthrough of the event location, after Mason arranged a meeting between a university employee and his group's field director. The school staff member wrote in a subsequent email to the Fiorina campaign, "The PAC rep who toured the space yesterday said CNN and Fox News was traveling [with] the campaign."
Asked if it was appropriate to give the super PAC a walkthrough of the event, the university's vice president for university relations, Jeff Perez, provided a statement to IBT: "We at Winthrop University are very proud that nine presidential candidates have visited our campus, more than any institution on the Eastern Seaboard. More than 15,000 people have visited our campus to attend these events. The university is not in a position to distinguish among the individuals working on behalf of the candidates."
Perez said the university employee who corresponded with CARLY for America "is no longer employed by Winthrop," but that her departure was unrelated to the event.
"This fits the larger narrative that the super PAC is basically running the campaign's events," said Larry Noble, a former FEC counsel who works for the nonpartisan Campaign Legal Center, after reviewing IBT's documents. "The whole thing frankly makes a mockery of the law."
Noble contends that CARLY for America's help with setting up Fiorina's events constitutes providing a free service to her campaign and should be considered an in-kind contribution. Super PACs are prohibited from making such contributions to campaigns. CARLY for America and Fiorina's campaign have dismissed Noble's interpretation in the past.
Representatives for Fiorina's campaign and CARLY for America did not respond to questions from IBT about the role the group plays at her events.
In November, before Fiorina spoke at Keene State College in New Hampshire, a Fiorina campaign staff member wrote to the school with an urgent request to formally confirm the event: "Deidre, our national scheduler needs this so we can list the event on the public calendar and start advertising!"
A picture posted by the college shows the super PAC's banners displayed prominently behind Fiorina on the event stage.
Last month, Fiorina attended an event at Georgia Tech. Billed as a "conversation with Carly," the event appears to have been organized exclusively by the super PAC, according to emails provided by the university. The school did not share any emails exchanged with Fiorina's campaign.
The event likely did not cost much for the Fiorina campaign, or even for the super PAC, which received an invoice — marked "Presidential Candidate" — from the school. Emails shows the university waived most of the fees for the event, charging only $150.
"The space was reserved by the College Republicans, a recognized student organization, and we waived the fees for the space in keeping with our practice for all student groups," a Georgia Tech spokesperson told IBT.
Pictures from the event show CARLY for America staff members were on hand to sign up volunteers and pass out flyers, and that Fiorina once again spoke in front of super PAC signage. Before her speech started, the group aired footage from "Citizen Carly," a documentary it filmed with Fiorina and her family before she announced her campaign.
Even though Fiorina is lagging in the polls and is unlikely to be a nominee, the precedent set by her campaign and the super PAC matters, Richard Skinner, a policy analyst at the Sunlight Foundation, said.
"Somebody needs to care about this stuff," Skinner said. "Otherwise someone else will be doing this. Bigger campaigns — more-competitive campaigns — will start doing this. And the way the FEC is, goodness knows when any enforcement's coming."
UPDATE: 1/17/16, 1:30 a.m. -- This story has been updated to include a statement from Georgia Tech, which was provided to IBT after press time.
© Copyright IBTimes 2023. All rights reserved.
FOLLOW MORE IBT NEWS ON THE BELOW CHANNELS