Election 2016: Republican Candidates Fiorina, Bush, Walker Filmed Ads With Super PACs Backing Their Campaigns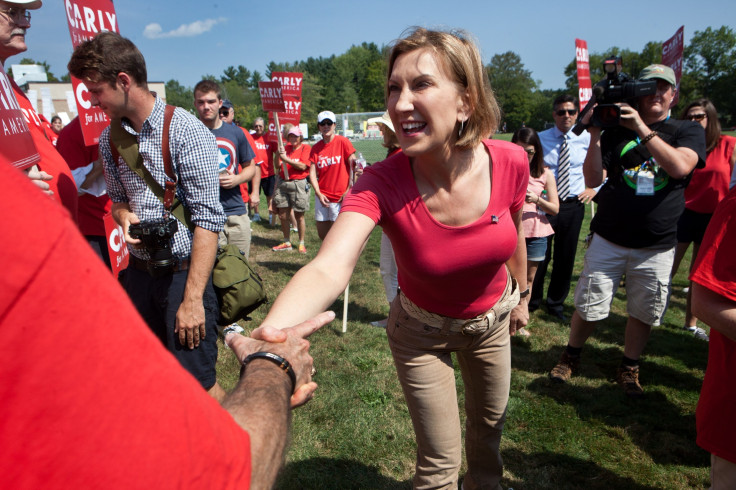 Next week, a documentary about the "remarkable life" of Carly Fiorina will premiere in early primary states. A promotional video for the "Citizen Carly" movie promises a defense of Fiorina's business record, as well as personal details shared directly by the Republican presidential candidate herself.
On film, Fiorina describes receiving her cancer diagnosis: "You have cancer. We have to begin tests immediately." She talks about her marriage and how she found herself "on the back of a motorcycle" with the man who is now her husband. The former CEO of Hewlett-Packard, who started her career as a secretary, tells the camera: "I know what it feels like to be at the bottom of the totem pole."
The final frame of the video offers a surprising disclosure: The documentary, it says, was "not coordinated with any candidate." That is because the movie is being released by Carly for America, a super PAC, not Fiorina's campaign.
Federal Election Commission rules, adopted after the U.S. Supreme Court's 2010 Citizens United decision, are supposed to prohibit coordination between political candidates and super PACs. But "Citizen Carly," with its footage of Fiorina, was made possible by an apparent loophole in the campaign finance system: The super PAC filmed the documentary before Fiorina was an official candidate for president. Fiorina is one of a handful of Republican presidential contenders who sidestepped the coordination rules by delaying their campaign kickoffs while supporters set up super PACs.
There are enormous benefits to this approach. Presidential campaigns are subject to contribution limits and can accept only $2,700 from any one individual per election. Super PACs can take in unlimited donations, so they can raise a great deal of money from just a few wealthy backers, and in significantly less time than it would take a candidate.
Most of the candidates in the crowded 2016 field have allied super PACs and will count on those groups to handle key campaign functions like television advertising. But Fiorina and at least three of her rivals -- former Florida Gov. Jeb Bush, Wisconsin Gov. Scott Walker and Ohio Gov. John Kasich -- have gone a step further: filming ads with their super PACs before becoming candidates, for use at a later date.
"The documentary was filmed by Carly for America after we launched and before Carly decided to run for president," a representative of the group told International Business Times.
Watchdog groups argue the candidates are not allowed to film ads with a super PAC, even if they have not filed papers to run for office yet. Larry Noble, a senior counsel at the Campaign Legal Center, said the rules are just not being enforced.
"It's hard to say they were not at all thinking about their campaigns when they're filming commercials," Noble told IBT. "The FEC as far as we know has done nothing on it. The candidates keep pushing, and nobody is pushing back. And that's just leaving the laws totally unenforced and people having the feeling that there's really no cop on the beat."
In previous elections, the value of super PACs was limited to some extent by the coordination rules, which prohibit them from making expenditures with the involvement of a candidate or at the behest of a campaign.
Candidates have, of course, searched for ways around those rules. During the 2014 midterm elections, some candidates, like Senate Majority Leader Mitch McConnell, R-Ky., and Sen. Mark Udall, D-Colo., posted B-roll video online so that allied super PACs could use the footage in ads.
But in the 2016 election, the coordination rules have been challenged more forcefully -- most notably by Bush. In January, instead of launching a presidential campaign, Bush created a super PAC called Right to Rise. By the time he announced his candidacy in June, Bush and his staff members had already helped the super PAC pull in more than $100 million and put in place a plan for how it would help him win the Republican primary nomination.
Bush also filmed advertising for the super PAC -- a point that the group's top strategist, Mike Murphy, touted in a conference call for donors just two days after Bush officially launched his campaign.
"We have some incredible stuff in the can that we shot with the governor," Murphy said as reporters from Buzzfeed listened in.
Walker took a similar tack. While he was publicly considering a presidential bid, an outside group called Our American Revival filmed him mingling with Iowa voters. That footage was recently used in an ad from a pro-Walker super PAC called Unintimidated PAC.
An adviser for Unintimidated PAC told IBT: "The footage was filmed by Our American Revival earlier this year and contributed in-kind, a common practice that will be disclosed on the next FEC report."
Our American Revival, a 527 group organized with the IRS, reported in July that it had raised $6.2 million. Unintimidated PAC took in roughly $20 million by the end of June, according to its FEC report. Walker's campaign has not yet disclosed its donors.
Kasich was a late entrant to the Republican presidential race but has quickly moved up. His rise has been assisted by a heavy dose of advertising in New Hampshire from a super PAC called New Day for America. The group has spent at least $3.7 million airing a slate of ads that feature Kasich speaking directly into the camera.
A representative of the super PAC told an ABC-affiliated television station in New Hampshire that there was no coordination because "the footage featuring Gov. Kasich was filmed before any decision to seek the presidency."
New Day for America reportedly raised $11.5 million by the end of June. Kasich's campaign has not yet reported its donors to the FEC.
Filming ads for super PACs was not an option for the candidates who already held federal office -- like Sen. Marco Rubio, R-Fla., or Sen. Ted Cruz, R-Texas. Still, the outside groups supporting them managed to raise $16 million and $38 million, respectively.
New Jersey Gov. Chris Christie did not film ads with America Leads, the super PAC supporting his campaign, according to the group's spokesperson, Tucker Martin. America Leads has, however, sent film crews to his town hall events and rallies to gather video used in recent ads, Martin said.
Even in this environment, the Fiorina campaign appears to be relying on super PACs to an unprecedented degree. Last week, National Journal reported that Carly for America has been doing advance work for Fiorina's events in Iowa. At an event on her birthday, Fiorina was presented with a cake adorned with Carly for America's logo.
Carly for America has raised roughly $3.5 million, according to FEC records. Fiorina previously presided over another super PAC, Unlocking Potential PAC, which has raised about $2 million since April 2014. Her campaign reported raising $1.7 million between April and June.
Fiorina probably won't attend any of the premieres of the "Citizen Carly" documentary next week in Iowa, New Hampshire, South Carolina or her home base of Virginia, according to campaign's deputy campaign manager, Sarah Isgur Flores.
"I don't believe we've received an invitation," Flores said.
© Copyright IBTimes 2023. All rights reserved.
FOLLOW MORE IBT NEWS ON THE BELOW CHANNELS