Hillary Clinton Expresses Support For Fracking In Wikileaks Document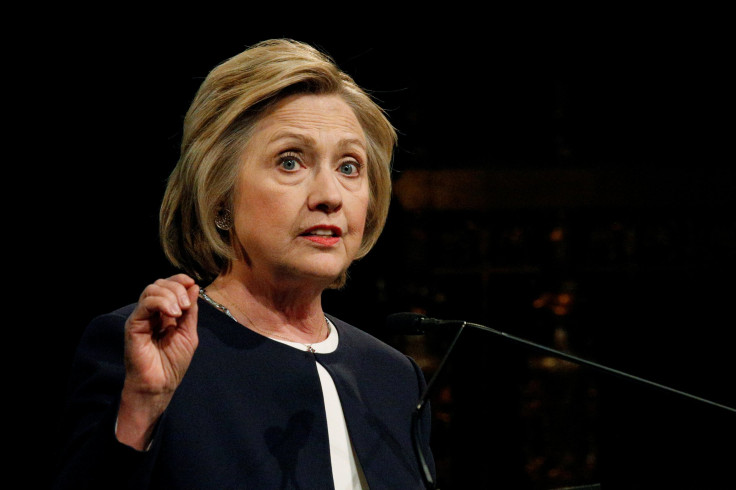 During the fight for the Democratic presidential nomination, Hillary Clinton cast herself as a skeptic of hydraulic fracturing -- the controversial process to extract natural gas. But newly released documents purporting to show excerpts of her paid speeches show that Clinton proudly touted her support for fracking, which environmental groups say can pollute groundwater and undermine the fight against climate change. The excerpts also show Clinton saying that some environmental organizations trying to restrict her work to promote fracking were front groups for Russian oligarchs.
The transparency group Wikileaks published the document as part of what it says is a tranche of emails from John Podesta, Clinton's campaign chairman. Podesta has refused to say whether the excerpts are authentic but has not denied their authenticity, either.
The document published by Wikileaks shows what purports to be an 80-page memo of excerpts of Clinton's speeches -- which she refused to publicly release during the primary campaign. It appears to be attached to a January 25, 2016 email to Podesta and other Clinton campaign aides.
In one excerpt of a speech to Deutsche Bank in April 2013, according to the document, Clinton boasted about the federal government's support for fracking and her own work to promote the process across the globe.
"Fracking was developed at the Department of Energy," the document shows Clinton saying. "I mean, the whole idea of how fracking came to be available in the marketplace is because of research done by our government. And I've promoted fracking in other places around the world."
In another excerpt of the same speech, Clinton outlines why she supports a continued push for fracking.
"The ability to extract both gas and oil from previously used places that didn't seem to have much more to offer, but now the technology gives us the chance to go in and recover oil and gas," the document shows her saying. "Or with the new technology known as fracking, we are truly on a path -- and it's not just United States; it's all of North America -- that will be net energy exporters assuming we do it right."
She added: "We ought to be committed enough to ensure that we set the example for the world about how to do it with the minimal amount of environmental damage."
In a purported excerpt of another speech in 2014, the document shows Clinton portraying some environmental groups' opposition to fracking and pipeline construction as a Russian plot.
"We were up against Russia pushing oligarchs and others to buy media," the document shows her saying. "We were even up against phony environmental groups, and I'm a big environmentalist, but these were funded by the Russians to stand against any effort, oh that pipeline, that fracking, that whatever will be a problem for you, and a lot of the money supporting that message was coming from Russia."
The excerpts contrast with Clinton's statements during the Democratic primary, in which she depicted herself as an opponent of fracking.
"By the time we get through all of my conditions, I do not think there will be many places in America where fracking will continue to take place," she said during a March 2016 debate in Flint, Michigan. "We have to regulate everything that is currently underway, and we have to have a system in place that prevents further fracking unless conditions like the ones that I just mentions are met."
During the 2016 general election campaign, Trump has staked out a more pro-fossil-fuel posture than Clinton -- and he has previously called climate change a "hoax." But while Clinton has depicted herself as an environmentalist, the Wikileaks document appears to show Clinton privately making more pro-fracking comments than she has in other settings -- and her public record supporting fossil fuel development is extensive.
Oil and gas industry donors have given more than $1 million to Clinton's political campaigns and millions more to the Clinton Foundation. As a senator, Clinton broke with other Democrats such as then-Sen. Barack Obama to cast some key votes to expand offshore drilling. Later, the Clinton-led State Department promoted fracking, approved a tar sands pipeline, and cemented a pact to potentially expand drilling in the Gulf of Mexico. Her 2016 campaign has been financially supported by those with ties to fracking, and her transition team chairman, Ken Salazar, has been an outspoken proponent of fracking.
On Sunday, Clinton's running mate, Virginia Sen. Tim Kaine, was asked about the Wikileaks document during a CNN interview. Kaine said: " I don't think we can dignify documents dumped by Wikileaks and just assume that they're all accurate and true. Anybody who hacks into get documents is completely capable of manipulating them."
© Copyright IBTimes 2022. All rights reserved.
FOLLOW MORE IBT NEWS ON THE BELOW CHANNELS