Hillary Clinton, Donald Trump On Health Care: Candidates' Stances On One Of America's Top Issues Before Sunday's Debate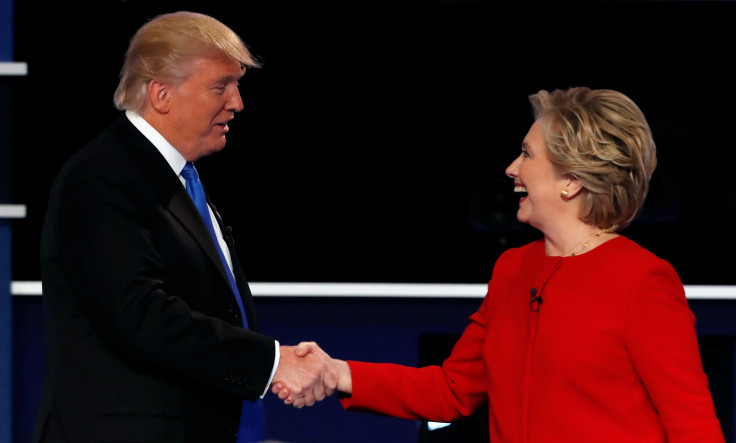 Where the presidential candidates stand on key issues can sometimes get lost in the rhetoric over Twitter rants, sex scandals and sexism. Ahead of Sunday's presidential debate, a Pew Research Center survey in July revealed that 74 percent of registered voters said health care is "very important" to their vote in 2016. And according to a Kaiser Foundation Health Tracking Poll in August, "two-thirds of voters say the future of Medicare and access and affordability of health care are top priorities for the candidates to be talking about." Nearly 25 million Americans will lack coverage in 2018.
Hillary Clinton and Donald Trump have very different stances on how to handle health insurance. Here's a look at both candidates' proposed policies, according to their campaign websites and comments on the campaign trail.
Obamacare (The Affordable Care Act)
Trump would ask Congress to repeal the Affordable Care Act on his first day in office. "No person should be required to buy insurance unless he or she wants to," Trump's website states. He says he'd work on a series of reforms that follow free market principles and restore economic freedom. Trump told CBS News in September 2015 that "the government is going to pay for [universal health care]." But he added that he would make deals with existing hospitals. "For the most part, it's going to be a private plan, and people are going to be able to go out and negotiate great plans with lots of different competition," he said.
Clinton would defend and expand the Affordable Care Act. She would also create a public option, or government-run health insurance agency to compete with private agencies, her campaign website explains. "We're going to get out-of-pocket costs down, we're going to get deductibles down, we're going to require more free services within the benefit package. And we're going to go right after prescription drug costs," she has said.
Immigration and Health Care
Trump advocates enforcing immigration laws and restricting the granting of visas as a way to lower health-care costs.
Clinton advocates expanding access to affordable health care regardless of immigration status, allowing all families to buy health insurance.
Pharmaceuticals
Trump says he would remove barriers that discourage competition between drug providers. He advocates stepping away from special interests and allowing patients access to imported drugs from overseas, in order to offer safe, reliable, and cheaper products.
Clinton also supports more competition as a way to lower drug costs. She plans to stop the excessive profits that drug companies make by ending advertising and have drug companies put their money into research and development instead. Clinton wants to lower drug costs for families and seniors.
Co-pays and Deductibles
Trump wants to allow people to fully deduct health insurance premium payments from their tax returns. His website cites Obamacare as a reason for rising premiums and explains his plan to lower them through its repeal.
Clinton wants to bring down out of pocket co-pays and deductibles. "Hillary believes that workers should share in slower growth of national health care spending through lower costs," her website states.
Medicaid
Trump says he'll review Medicaid's options and work with states to ensure that low income Americans have access to healthcare and that "no one slips through the cracks simply because they cannot afford insurance." He also says he'd block grant Medicaid to the states because they know their people best and can manage Medicaid better without federal overhead.
Clinton supports incentivizing states to expand Medicaid and make enrollment into Medicaid and the Affordable Care Act easier as a way to get health insurance to the lowest income Americans.
Other
Trump says he'd change laws that prohibit the sale of insurance across state lines. He would advocate for the use of tax-free savings accounts that could be passed on through families. Trump would require price transparency from all health organizations, allowing patients to shop around for the best prices. He advocates for reforming of mental health programs and institutions and reducing the number of people who need access to Medicaid and similar programs by bringing jobs back to the U.S.
Clinton says she'll work to make sure women have access to preventive care, affordable contraception and safe and legal abortion. She would explore cost cost-effective ways to expand healthcare access to rural Americans. She'd double funding for community health centers and supports President Barack Obama's call for tripling the size of the National Health Service Corps.
© Copyright IBTimes 2023. All rights reserved.