How Undercover Activists Cost Breitbart, White Nationalist Sites, Their Advertising And Platforms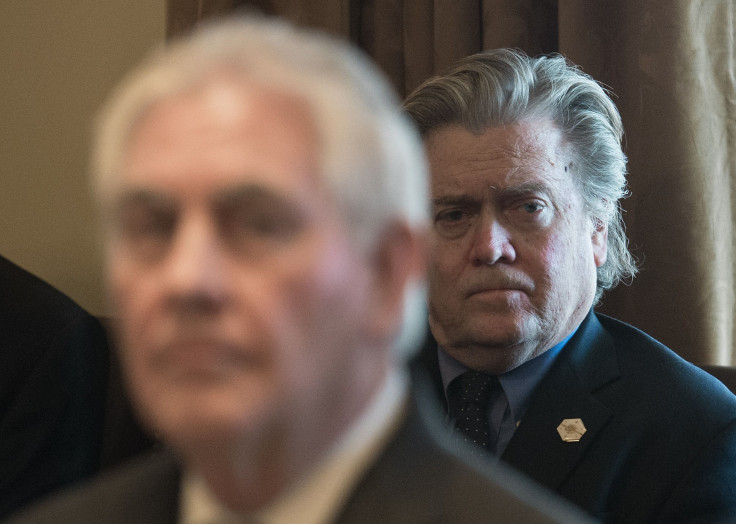 Six days after the deadly white nationalist rally in Charlottesville, Virginia, Steve Bannon was asked to leave his post as chief strategist to President Donald Trump. By that evening, Bannon was hosting an editorial meeting as chairman of Breitbart News, which he has described as " the platform of the alt-right." But even as he returned, advertisers were fleeing the site known for publishing conspiracy theories and racist, sexist and anti-immigrant content.
In the aftermath of Charlottesville, high-profile CEOs quit their White House advisory posts in protest of the president's equivocal comments about white supremacists, and companies scurried to distance themselves from white nationalist and neo-Nazi clients — causing them to move to underground, and less popular, online services.
After a tweet pointed out that domain registrar GoDaddy provided neo-Nazi site the Daily Stormer its web address, the company, and then Google's domain services, cut off the site because its racist and anti-Semitic content violated their terms of service. Two days later, Cloudflare, the company that provided the site with security protections, dropped the Daily Stormer, the first time it had ever cut off a client for political reasons.
Airbnb had banned white nationalist users in anticipation of the Unite the Right events in Charlottesville. In response to a Digital Music News article on August 14, the Spotify music streaming service canceled the accounts of numerous neo-Nazi and white supremacist bands. Gamer chat app Discord banned Daily Stormer and other white supremacist channels. Facebook removed links to a particularly offensive Daily Stormer article and, along with Reddit, is "actively banning groups and pages linked to far-right extremists," according to the Guardian. And earlier this year, the Germany-based audio streaming service Soundcloud took down the accounts of the prominent "alt-right" website AltRight.com and several others that publish racist and bigoted content, which violates the company's Terms of Use.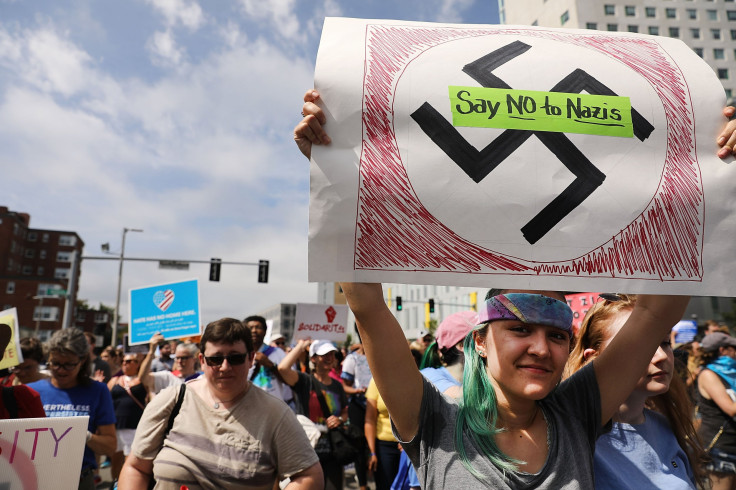 The recent efforts to "de-platform" white nationalists come after an online group of anonymous activists began chipping away at Breitbart's ad revenue months ago. Calling itself Sleeping Giants, the group has been urging companies, on Twitter, to pull their advertising from Breitbart News since last November, shortly after the presidential election.
The creators realized that many companies — which buy ad packages through Google AdSense, Facebook and Taboola — often unknowingly have ads running on the Breitbart website. Some companies buying Facebook ads, for example, have no idea that the ads will also appear on other sites outside of Facebook, one founder of Sleeping Giants told International Business Times. (He maintained his anonymity but was reached through the main, verified Sleeping Giants Twitter account.)
"We've had a lot of complaints," the founder said. "Companies were very angry that they weren't warned" about where their ads would end up.
The Sleeping Giants team began its campaign by tweeting at various companies, letting them know their ads appeared at Breitbart and explaining how to get rid of them. The tactic was a surprising success. Many companies blacklisted Breitbart from its ad buys, and a growing number of Twitter users took note and helped inform companies of their ad placement at the far-right hub of the racist "alt-right."
"We didn't think this would be more than two weeks long, so to say that it's met or exceeded our expectations is not even close," said the Sleeping Giants organizer. The primary Sleeping Giants Twitter account boasted nearly 105,000 followers as of August 22.
Now, roughly eight months after Sleeping Giants began this effort, nearly 2,600 companies have removed their ads from Breitbart. The flow of deserting companies has quickened since the Charlottesville rally, the organizer said. These days, 15 to 20 companies are dropping Breitbart each day. Among those that have ditched Breitbart are Aveda, CVS, Etsy, Kellogg and TurboTax. Amazon, however, remains a holdout, despite employee efforts to persuade the company to remove its ads.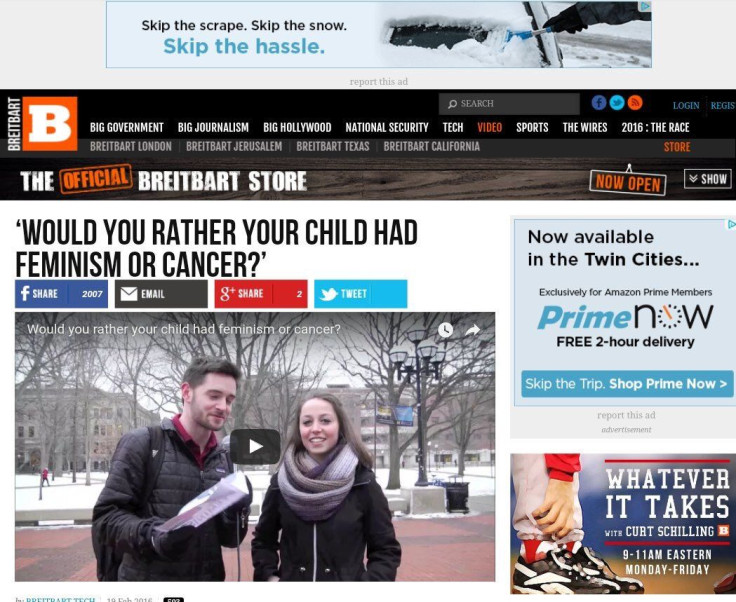 It's hard to determine how much ad revenue Breitbart, a private company, has lost. But Media Radar found that from March to May, Breitbart lost 90 percent of its advertisers, as well as some of its traffic. Alex Marlow, editor-in-chief of Breitbart News, told the New York Times Magazine that the Sleeping Giants campaign is causing "severe" internal problems. "It's a fight," he told the Times. The loss of ads from large companies must hurt, notes the Sleeping Giants member. "With programmatic advertising, if you have fewer large advertisers it drives down the cost per impression… You can tell [Breitbart is] getting paid way less for placement."
Sleeping Giants is also trying to get Disqus, the company that Breitbart pays to power its comment section, to stop providing services to the site. The company has clear terms of service that ban hate speech, yet it still maintains Breitbart's comment sections. "That's a real head-scratcher," says the Sleeping Giants organizer. Breitbart's readers engage with its comment section, known for its incendiary content, ten times more than readers of the New York Times website.
Advocates of de-platforming have contradicted the criticism that they're violating First Amendment protections for free speech. "These are private and public businesses; they're not the government," said the Sleeping Giants member. When clients sign a private company's community guidelines, they acknowledge that their accounts may be terminated if they don't adhere to the rules, and prohibitions against hate speech are common.
Some companies don't enforce their terms well enough, says Sleeping Giants. "If you have terms of service and lay them out clearly, you need to follow them. [Businesses] have to decide whether it's morally right to make money from clients that denigrate people or organize violent rallies."
President Trump's inflammatory comments have cost his own company as well. The Trump Organization — in which he is still invested — has seen 17 charities cancel Mar-a-lago events in recent days. The Cleveland Clinic, American Red Cross and the Susan G. Komen Foundation are among the nonprofits that have said they will hold their events elsewhere.
Breitbart, the Daily Stormer and other white nationalist websites are taking heat from other companies, but will likely continue to have a steady, albeit small, following. A recent poll from ABC News/Washington Post found that 9 percent of Americans think it's acceptable to hold neo-Nazi or white supremacist views; two-thirds of Republicans approve of how Trump handled the Charlottesville crisis, per a recent CBS poll. And other individuals affiliated with Breitbart — namely, deputy assistant to the president Sebastian Gorka, who reportedly pledged lifetime allegiance to a neo-Nazi hate group in Hungary, and special assistant to the president Julia Hahn, who was one of Bannon's top writers at Breitbart — remain in the White House.
© Copyright IBTimes 2023. All rights reserved.