Police Body Camera Company, Axon, Is Vacuuming In Data, Stoking Privacy Concerns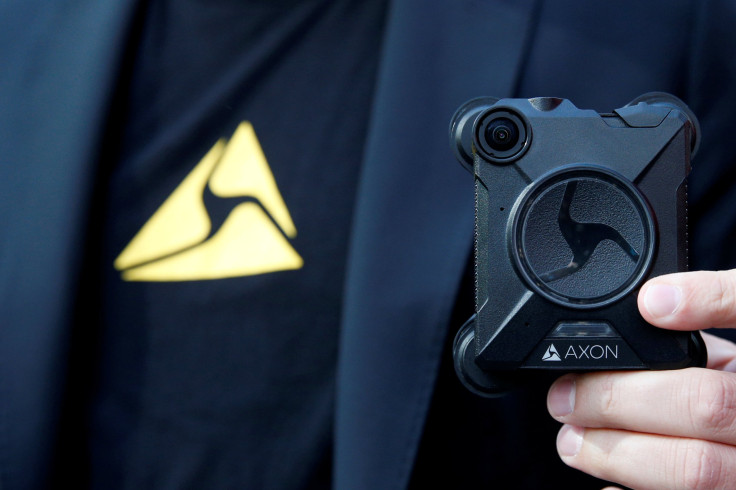 After high-profile police killings and clashes with protesters over the past several years, civil rights advocates have pressed law enforcement officers to wear body cameras, so that there would be an indisputable video record of any police confrontation. Some police departments -- even in potential hotspots like Charlottesville, Virginia -- have been reluctant to adopt the technology. But now, one of the major camera companies is offering police a free trial to use its technology in a move that raises both civil liberties and budgetary questions for communities across America.
In April, Axon unveiled an offer for police departments to try its body cameras for free for one year. That offer helps Axon get its cameras into more police departments, knowing that the company stands to make huge profits not from the sale of cameras but rather from its attendant cloud video storage platform, Evidence.com.
The video footage collected by its cameras is helping Axon build out its artificial intelligence business, which requires massive amounts of data to train computers to operate autonomously and in unprecedented ways that could vastly expand police surveillance and targeting. By giving the cameras to police departments, Axon is able to collect even more of the data it needs, in effect using the enticement of a free trial offer to build out its video analytics and computer vision business -- all on the backs (or rather, torsos) of local police departments.
"This marriage of analytics with the vast amount of video being collected is an immense threat to privacy," Jay Stanley, senior policy analyst at the American Civil Liberties Union, told International Business Times. "One of the things that in our society that preserves our privacy is that no one has the time to do the mind numbingly boring task of watching all the video collected. This technology could change that, so that video could in some sense be watched by computers."
Axon -- which was formerly called Taser International -- declined to comment for this article. In an interview with PoliceOne earlier this year, the company's CEO Rick Smith, who has been called the "Steve Jobs of police technology," spoke about the vision for the artificial intelligence business, saying: "Imagine having one person in your agency who would watch every single one of your videos — and remember everything they saw — and then be able to process that and give you the insight into what crimes you could solve, what problems you could deal with."
As part of its quarterly earnings report, Axon disclosed that it has received inquiries about its free trial from more than 1,500 law enforcement agencies.
In a move that further stoked the concerns of privacy advocates, Axon also announced last week that it is hiring Mojtaba Solgi, a former Uber artificial intelligence specialist to lead Axon's artificial intelligence research division. At Uber, Solgi worked on real-time computer vision for the company's self-driving cars. The hire is part of Axon's push into machine learning, facial recognition and possibly so-called guilty-until-proven-innocent "predictive policing" -- potentially lucrative ventures, that also raise flags for civil liberties advocates.
With computer vision capabilities, Axon body cameras could be used to identify persons of interest through recorded video -- turning a tool for police accountability into a new surveillance mechanism. Machine learning could enable Axon's software to train itself on patterns of movement it deems "suspicious" and generate new lists of suspects for police to investigate. To begin, however, Axon will most likely use its AI capabilities for the less-alarming tasks of redacting videos and generating reports. On last week's earnings call, Smith said those features could roll out as soon as the end of this year.
Contracts and terms of service obtained through freedom of information requests by IBT reveal there is nothing stopping Axon from using the videos it collects and stores through body cameras to train its machine learning software. A contract with the Baltimore County Police Department, for instance, gives Axon the right to run "crime analytics" on videos collected by its body cameras. In the case of the free trial, Axon will benefit even if a police department opts to discontinue service at the end of the free trial. Like most technology companies today, Axon's goal is to collect data; the free body camera trial is just another avenue to generate and collect more of it.
"It's Not Really Free"
Axon is the largest manufacturer of body cameras in the country, rewarded with millions of dollars of federal funding over the last two years. The Department of Justice does not release exact figures of how much has gone to specific companies, but Axon has already spent $40,000 this year lobbying in Washington, with the DOJ one of its key targets. Most of Axon's revenues still come from selling tasers, but the company clearly sees body cameras and artificial intelligence as its future. Axon's quarterly revenues were $79.6 million this quarter, with $26.6 million of it coming from the company's body camera business. The body camera segment's revenues grew nearly 25 percent from the year's first quarter, while the taser business's sales declined.
But within the body camera segment, Axon's profits come almost entirely from cloud storage and video management. SEC filings show that in this most recent quarter, Axon actually lost $235,000 selling the actual body cameras, while Evidence.com made more than $8.9 million.
"The issue with the free program is that it's not really free," said Stanley. "The actual hardware costs are fairly insignificant compared to the costs of implementing the body camera system, storage, and management. It's a little bit like your cell phone company giving you a free cell phone."
Axon's willingness to take a loss on camera sales can be explained in by its short-term profitability off of cloud storage and its long-term vision to turn itself into a software company specializing in computer vision for law enforcement. But that development raises significant privacy concerns for Axon's technology to be used in surveillance and predictive policing.
"We've seen a lot of police departments getting excited about predictive technology," said Miranda Bogen, a researcher at the technology policy research group Upturn. "What we would never want to see is using body cameras and the data that comes from body cameras to predict or in real-time identify threats. We know that that technology is very inexact, can be biased, and we don't know how police officers would respond to any real-time alerting on a body camera."
Furthermore, Evidence.com and the cloud storage model gives Axon an easy avenue for implementing these new technologies: Since departments' video data is stored on Axon's servers, and not in the control of those departments themselves, new features like facial recognition or predictive analytics could be implemented as a simple software update on the server. That could enable to the company to bypass the normal procurement process and public policy debates about such technologies. Already having contracts with police departments, Axon could simply market them as add-ons to its Evidence.com service.
"Once Axon has a relationship with police departments, they can release new features through the click of a button as a software update," said Bogen. "Even if they're not introducing concerning technology like facial recognition now, it would be all too easy for them to add that in the future and release it to their users without any public debate."
Big Revenues From Data Collection
Until its software business is built out, Axon will be relying on profits from Evidence.com and of course its taser sales, the latter of which is increasingly resembling a legacy business.
Invoices and purchase orders obtained by the IBT through freedom of information requests also show how Axon's cloud-first business model affects a police department's budget. For instance, a 2016 quote sent by Axon to the Midland, Texas, police department for 133 body cameras said it would charge $399 apiece for the cameras for a total of $53,067. Each of the 133 licenses for Evidence.com were quoted at $948 per year, for a total payment of $126,084. The quote was for a five-year contract, meaning the police department would be charged the annual six figure licensing fee. Similarly, a March 2017 invoice for the Baltimore County police department charged $79,038 for 200 Axon cameras and $173,800 for 200 Evidence.com one-year licenses.
Although Axon is not disclosing the number of cameras being used in free trials, it is possible to make some rough estimates based on the company's earnings figures. This quarter, which is the first since the trial was announced, saw Evidence.com revenue increase by 8.6 percent while the costs associated with Evidence.com went up 9.5 percent. Since cost growth outpaced revenue growth by 10 percent, that means that roughly 10 percent of new Evidence.com users this quarter are not paying for the service and are therefore on free trials. Axon disclosed that there are 20,600 new Evidence.com subscribers this quarter. Therefore, there are approximately 2,200 new Evidence.com users who are not paying for the service and are therefore on a free trial. This number fits with Smith's claim that Axon had interest from 1,500 agencies -- not all of which would have opted to pursue a trial -- and that most agencies are piloting the devices on a small number of officers rather than a whole department.
One obstacle to Axon's reinvention as a software company is that police departments are not used to the cloud-based software-as-a-service business model, which is common throughout the rest of the technology industry.
"A substantial number of law enforcement agencies may be slow to adopt our Evidence.com digital data evidence management and storage solution, requiring extended periods of trial and evaluation," The company's 2016 annual report noted. "The hosted service delivery business model is not presently widely adopted by our law enforcement customer base."
That annual report also took stock of the fact that police departments are operating under budgetary constraints, usually not of their own design but prescribed by their local governments. Critics see the free trial program as a way to shoehorn in technology that might not otherwise be acquired, leaving police departments to foot a large annual bill and sort out on the fly the tricky policy questions around how body cameras are used.
And of course all the while Axon is still collecting and mining that precious data.
© Copyright IBTimes 2023. All rights reserved.