As Sanders Prepared Medicare Bill, Health Care Lobbyists Bankrolled Senate Democrats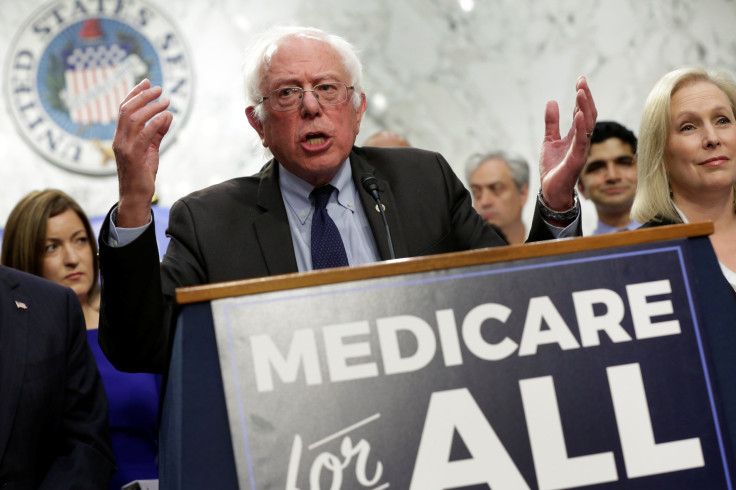 As Bernie Sanders worked to finalize his Medicare-for-All Act of 2017, corporate lobbyists representing the traditional opponents of single-payer health care — including the nation's major private insurers and drug companies — poured hundreds of thousands of dollars into Senate Democrats' fundraising accounts. Now, many of those lawmakers have refused to sign on to the Medicare bill.
Sanders has faced questions about whether or not the bill would garner solid support among Senate Democrats. So far, 16 Senate Democrats have said they will sponsor the legislation — which the insurance industry slammed after he announced it. A new study from campaign finance watchdog group MapLight found that since 2010, Democratic senators who have refused to sponsor the bill have, during their careers, raised twice as much insurance industry cash as those who support the legislation.
As Republicans took over the White House earlier this year, significant campaign funding for Democratic senators has continued to come from lobbyists. According to federal campaign finance records reviewed by International Business Times, lobbyists, lobbying firms and one other corporate political action committee collectively delivered nearly $2 million in bundled campaign contributions to the Democratic Senatorial Campaign Committee during the first half of 2017. Sen. Chris Van Hollen, the DSCC's chairman, was a proponent of the law that requires lobbyists to disclose the contributions they bundle together from donors.
With Sanders and a majority of House Democrats supporting single-payer — and with polls showing rising support for a Medicare-for-all system — lobbyists for major health care industry clients were among the biggest donors to Democrats in the Senate, as they have been in years past. Among those who delivered the most cash to the DSCC in the first half of 2017 were:
- Steve Elmendorf, the former top aide to then-House Minority Leader Dick Gephardt. He delivered $130,400 to the DSCC while representing insurance giant UnitedHealth Group Inc. and dialysis conglomerate DaVita Inc.
- Jonathon Jones, the former chief of staff for Sen. Tom Carper, a Finance Committee member has not signed onto the single-payer initiative. He delivered $97,000 to the DSCC while representing insurers Anthem Inc. and the Blue Cross Blue Shield Association, as well as the trade group Pharmaceutical Research Manufacturers of America (PhRMA) and drugmakers Amgen Inc., Astellas Pharma Inc., AstraZeneca, Merck & Co. Inc., Novartis, Genentech Inc. and Vertex Pharmaceuticals.
- Lisa Kontoupes, a former aide to President Bill Clinton and staffer for Democrats on the House Energy and Commerce Committee. She delivered $77,500 to the DSCC while representing drugmakers Glenmark Pharmaceuticals Inc. and Teva Pharmaceuticals Inc..
- David Castagnetti, the former top aide to Montana Sen. Max Baucus, who was accused of blocking a debate over single-payer during the Affordable Care Act deliberations. Castagnetti delivered $64,000 to the DSCC while representing insurers Humana Inc., Blue Cross Blue Shield of Arizona and the parent company of Oscar Health Insurance.
- Jeff Forbes, the former staff director for Democrats on the Senate Finance Committee, which oversees the nation's healthcare system. He delivered $20,000 to the DSCC while representing the drug industry's trade association, PhRMA, as well as individual drug companies Abbott Laboratories, Amgen and Genentech.
The principals of major lobbying firms also gave big to Senate Democrats. Tony Podesta, the namesake of the Podesta Group and a top Hillary Clinton bundler, gave $202,476 to the DSCC while representing the American Healthcare Association and Mylan — the controversial maker of the Epipen. Heather Podesta of Podesta + Partners delivered $226,400 to the DSCC while representing Baxter Healthcare and insurer Cigna.
Meanwhile, two lobbying firms' corporate political action committees gave directly to the DSCC. Brownstein Hyatt Farber's PAC, for instance, bundled $307,000 for the DSCC while the firm represents Anthem, the Blue Cross and Blue Shield Association and drugmaker Abbvie. Holland & Knight's Committee For Effective Government bundled $104,650 for the DSCC while representing BlueCross Blue Shield of Minnesota.
© Copyright IBTimes 2023. All rights reserved.