Pope Francis On Syria: 'I Condemn The Use Of Chemical Weapons'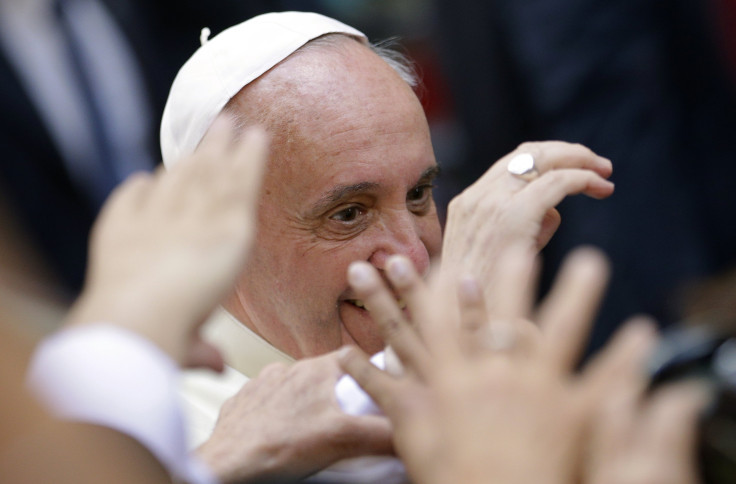 Pope Francis condemned the use of chemical weapons Sunday, when he announced a worldwide day of fasting and prayer for peace in Syria on Sept. 7 and called for a negotiated settlement of the civil war in the Middle Eastern country, the Associated Press reported.
The leader of the Roman Catholic Church had already developed a reputation for doing things differently before he appeared in St. Peter's Square in Vatican City and spoke exclusively about Syria -- a country in severe turmoil -- instead of the traditional religious themes associated with the weekly papal appearance, as noted by AP.
The pontiff said he opposed war and raised his hands as he said: "War brings on war! Violence brings on violence. With utmost firmness, I condemn the use of chemical weapons. I tell you that those terrible images from recent days are burned into my mind and heart." Pope Francis was apparently referring to media images of recent victims of chemical weapons in Syria.
The prayer vigil is set to take place in Vatican City from 7 p.m. to midnight local time, inspired by the mayhem occurring in the war-weary country. Pope Francis reportedly invited Catholics, other Christians, nonbelievers and anyone who is a "man of good faith" to attend St. Peter's Square on that evening to help give the "gift" of peace to Syria.
He apparently touched on the U.S. government's thinking about punishing the Syrian government for its use of chemical weapons on civilians. "My heart is deeply wounded by what is happening in Syria and anguished by the dramatic developments" on the horizon, AP quoted him as saying.
The pope wants people on both sides of the conflict to put down their weapons and "listen to the voice of their conscience and with courage take up the way of negotiations."
© Copyright IBTimes 2023. All rights reserved.
FOLLOW MORE IBT NEWS ON THE BELOW CHANNELS