President Trump's Plans For The Military: How The New Commander-In-Chief Could Give Defense Companies A Boost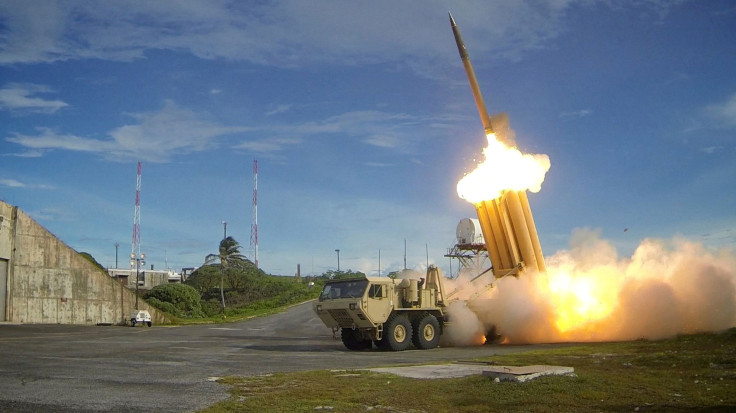 Major defense companies' stocks shot up in the wake of Donald Trump's election victory, and for good reason, as experts predict firms like Lockheed Martin and General Dynamics will win hefty contracts and boost hiring in line with the president-elect's military expansion plans. But for that defense sector growth to occur, Trump faces an uphill battle convincing Democrats and fiscal conservatives in Congress that increasing the nation's defense budget by billions of dollars is smart policy.
Trump's Defense Department spending plans include 350 new Navy ships, 1,200 aircraft, equipment and weapons for at least 65,000 new Army soldiers and at least 13,000 more Marines. The price tag is murky at this point, but analysts peg it at around $90 billion per year in spending increases.
The U.S. military budget has already been on the rise in recent years, growing 4.1 percent to $583 billion from $560 billion since 2015, after mostly declining from a 2010 peak of $691 billion. The drop was a result of the Budget Control Act of 2011, which raised the federal debt ceiling, but also enacted across-the-board spending cuts, including in the area of defense, saving the U.S. government from defaulting on its debt. Many, including Trump, cite this law as a threat to the military's capability and a reason to beef up the nation's armed forces.
Traders in defense company stocks have taken note of Trump's military spending proposals. Since his Nov. 8 electoral victory, the share prices of the nation's largest defense firms, such as General Dynamics Corp. (GD), Northrop Grumman Corp. (NOC), Lockheed Martin Corp. (LMT), Boeing Company (BA) and Huntington Ingalls Industries Inc. (HII) have skyrocketed.
Mercedes LeGrand, a consultant at executive search firm Russell Reynolds Associates who specializes in defense industry recruitment, said while this isn't the first time defense companies have expected to benefit from an incoming president friendly to military buildup, the sector faces a bit more uncertainty this time around.
"With Trump, most folks feel he's a bit of a wild card. But the expectation across the board is defense spending is going to be up, which is good for the industry," LeGrand said.
LeGrand projected an uptick in hiring within areas of research and development, government affairs, government research, lobbying and government relations, as companies are "going to want people there who have access to the Trump administration." Executive positions presiding over government relations, she added, would likely see some personnel changes.
Trump's plans could also lead to a rise in construction and research hiring, according to Jeff Sorenson, president of global management and consulting firm AT Kearney's Public Sector and Defense Services branch.
"There's going to be a lot of demand for shipbuilding, but the question is, can the shipbuilding industry respond?" Sorenson said, adding that ships and aircraft will be "the big ticket items" on defense contracts, and that the Army should receive some "modernization items."
He also mentioned another project on Trump's list that could take a massive amount of time, funding and brainpower to complete: something the president-elect calls a "serious missile defense system" to counter faraway nuclear threats, which appears to be a more advanced version of Israel's Iron Dome Weapons System, built by the American firm Raytheon Company (RTN).
"It won't be exactly like [Israel's Iron Dome], but something akin to that, with a higher capability, like defense against cruise missiles" from overseas, Sorenson said, adding that Israel doesn't need a system as powerful as Trump intends to have built, as the Middle Eastern nation faces threats from only smaller, geographically-closer rockets. "We do not have that type of concern, because we have water on both coasts," he explained.
Sorenson called the project "a major endeavor" that's "going to require a lot of testing, a lot of development"—and a lot of hiring by companies like Raytheon.
Palantir Technologies, a big data analysis company founded by billionaire investor and vocal Trump supporter Peter Thiel, is also expected to benefit from Trump's vision. Trae Stephens, a former Palantir employees and a principal at Thiel's venture capital firm, for example, was selected as a Defense Department leader for Trump's transition team. The company already has a track record of winning major Defense Department contracts for its mass surveillance technology.
Dan Wasserbly, the Americas editor for Jane's Defence Weekly, an industry magazine and part of the analytics and market research firm IHS Markit, expected defense sector job growth as a result of Trump's proposals, but was somewhat skeptical as to how large that job growth might be.
"The jobs are pretty specific—it's not really like the Rosie the Riveter days, when everyone could just jump in," Wasserbly said. "It's really hard to say how many will be hired. Any increase in defense spending will result in job growth."
But before Trump can achieve any of his military expansion goals, he's likely to face headwinds from fellow Republicans who prefer limited federal spending. The government deficit, according to analysis from the Committee for a Responsible Federal Budget, would grow by $450 billion by 2021 as a result of Trump's proposed rise in military spending and repeal of the Budget Act's defense sequester.
"In the past, the Republican Party has been willing to put a lot of money into defense, but more recently, they haven't been as willing to," Wasserbly said, adding that "so many fiscal conservatives are really against raising the deficit, even with defense spending."
Trump will likely also face opposition from Democrats, who generally try to block defense spending hikes unless they're matched with funding for domestic programs.
"It's been at sort of an impasse," Wasserbly said. "But the balance could tip a bit with Republicans in the executive branch and the legislative branch."
Another obstacle for Trump will be the Budget Control Act, the 2011 law limiting both domestic and defense spending. According to his campaign site, the president-elect plans to repeal it, and he may well have to.
"You definitely have to get rid of the Budget Control Act to do this," Wasserbly said.
Trump does have one major advantage, however. After Congress failed to pass a budget for fiscal year 2017, which started in October, the House GOP opted for a continuing resolution, which would fund the government until March 31, preventing another shutdown. Because the 2017 budget isn't yet set in stone, Trump can reshape $1.07 trillion of it—$550 billion of which could go to defense—soon after he enters office, said Ed Lorenzen, a senior advisor at the Committee for a Responsible Federal Budget.
After that, Trump would have to work with Congress to repeal the Budget Control Act and meet his military expansion targets for the 2018 fiscal year, a move that would require 60 Senate votes in a chamber of 51 Republicans. If he's successful, according to Lorenzen, the Defense Department could begin handing out contracts to companies by May 2017.
As for whether defense manufacturers can make the hiring and development changes needed to fulfill such contracts in time to meet Trump's demands, voters will have another say in 2020, Sorenson said.
"It depends on whether this is four years," he said, "or eight years."
FOR FREE to continue reading
✔️ Unlock the full content of International Business Times UK for free
offer available for a limited time only
✔️ Easily manage your Newsletters subscriptions and save your favourite articles
✔️ No payment method required
Already have an account?
Log in
© Copyright IBTimes 2023. All rights reserved.