Prince George Hit By Speed Bug, Loves To Ride His Favorite Scooter, Says Kate Middleton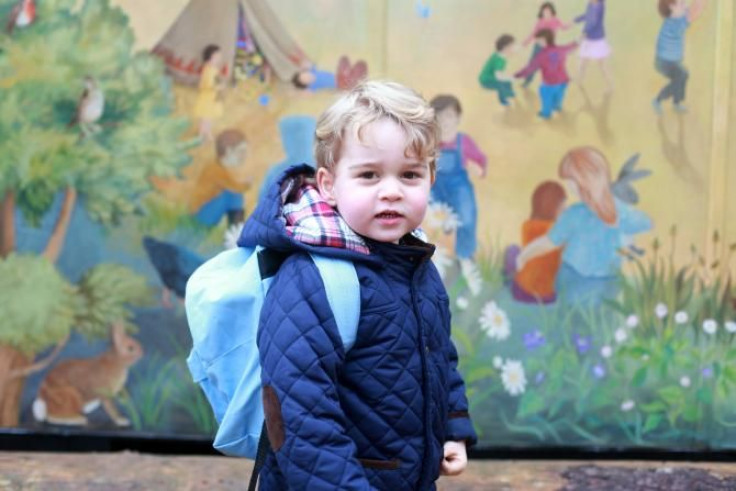 Prince George has been hit by the speed bug lately and loves to speed on his favorite scooter. His mom Kate Middleton revealed the details about her first born when she attended the Commonwealth service with her family at Westminster Abbey Monday. She said that little George was developing a keen passion for the wheels just like his dad Prince William.
The Duchess of Cambridge opened up about her family life during the engagement and said that both she and her husband Prince William are struggling to keep up with him. "He's got a scooter. He's going superfast on it," said Kate. She was speaking to a group of kids outside Westminster Abbey.
The 34-year-old added that it was very difficult to keep up with him. But, she said that her daughter Princess Charlotte was "keeping him in check." Kate added that her10-month-old daughter was "getting bigger by the day."
Two-year-old George has been seen scooting around in Kensington Gardens, located next to his parents' London home at Kensington Palace. The little royal has a Micro Scooter in green, red and metallic color. The scooter is for children aged between one and three years.
George who goes to nursery school at Westacre Montessori in East Walton plays at the Kensington Palace garden with his nanny, Maria Borrallo. Kate was speaking to students from St Matthew's Primary School in Westminster. Kate attended the hour-long Commonwealth service just before, where Queen Elizabeth II's speech was broadcast.
Kate previously admitted that she is "filled with horror" every time her husband William goes for a spin on his motorbike. She had then told she hoped George would not inherit his father's passion. In spite of this, the little prince has taken a fancy for anything with "big wheels."
Last year, George was gifted a toy truck or tractor which was his first wheeled toy. He played with the toy around the sprawling grounds of his home Anmer Hall.
© Copyright IBTimes 2023. All rights reserved.