Prince Harry Wears A Mysterious Black Ring In Public For This Reason
Prince Harry has been seen wearing a mysterious black ring on his right hand during his ongoing tour of Australia.
Latifa Yedroudj, a journalist for Express, said that royal fans are wondering if the ring has a special meaning to the Duke of Sussex. However, People reported that the 34-year-old royal is actually using the Oura Ring, a sleep activity tracker that is connected to a smartphone.
The ring, which is made from titanium, makes it possible for the soon-to-be-dad to detect his sleep score, body temperature, and movements to better track his sleeping patterns. The ring is believed to be a useful gadget especially since Harry and Meghan Markle's tour will continue until Oct. 31.
This is not the first time that Prince Harry has been spotted wearing an accessory. He also sported a platinum wedding band after he wed the Duchess of Sussex on May 19. The prince broke royal tradition for choosing platinum material for his wedding band when a majority of the other royals went with Welsh gold.
In related news, Prince Harry and Markle recently visited Bondi Beach and were hailed as life-savers following an anti-bad vibe group hug. While at the beach, the royal couple met with the founders of OneWave, and they listened to the stories of the members of the group on how OneWave has helped them.
An excited Prince Harry told the members of OneWave that he, Prince William, and Kate Middleton founded the mental health charity Heads Together. He and Markle also spoke with a OneWave yoga group before meeting the surfers.
Mark Micelli, one of the surfers, asked Prince Harry if he has ever waxed a surfboard and then handed him a lump of wax.
"You want me to wax a surfboard? Next time, find someone else to do it," Prince Harry told Micelli jokingly (via The Guardian).
One of the members of the group told Prince Harry that he can join them if he likes. And he said, "Too cold today. Go, guys, go and get in the water."
Prince Harry and Markle will also visit New Zealand, Fiji, and the Kingdom of Tonga in the coming days.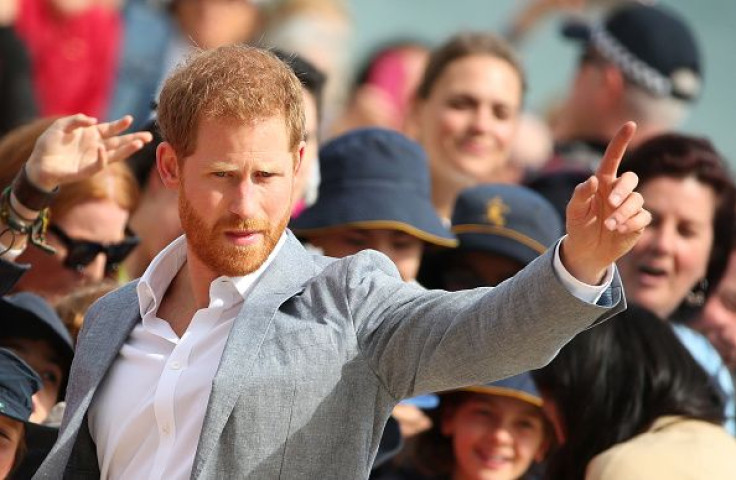 © Copyright IBTimes 2023. All rights reserved.