Princess Diana Reportedly 'Jealous' Of William's Nanny, 'Devastated' Son Adored Babysitter More
Princess Diana was once jealous of her son Prince William's nanny.
The late Princess of Wales was a doting mom to Prince William and Prince Harry. In fact, they were often photographed having a great time together. Princess Diana had always wanted to be a hands-on mom, but being a royal, she had to hire a nanny for her kids.
"Princess Diana wanted to raise and feed her babies herself," Vanity Fair's royal correspondent Katie Nicholl said in the footage of Amazon Prime's documentary titled, "Serving the Royals: Inside the Firm" (as quoted by Express).
"There was a side of Diana that was rather jealous of the nannies and the relationships that they subsequently struck up with the children," she added.
Princess Diana dismissed Prince William's nanny, Barbara Barnes, when he was barely 4 years old. However, the Duke of Cambridge's fondness for Barnes didn't fade away. In fact, he invited her to his royal wedding to Kate Middleton, which took place 24 years after she vanished from his life.
According to Princess Diana's bodyguard Ken Wharfe, the People's Princess had always wanted a normal life. She also wanted to give this type of lifestyle to her kids.
"I started off with a brief to look after William and Harry," Wharfe told Yahoo News' "Royal Box." "They're no different from any other child. Diana was always keen to bring some normality. One of her famous catch phrases was 'I want to be normal.'"
However, Princess Diana didn't get what she wanted. "Well it isn't normal to have X number of shifts, it isn't normal to have access to more than one palace to have these luxury holidays, specialised travel and a helicopter land in your backyard," Wharfe explained. "Being in the royal family is a piece of theatre, this is unreal - you are performing."
Although Princess Diana had to live her life like how royals should be, there were still times when she did things her way. According to Paul Burrell, Princess Diana, Prince William and Prince Harry spent their Saturday nights eating McDonald's and watching "Blind Date."
There was also a time when Princess Diana asked chef Darren McGrady to cancel their lunch because she would take Prince William and Prince Harry to a fast-food chain. McGrady insisted that if they wanted burgers he could make it for them.
"She said, 'No, it's the toy they want.' Yeah, the boys loved McDonald's, and going out [for] pizza and having potato skins —sort of the American foods. There were royal princes but had children's palates," the royal chef added.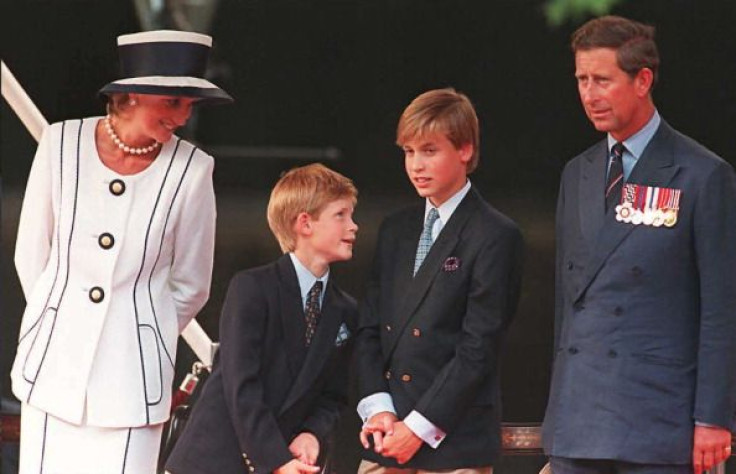 © Copyright IBTimes 2023. All rights reserved.