H5N1 Discovered in Hong Kong Market: China Bans Chicken Trade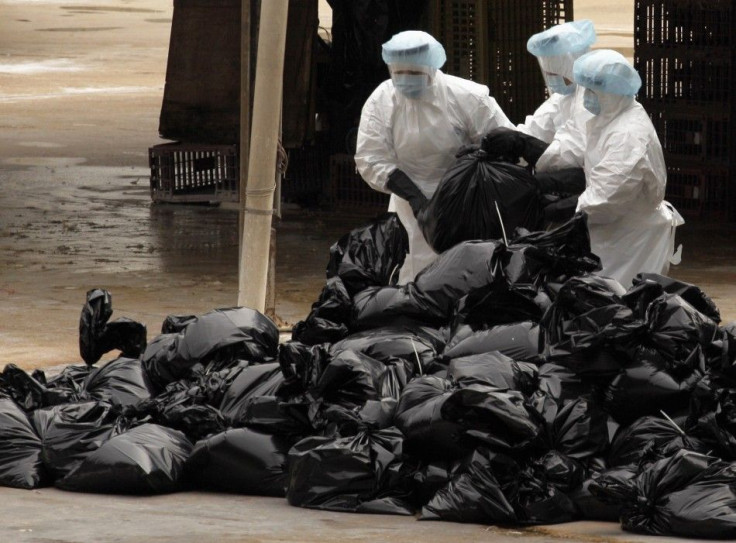 HONG KONG (Reuters) - Workers began culling 17,000 chickens at a wholesale poultry market in Hong Kong on Wednesday after a dead chicken there tested positive for the deadly H5N1 avian virus, a government spokesman said.
The Hong Kong government also suspended imports of live chickens from mainland China and the trading of live chickens for 21 days in a bid to prevent any spread of the disease, which is normally found in birds but can jump to humans.
We do not know if the dead chicken was imported from China or if it's a local chicken, the government spokesman said, adding that the market would be emptied of birds and thoroughly disinfected.
People do not have immunity to the H5N1 virus and researchers worry it could mutate in humans into a form that would spread around the world and kill millions of people.
The virus passes easily among birds and has becomes active in various parts of the world, but especially in east Asia, over recent years, especially in the cooler months of the year.
The current strain of H5N1 is highly pathogenic, kills most species of birds and up to 60 percent of the people it infects.
The last two large poultry culling exercises in Hong Kong took place in June 2008, after checks uncovered H5N1 in chicken fecal samples, and in December 2008 when the virus killed scores of chickens at a chicken farm.
In 1997, six people died from the H5N1 virus in the territory and 1.3 million chickens were culled.
Hong Kong's last recorded human case of H5N1 was in November 2010 -- the 59-year-old woman, who came down with the illness after returning from a trip to mainland China, survived.
Since making its first laboratory-confirmed appearance in Hong Kong in 1997, it is now endemic in many places in Asia and also Egypt.
Since 2003, it has infected 573 people around the world, killing 336.
The virus also kills migratory birds but species that manage to survive can carry and disperse the virus to new, uninfected locations.
The virus can kill birds and humans in a matter of days but can survive far longer durations in a moist, cool environment. The ban on trading of live chickens in Hong Kong for 21 days is to ensure that the virus runs through its full lifecycle.
It transmits less easily between people but there have been clusters of infections in people in Indonesia and Thailand in the past, where the virus is believed to have been passed between family members through direct contact with contaminated respiratory secretions.
(Editing by Chris Lewis and Robert Birsel)
© Copyright Thomson Reuters 2023. All rights reserved.
FOLLOW MORE IBT NEWS ON THE BELOW CHANNELS