Alexandra Friedman
Co-Founder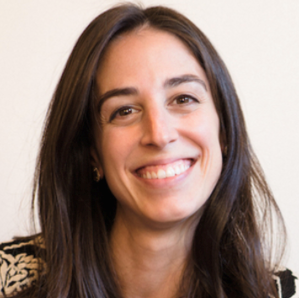 Alexandra Friedman is the co-founder of LOLA, a New York-based brand focused on "reinventing feminine care." Together with co-founder Jordana Kier, Friedman started the company in 2015. Through its products, she has since been addressing every reproductive life stage for women while staying consistent with its advocacy of being transparent. All of this is backed by a community of like-minded women they care about.
In fact, it's this care for other women that started the company, with Friedman wondering what the tampons they use are made of. Ever the forward thinker, she soon had the idea of making tampons with natural and safe ingredients. Not long after that, LOLA — a company with the goal of making safe and accessible reproductive health care products for women — was born. Six years later, LOLA branched out to a different category, providing natural condoms and other sexual health products.
This care goes beyond simply making these reproductive health products. For example, the founders taught male investors about female anatomy when they were pitching the company, which has partnered with non-profit organizations like "Period Equity" to help eliminate tampon tax and "I Support Girls" to bring hygiene products to homeless women. Since partnering, the company has donated more than five million period products to the latter organization. The CEOs have also launched LOLA Gives Back, which donates feminine care products to low-income girls and women.
Before LOLA, Friedman received her undergraduate degree from Dartmouth College and her M.B.A from Wharton Business School. She also worked as a consultant at Boston Consulting Group in New York, as well as having lead analytics at Flurry Analytics. Over the years, Friedman has been actively involved in the education non-profit Young Women's Leadership Network.
Alex Friedman, Lola - Why We Recognized Her:
Leading with kindness can be as simple, and difficult, as building a company to create healthy reproductive care for women that is safe and accessible. That's exactly what these forward thinking altruistic entrepreneurs did, and they really didn't know if it would make that much money or not. The real impetus was because it was the right thing to do.
"Don't start with starting a business," Jordana explains. "Start with a problem that really pisses you off! LOLA started with a simple question — what's actually in a tampon? But once we uncovered the lack of ingredient transparency and information available to women, we knew we had the foundation for a business. It was all-consuming and we were adamant that we would innovate to find a solution for ourselves, and for women everywhere."
The tenacious team is "reinventing feminine care. Starting with high-quality, natural ingredients that you can trust." Although per our lead in this article that should be called "returning" to ingredients we can trust. Other popular brands of feminine care use chemicals such as rayon and polyethylene. Consumers have allowed them to include these ingredients which we don't even understand the impact of in women's bodies. Lola is the first brand to completely eliminate all the noxious chemicals in their products.
Once these founders finally got rolling with this business they focused a great deal of their attention on convenience for the modern women to get period supplies delivered to her house whenever she may need them. In fact, the founders tell a personal and hilarious story, surely relatable to any women, of being unprepared and scrambling to find tampons while living in New York, where as they say, "we can get anything delivered to us at any hour of the day, but yet when it came to our periods it seemed like we were always running out to the drugstore unprepared bleeding in our pants."
They also had the courage to publicly share such revelations. But that mission of convenience, while still important, pales in comparison to the crucial element of health.
"We exercise, we eat well, we try to take care of our bodies and yet here we were every single month using a product that we had no idea what was in it," they declare. "It's kind of crazy we use 10,000 tampons over the course of our life that's every single month for 35 or 40 years putting a product inside your body and you literally don't know what's in it"
When they dug into it, they found so many chemicals, dyes, and stuff you cannot even pronounce in everyday tampons and period care products. So, they committed their company to pure cotton tampons, ingredients everyone could understand, a newsletter to support even more knowledge, and all the necessary products to make reproductive wellness accessible as well to the everyday woman. They give women what women really need.
Their commitment to women is simple and true or as they put it, "As we grow, we're committed to building a brand that addresses every life stage to make reproductive health informative and supportive, instead of lonely and confusing."
These two CEOs are even more impressive when you look at how they support women in general. Lola partnered with "I Support Girls" a non-profit that helps bring homeless women supplies such as bras and hygiene products. They've already donated more than 5 million period products. These two CEOs went a full extra mile when they teamed up with another organization called "Period Equity" to demand change and to eliminate the tampon tax in our nation.
Clearly Alex and Jordana really care about women. They understand that women care immensely about what they put into their bodies and that feminine care product manufacturers shouldn't be any different. It's amazing that this has not been the status quo, but they are creating a precedent for other companies to be transparent and caring as well, not only with women but hopefully all of us.
| Current Position | Tenure at Current Position | Previous Position |
| --- | --- | --- |
| LOLA | July 2014 - Present | Flurry Analytics |
| Education | Industry | Sub Industry |
| Dartmouth College | | |