Project Tango: Google's Prototype Android Phone Has An Open Dance Card, Developers Welcome [VIDEO]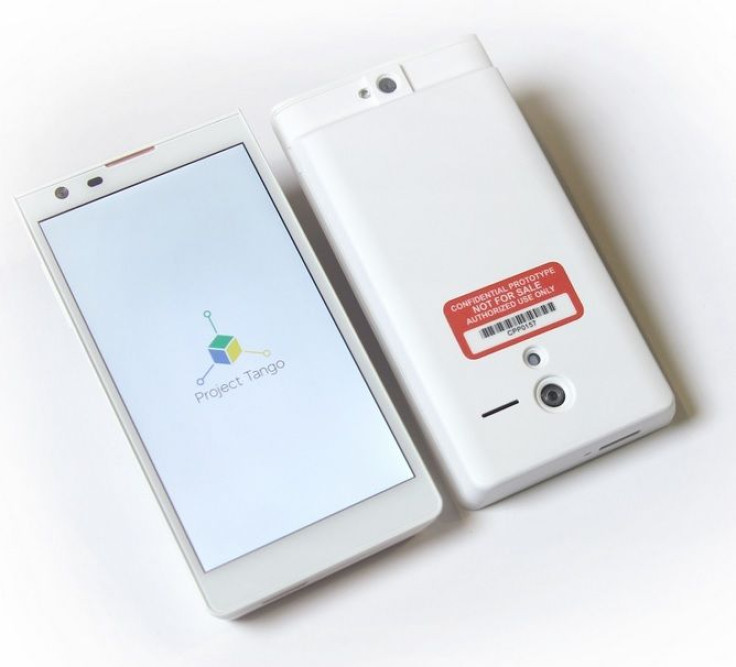 It takes two to tango, as they say. Or in Google's case, it will take more than that. Google announced Thursday its newest Android phone project titled Project Tango. The prototype Android smartphone is a novelty in the mobile phone world, experimenting with "robotics and computer vision" to map out the world around us. "The goal of Project Tango is to give mobile devices a human-scale understanding of space and motion," Project Tango lead Johnny Lee stated.
The phone currently measures 5 inches and possesses several sensors, a 4-MP camera and a motion tracking camera to track the outside world. These inputs "allow the phone to make over a quarter million 3D measurements every second, updating it's [sic] position and orientation in real-time, combining that data into a single 3D model of the space around you," the project outline reads.
The project outlines possible games and utilities as concepts in which a phone of this magnitude could be used. "Imagine that you scan a small section of your living room and then are able to generate a little game world in it," explains Chase Cobb of Paracosm. "I don't know of any other controller or gaming device that can do that at the moment."
According to the Lee, the device has potential outside of the gaming world as well. "What if the visually-impaired could navigate unassisted in unfamiliar indoor places?" The smartphone's abilities open up innumerous opportunities that have yet to be conquered because of the expense of indoor mapping. But with personal mapping devices like Project Tango, that cost could be greatly reduced.
The Advanced Technology and Projects group (ATAP) pulled together experts like JPL, the people behind the Mars rover landing, Bosch, University of Minnesota and Paracosm to help with the design of the phone and software. And Google isn't stopping there.
Currently, they are looking to ship 200 prototype devices and dev kits to "developers with dreams of creating more than a touch-screen app." An online application is available to people interested in the device and what can be done with it. "We have allocated some of these devices for projects in the areas of indoor navigation/mapping, single/multiplayer games that use physical space, and new algorithms for processing sensor data," states the Project Tango site. Google is looking to ship devices to developers by mid-March. The application can be found here. You can watch the video below.
© Copyright IBTimes 2023. All rights reserved.