'Blurred Lines' Copied This Song, and Other Famous Music Copyright Cases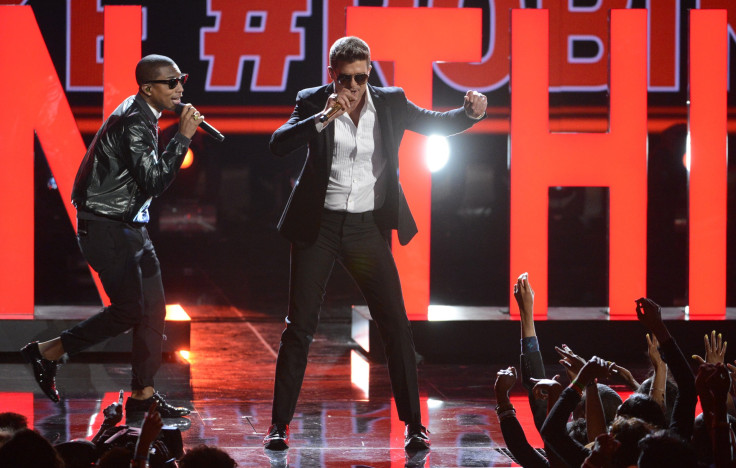 The question of whether Pharrell and Robin Thicke's 2013 song "Blurred Lines" infringed on the copyright of an earlier song was finally answered yesterday. A jury found the two songwriters guilty of copying Marvin Gaye's "Got to Give It Up," released in 1977, and ordered them to pay $7.3 million of the song's estimated $16 million in profits to Gaye's children.
While it appears that the result of this ruling is a one-time payoff to Gaye's heirs, that doesn't mean they're not trying to halt distribution until they can get in on future royalties.
Claims of copyright infringement in the music world are hardly new. Led Zeppelin's case defending "Stairway to Heaven" is still being argued. The Beatles, the Flaming Lips and Oasis have had their issues. Even the "Ghostbusters" theme song was subject to a copyright claim.
Music-related copyright cases often are settled discreetly out of court for large sums.
Take, for example, the case of Vanilla Ice's 1990 song "Ice Ice Baby," which sampled Queen and David Bowie's 1981 song "Under Pressure." While Queen and Bowie originally were uncredited on the track, the case was settled outside of court for an undisclosed but presumably large amount of money. Additionally, Bowie and all of the members of Queen were given songwriting credits and awarded subsequent royalties.
Similarly, Avril Lavigne & Co. settled out of court with the Rubinoos over similarities between her song "Girlfriend" and their song "I Wanna Be Your Boyfriend."
A third possible outcome is illustrated by a case from last year, when Sam Smith & Co. gave Tom Petty and Jeff Lynne songwriting credits on his smash "Stay With Me" because of similarities that it allegedly had to Petty's 1989 "I Won't Back Down." While the case was solved "amicably," a condition of the songwriting credit is that the two get a share of the royalties for the song. Watch the video below, and compare -- resting assured that the YouTube ad revenue will be divvied up among all deserving parties:
Another possibility is losing everything, like the Verve did with "Bitter Sweet Symphony." The 1997 hit used a sample from a symphonic version of the Rolling Stones' "The Last Time." The Verve had an agreement to use part of the song, but were later sued by ABKCO Records and lost publishing royalties to the Rolling Stones.
© Copyright IBTimes 2023. All rights reserved.
FOLLOW MORE IBT NEWS ON THE BELOW CHANNELS