Qatar Calls Gulf Countries' Blockade 'Collective Punishment'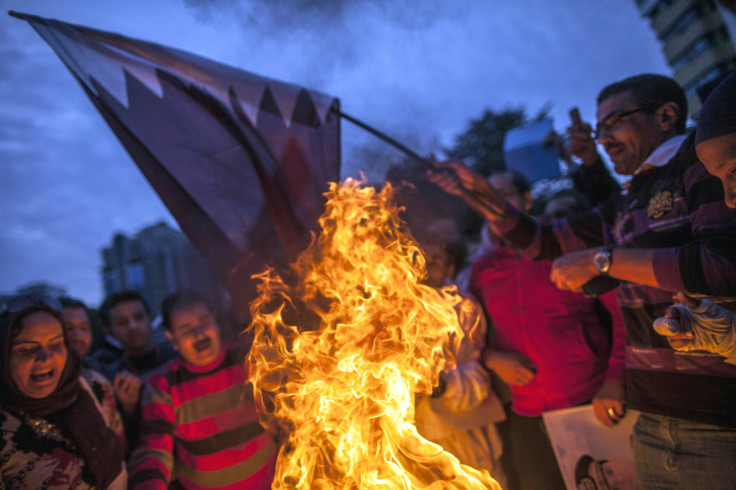 Qatar's foreign minister called the move by Gulf countries to sever ties with the nation a "collective punishment," according to a statement posted on the foreign ministry's website Wednesday. The comments came after Qatar's state-run news agency published a story May 23 about Emir Sheikh Tamim Bin Hamad Al Thani questioning Donald Trump's presidency, insulting Saudi Arabia and supporting Iran.
While Qatar maintained the story was false, the report was followed by diplomatic problems between the country and other Middle Eastern nations Bahrain, Egypt, Saudi Arabia, as well as the UAE. The four nations accused Doha of supporting terrorist organizations such as the Islamic state group (ISIS), Muslim Brotherhood and al Qaeda as they announced the removal of diplomatic staff from Qatar.
Read: Russia Planted Fake News About Qatar, Probably To Divide US, Allies, Report Says
Sheikh Mohammed Bin Abdulrahman Al Thani, Qatar's foreign minister, said the measures taken against the country were "surprising," according to the statement, which also cited the minister's interview with the BBC on Tuesday.
"He added that all parties involved want a positive relation with Iran and would not want to escalate against any side, but rather resolve disputes through dialogue in line with the principles adopted by Gulf Cooperation Council leaders," the statement said. "What happened was collective punishment ... that tried to put Qatar and its people under a blockade."
Thani also reacted to Trump's tweet on the Gulf countries severing ties with Qatar. On Tuesday, Trump tweeted: "So good to see Saudi Arabia visit with the King and 50 countries already paying off. They said they would take a hard line on funding …. extremism, and all reference was pointing to Qatar. Perhaps this will be the beginning of the end to the horror of terrorism!"
However, Thani said Trump met with the Qatari emir and "discussed allegations of funding terrorism by countries in the region."
"And we told him very clearly if there is any allegation we can sit on the table and we can sort it out," Thani said, adding there was no evidence showing Qatar supported terrorist groups.
On Tuesday, the minister maintained his country was a victim of hacking.
"Whatever has been thrown as an accusation is all based on misinformation and we think that the entire crisis being based on misinformation," Thani told CNN. "Because it was started based on fabricated news, being wedged and being inserted in our national news agency which was hacked and proved by the FBI."
CNN reported earlier in the day, citing U.S. officials, Russia planted the fake news on Qatar's news agency triggering a major crisis in the Middle East. This, the sources reportedly said, was possibly done to create a rift between the U.S. and its Gulf allies.
Bahrain, Egypt, Saudi Arabia, and the UAE have banned Qatari nationals from entering the countries. The UAE gave Qataris a two-week notice to leave the country, while Bahrain only gave them 24 hours time.
The UAE's state airline Etihad Airways also suspended all flights to and from Doha. Emirates and Flydubai followed suit.
Later, U.S. Secretary of State Rex Tillerson urged the Gulf countries to solve their differences.
"I think what we're witnessing is a growing list of disbelief in the countries for some time, and they've bubbled up to take action in order to have those differences addressed," Tillerson reportedly said. "We certainly would encourage the parties to sit down together and address these differences."
Meanwhile, fearing the situation could worsen in the coming days, Qatar is reportedly in discussions with Turkey and Iran to get food supplies. The UAE and Saudi Arabia were Qatar's biggest suppliers of food and water.
© Copyright IBTimes 2023. All rights reserved.