Queen's Funeral: Prince Harry, Meghan Markle 'Uncharacteristically Distant,' Body Language Expert Analyzes Why
KEY POINTS
Many noticed the Sussexes "forewent their signature hand clasp" during the funeral
A body language expert said the change in their gestures was "remarkable"
The couple was criticized for holding hands during the procession of Queen Elizabeth's remains
Prince Harry and Meghan Markle reportedly seemed "uncharacteristically distant" during the state funeral of Queen Elizabeth at Westminster Abbey.
Body language expert Katia Loisel decoded the distance between the Duke and Duchess of Sussex as they bid their final farewell to Queen Elizabeth II.
In an interview after the late monarch's body was laid to rest, Loisel said the decision to remain distant could mean only two things -- they wanted to observe the sanctity of the occasion, or they did not want the same criticism they had suffered over their hand-holding last week, when Queen Elizabeth's coffin was moved from Buckingham Palace to Westminster Abbey, 7News reported, citing 7Life.
"In keeping with the seriousness of the occasion and a show of respect, Prince Harry and Meghan forewent their signature hand clasp in favor of a formal distance, walking side by side behind Prince William, Princess Kate, Charlotte and George," she said.
Loisel said while most of the royals walked with their arms by their side during the procession, Meghan kept her head down and her hands clasped in front, indicative of a level of "discomfort and uncertainty" because Prince Harry was not holding her hand. However, Loisel noted it could also be a sign of respect to the Queen.
The body language expert added the lack of visible affection between Prince Harry and Meghan continued until they were seated, which came as a surprise for many as they were normally a very "affectionate and tactile" couple during their public outings.
"It was interesting to note the lack of affection and mutual touch between Prince Harry and Meghan," she said.
Loisel noted while their bodies leaned toward one another at some points during the funeral, the couple seemed to deliberately avoid eye contact and hand holding. The body language expert described the change in their gestures as "remarkable," since the public had been used to seeing their gestures of affection, no matter the occasion.
She, however, added while the couple held a formal distance at the funeral, they clearly tried to provide each other with comfort and reassurance, albeit non-verbally.
"It's important to see those non-verbal behaviors for what they are," she said, adding people should not be critical of their mutual display of affection during this difficult time. She also said that their hand-holding last week should not be seen as a sign of disrespect, but as two people simply finding solace in one another.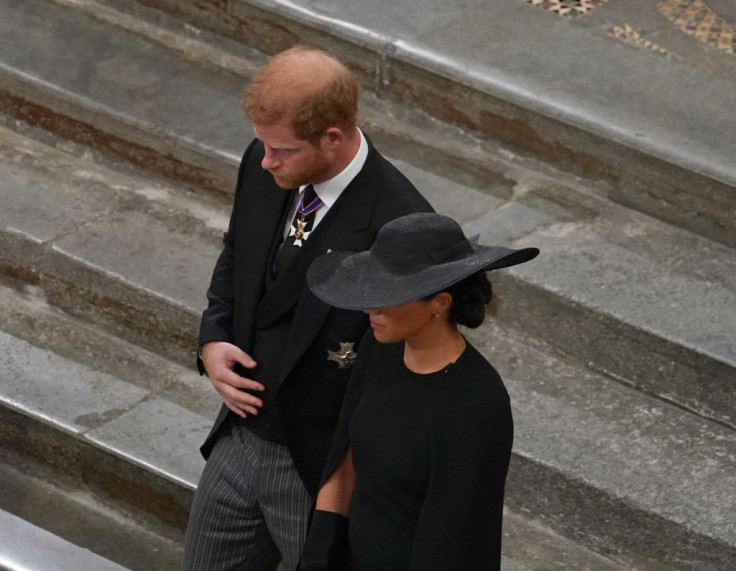 © Copyright IBTimes 2023. All rights reserved.