Racial Discrimination In Lending: Feds Accuse Hudson City Savings Bank Of Redlining In Four States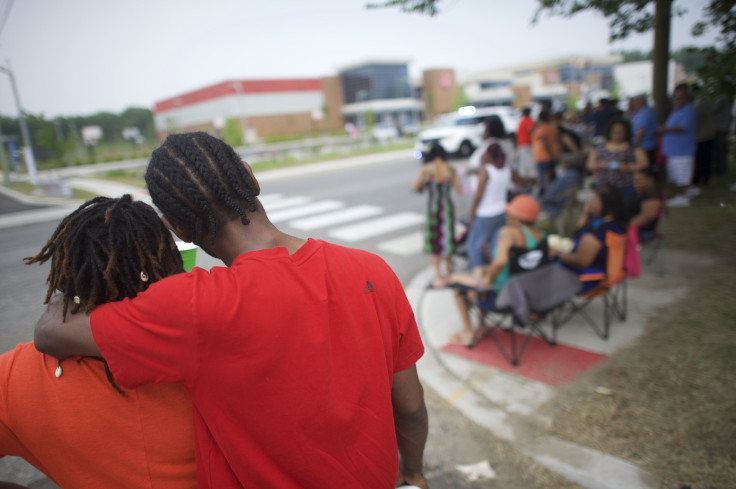 In a signal of federal regulators' growing interest in stamping out racial discrimination in bank lending, the federal government on Thursday announced a historic settlement deal, worth nearly $33 million, with Hudson City Bancorp. The Paramus, New Jersey, bank engaged in the practice of "redlining," meaning it structured its business to avoid lending in neighborhoods that are majority African-American and Hispanic in New York, New Jersey, Connecticut, and Pennsylvania, according to the Consumer Financial Protection Bureau (CFPB) and the Department of Justice.
The company's consumer-facing subsidiary, Hudson City Savings Bank, avoided locating branches and loan officers, and avoided using mortgage brokers, in neighborhoods where minorities predominate, the government alleged. Put simply, U.S. Attorney Paul Fishman said, if you lived in one of those neighborhoods between 2009 and 2013 and wanted to apply for a mortgage, "Hudson City Savings Bank was not the place to go." By contrast, the bank's competitors successfully made "thousands" of loans to qualified borrowers in the same neighborhoods, Fishman said.
As part of the proposed settlement, which is pending approval by a federal judge in New Jersey, Hudson City will pay $25 million in direct loan subsidies to qualified borrowers, $2.25 million for community programs and outreach, and $5.5 million in civil penalties for alleged violations of laws that guarantee equal access to credit and prohibit discrimination in housing. It is the largest ever redlining settlement to include direct subsidy payments for borrowers, officials said.
"We allege that Hudson City's redlining practices illegally cut off opportunities for consumers in predominantly black and Hispanic neighborhoods to get a mortgage and achieve the dream of home ownership," said CFPB Director Richard Cordray. "Without access to affordable credit, neighborhoods deteriorate in the long shadow cast by unfair lending."
Hudson City did not admit or deny wrongdoing under the proposed settlement. In court papers, the bank stated that it "believed that it was satisfying its obligations to meet the credit needs of majority-black-and-Hispanic neighborhoods by purchasing from other lenders [Federal Housing Administration]-guaranteed mortgages that were secured by residential properties in majority-black-and-Hispanic neighborhoods."
The CFPB began to scrutinize the bank's lending practices in March 2014 and subsequently launched a joint investigation with the Department of Justice.
While redlining is often associated with segregation-era bank practices that involve denying home loans to people of color, officials said Thursday that redlining remains a reality in today's marketplace and that both the CFPB and the Department of Justice are focused on rooting out discriminatory lending practices.
"We have more redlining investigations open now than at any time in the last six years," said Greg Friel, deputy assistant attorney general in the Justice Department's civil rights division.
Friel said the companies under investigation encompass a "wide variety of institutions as far as their size goes," but he declined to provide more specifics.
Regulators at the state and local level have also taken recent enforcement actions against alleged discriminatory lending practices. This week the city of Oakland filed a federal lawsuit accusing Wells Fargo of targeting minority residents with higher-priced and riskier loans, when those borrowers qualified for loans with better terms. Earlier this month, the New York attorney general's office hammered out an $825,000 agreement with Evans Bancorp to settle redlining claims.
The lawsuit against Hudson City comes as mortgage lending to minorities continues to lag behind lending to whites, seven years after the onset of a financial crisis that eviscerated wealth in many communities of color across the country. In 2014, African-Americans received 5.2 percent of home purchase loans, and Hispanics received 7.9 percent of those loans, compared to 69.1 percent for whites, according to Home Mortgage Disclosure Act data released this week. In 2014, African-Americans comprised 13.2 percent of the U.S. population, and Hispanics made up 17.4 percent, according the U.S. Census Bureau.
While African-Americans and Hispanics made gains of 0.4 percent and 0.6 percent, respectively, compared to 2013, consumer advocacy organizations say that people of color remain underserved in the mortgage market when those figures are viewed relative to their population size.
"[P]eople of color and low- and moderate-income families continue to receive a far lower share of home purchase loans than they have historically and than would be expected based on their share of the population," the Center for Responsible Lending, a North Carolina-based nonprofit, wrote in an analysis of the federal data.
The loan subsidy program that comprises the bulk of the Hudson City settlement will make mortgage loans more affordable for residents of black and Hispanic neighborhoods in the four states, officials said. The subsidies can include reduced interest rates, and they can help with closing costs and down payments.
FOR FREE to continue reading
✔️ Unlock the full content of International Business Times UK for free
offer available for a limited time only
✔️ Easily manage your Newsletters subscriptions and save your favourite articles
✔️ No payment method required
Already have an account?
Log in
© Copyright IBTimes 2023. All rights reserved.