Ramsey Orta, Man Who Filmed Eric Garner Death, Was Indicted By A Grand Jury, But Pantaleo Was Not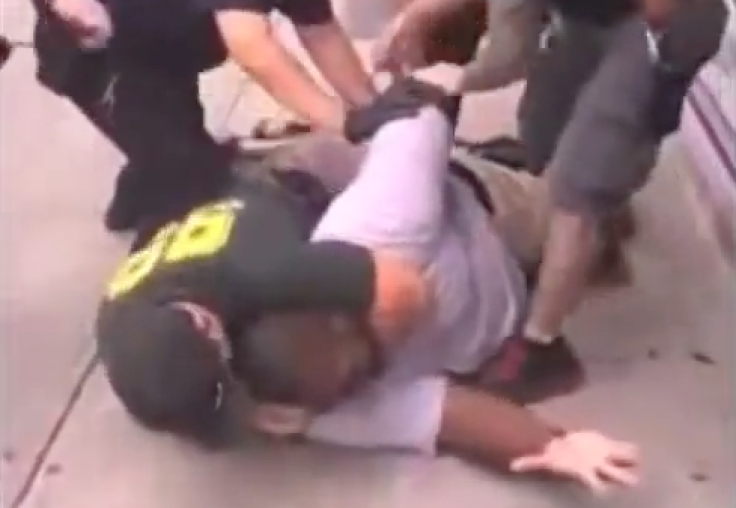 As protesters took to the streets of New York over the decision of a Staten Island grand jury not to indict a police officer who put Eric Garner in a chokehold shortly before he died, one person involved in the incident has not escaped indictment -- the man who filmed the incident.
Ramsey Orta, who filmed the incident that resulted in Garner's death, was indicted on weapons charges stemming from an Aug. 2 arrest, according to the Staten Island Advance. Police allege that Orta, 22, placed a .25-caliber handgun in the waistband of Alba Lekaj, 17, in an area near where Garner died, that is known for drug-related activity. Orta claims that the charges are a retaliatory measure by the police for his testimony in the Garner case.
"When they searched me, they didn't find nothing on me," Orta said to the Advance regarding his arrest. "And the same cop that searched me, he told me clearly himself, that karma's a b***h, what goes around comes around," Orta said.
"I had nothing to do with this. I would be stupid to walk around with a gun after me being in the spotlight," he said later, according to Rawstory.
Orta pleaded not guilty according to Mediaite. At the time of his arrest, Orta reportedly told police: "You're just mad because I filmed your boy."
A grand jury did not believe Orta's account, charging him with single felony counts of third-degree criminal weapon possession and criminal firearm possession, according to The Huffington Post.
By contrast, a Staten Island grand jury seemingly accepted the account of NYPD Officer Daniel Pantaleo, who was seen applying a chokehold to Garner in the video (see below), but whose lawyer claimed that "it was never his intention to harm anyone," according to the New York Times.
The protests over Garner's death come on the heels of a spate of controversial killings of black men by U.S. police officers. The shooting of Michael Brown by Officer Darren Wilson in Ferguson, Missouri, resulted in a grand jury declining to indict the officer, and sparked protests across the U.S. and abroad.
After John Crawford III, a 22-year-old black man, was shot dead by Ohio police in a Walmart in August while carrying a BB gun that the store sold, a grand jury in the state also declined to pursue charges against officers, according to the Washington Post.
In addition, the shooting by Ohio police of 12-year-old Tamir Rice, who was reportedly brandishing a replica handgun when shot by a police officer whose capabilities had been previously questioned by his superiors, has further inflamed tensions in recent months.
It is incredibly rare for US grand juries not to return indictments, except in cases where the person facing charges is a police officer. In 2010, the most recent year for which data exist, U.S. attorneys prosecuted 162,000 federal cases, and grand juries declined to return an indictment in only 11 of them, according to FiveThirtyEight.
While less complete data on officer-involved shootings exist, FiveThirtyEight cites the example of the U.S. city of Dallas, where grand juries reviewed 81 shootings between 2008 and 2012 and returned just one indictment.
© Copyright IBTimes 2023. All rights reserved.