Rand Paul's Mobile App Truly Will Let Anyone 'Stand With Rand'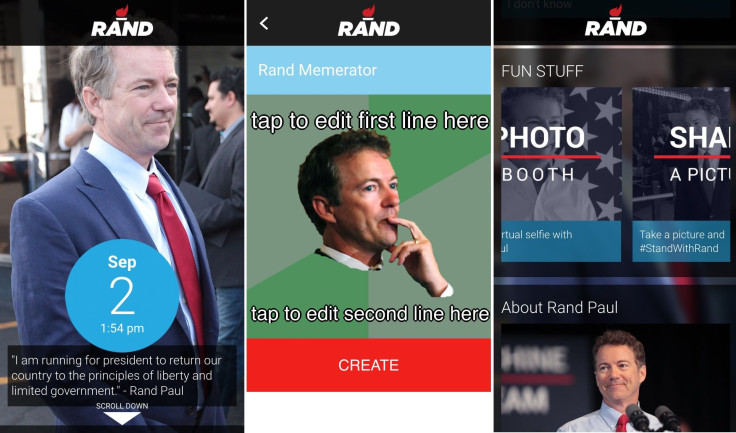 Kentucky Sen. Rand Paul has been calling people to stand with him since he first announced his run in the 2016 presidential primary race in April. Now, with the power of mobile technology, anyone can -- virtually -- stand with him.
The Rand Paul campaign released a mobile app Wednesday that offers constituents -- or anyone, really -- the opportunity to learn more and engage with the senator. The app is listed as "Rand Paul 2016" on Apple's App Store and the Google Play store.
As soon as you download the app, you will be asked if you are willing to share your location to be sent notifications about campaign events in the area. The app's opening page boasts a donation section, where users can tap donation amounts ranging from $20.16 to $5400. The app is a purely scrolling feed and does not have a drop-down menu. The sections include "Featured Videos," "Get Involved," "Latest News," "Rand On The Issues" and a poll asking "What is your opinion of the Obama administration's deal with Iran?"
But the app is not all about serious issues. One of the last sections is titled "Fun Stuff" and offers users a "Meme Erator." Memes -- humorous images, videos or texts spread on the Internet -- have become proliferous in political media. Now, Paul's campaign team is tapping into that fun by encouraging users to write text on a photo of the candidate's face.
The "Fun Stuff" section also offers a "Photo Booth," where users can pair an uploaded photo of themselves with a cutout of Paul or take a snapshot of anything -- emphasis on the anything:
The Paul campaign has already endorsed some contributions. Shortly after the app's release, the campaign retweeted a submission by Donie O'Sullivan, a journalist at Storyful:
While it's all fun and games, the introduction of another digital experience for a presidential contender does bring to mind some not-so-favorable public relations failures in the past. In April, the Paul campaign retweeted a photoshopped image of James Holmes, the gunman behind the Aurora theater shooting, with a sign saying #StandWithRand, TalkingPointsMemo reports.
Fellow Republican contenders Chris Christie and Bobby Jindal have also fallen victim to some hashtag fails on Twitter -- instances that inspire more negative press than positive engagement with constituents. "You're never going to remove risk. You have to have a plan in place to deal with the risk. When you don't do that, you have people questioning [your] judgment," content marketer Rebecca Lieb told International Business Times.
Whatever fails may come of Paul's recent contribution to the new age of digital campaigning, the contender -- who is polling near the bottom -- does deserve some credit in that he was one of the first candidates to release an official mobile app. Democratic front-runner Hillary Clinton has been recruiting mobile app developers since April with no product to boast yet.
© Copyright IBTimes 2023. All rights reserved.