Razr Too Expensive? Here's How To Slash $500 Off Regular Price
KEY POINTS
Motorola's new Razr is a considerably expensive midrange device at $1,500
To entice more consumers to buy it, Motorola and Verizon have launched a trade-in program
The program will slash hundreds off the device's original price
Some consumers might think the new Motorola Razr costs too much for a midrange device. At $1,500, the reboot of the iconic clamshell costs more than two iPhone 11 units. The expensive price and midrange specs might drive some consumers away and cause them to wait for Samsung's upcoming better-specced foldable instead.
In order to entice more consumers to consider buying the new Razr, Motorola has launched a trade-in and carrier switch program that will, in effect, slash hundreds of dollars with every purchase of the new device, Android Central reported.
Motorola and Verizon are offering up to $500 off on a new Razr for buyers who trade-in an eligible device. What's more, those who aren't using Verizon will be given an additional $200 Mastercard when they make the switch to the carrier
Here's how to receive the $200 Mastercard and the $500 price slash:
First, interested buyers should add a Google Pixel 4, Pixel 4XL, LG V50 ThinQ, LG G8 ThinQ or Motorola Razr smartphone with monthly device payments to their cart, then activate on a new smartphone line of service with Verizon Unlimited.
Second, buyers will then need to proceed to a website indicated in Verizon's website, then enter a promo code and their credentials when prompted. Buyers who made the switch will receive the $200 Mastercard within eight weeks.
To get additional $500 off, buyers will need to trade-in their old device within 30 days after buying the new Razr. Here's a list of devices that can be traded-in for $500:
iPhone 11, 11 Pro and 11 Pro Max
iPhone X
iPhone XR, XS and XS Max
iPhone 8 and 8 Plus
Galaxy S10, S10+, S10e and S10 5G
Galaxy S9 and S9+
Galaxy Note10, Note10+ and Note10+ 5G
Galaxy Note9
Pixel 4 and 4 XL
Pixel 3 and 3 XL
LG G8 ThinQ
LG V50 ThinQ
Those who don't have the above devices can trade-in the following and still get $350 off:
iPhone 7 and 7 Plus
iPhone 6s and 6s Plus
iPhone 6 and 6 Plus
Galaxy S8, S8+ and S8 active
Galaxy S7, S7 edge and S7 active
Galaxy S6, S6 edge, S6 edge+ and S6 active
Galaxy Note8
Galaxy Note5
Galaxy Note4
Pixel and Pixel XL
Pixel 2 and 2 XL
Pixel 3a and 3a XL
LG G7
LG G6
LG V40
LG V30
DROID Turbo 2
moto z4
moto z3
moto z2 force
moto z2 play
Hydrogen One
The trade-in amount will be credited to the buyer's account over 24 months.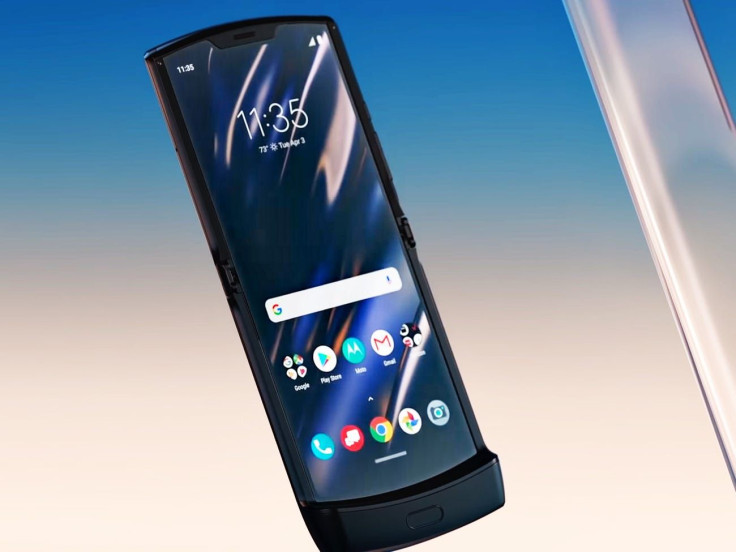 © Copyright IBTimes 2023. All rights reserved.