'Real Housewives Of Atlanta' Star Kenya Moore's Ex Matt Jordan Speaks Out As Wedding Photos Surface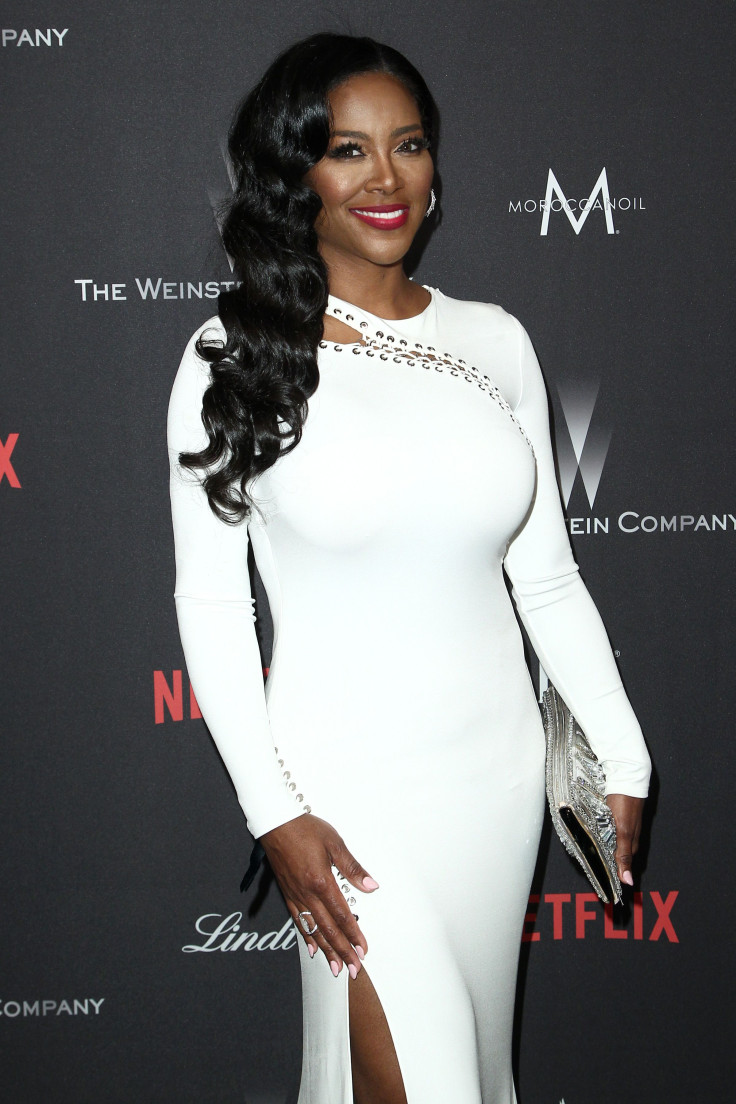 Matt Jordan was as surprised as fans to learn that 'Real Housewives of Atlanta' star Kenya Moore had tied the knot. The Bravo TV star's ex took to Instagram to share his feelings as she basked in marital bliss.
In an emotional post on the photo sharing platform, Jordan suggested that he'd been subjected to much "embarrassment" as his on-and-off relationship with Moore played out in both Seasons 8 and 9 of "RHOA." He maintained that she'd falsified claims of domestic violence, filed an "unwarranted restraining order," and caused undue damage to his personal and professional reputation. Still, Jordan claimed the biggest "blow" was losing Moore to a "stranger."
"Finding out she is married from [SIC] stranger online," he wrote on the private post (via Us Weekly). "Realizing it's to someone she was seeing during your relationship…this is definitely the season of losses for ya boy. TKO!! I made a lot of mistakes, but I loved & cherished her. I can't lie the news of this rocked me. I pray her heart is in good hands. Take care of her. She was everything to me."
Read: Who Is 'Real Housewives Of Atlanta' Star Kenya Moore Married To?
After confirming to People that she had, in fact, tied the knot, Moore shared a few photos from her wedding on Instagram. Both photos hide the identity of the mystery man to whom she's married. The "RHOA" star praised her secret beau as "a good man" and wished him a happy Father's Day, revealing details about how they got to the altar.
According to Moore's Instagram, she and her now-hubby met a year ago and reconnected in December 2016. They have been together ever since. The reality star called him her "everything," adding the hashtag "#devotedwife."
Moore spoke about her wedding for the first time on June 16. She told People that she and her husband gathered close friends and family in St. Lucia for their intimate beach wedding. While she revealed little about her man, the site reported that he's a business man.
"I'm just ecstatic," she said. "This man is the love of my life and I'm so happy to begin our lives together as husband and wife."
Rumors first swirled about Moore's potential marriage as photos from what appeared to be a wedding surfaced online. Tamara Tattles obtained the images, which featured the former Miss USA sporting a white gown and veil on the beach. Standing across from her is her husband, who is dressed in a white suit.
Moore shared several photos from her time in St. Lucia, furthering speculation. She posted one shot of champagne sitting alongside a gorgeous meal. There are two glasses and two forks in the photo, but neither Moore nor the person she's with are photographed. She revealed very little in the photo caption, writing only, "#AllINeed #thankful."
Her husband is the first man Moore's been linked to since Jordan. Their relationship ended on bad terms after a string of violent incidents, many of which were captured by Bravo. In January, Moore confirmed that she didn't plan to pursue legal action against Jordan after he smashed her garage windows, spray painted her security cameras and assaulted a driver.
"I decided not to file a restraining order against Matt," she said during an episode of "RHOA." "I'm just going to take some time for myself. I don't know what's happening with him. Until I figure it out, there's no future in it."
Read: Kenya Moore Feuds With Kim Zolciak In 'Real Housewives Of Atlanta' Season 9 Clip
A month before, Moore told TMZ she was done giving Jordan chances. She claimed she'd allowed him back into her life one too many times. The "RHOA" star added that she'd received several texts from him at the time, many of which were "threatening."
"It goes up and down," she said. "One minute it's a threat, the next 'I love you and want to be with you.' But I'm over it."
Jordan denied those allegations and many others made against him. In fact, he called his "RHOA" outbursts manufactured drama, suggesting that Moore told him how to behave on the show. Furthermore, Jordan claimed Moore organized a birthday party for him while he was away, intentionally purchasing his return ticket for days after the party was set to take place.
"Tell the truth about the fake birthday party you planned purposefully a day before YOU booked me a flight back to ATL. So it would look like I just didn't show up," he wrote on Instagram. "Since you're the one that asked me to come back. SHAME ON YOU."
© Copyright IBTimes 2023. All rights reserved.