Record iPhone Sales: 6 Reasons Apple Sold 10 Million, And How It Could Have Done Better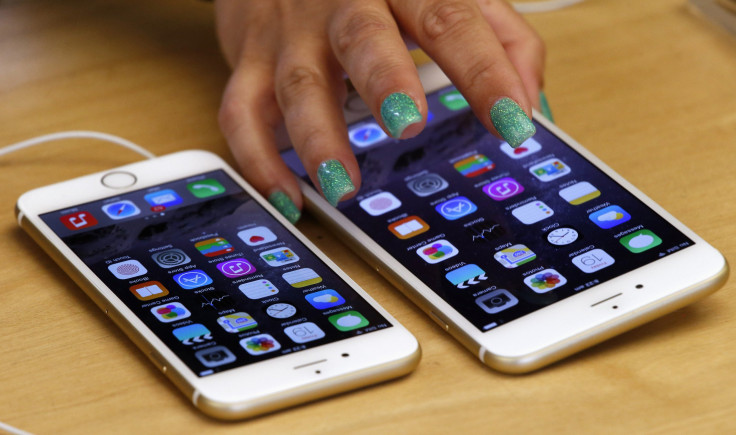 Apple sold more than 10 million iPhone 6 devices over the weekend, breaking its previous launch record of 9 million devices sold for the iPhone 5s and 5c in 2013. Barclay analyst Ben Reitzes said that "anything above 10 million units should be considered a positive surprise given limited supplies."
That's a big number by any measure and a record for a new iPhone on opening weekend. Here are five things to know:
It won't move the stock, immediately. Wall Street doesn't seem overly impressed with the numbers; Apple stock is hovering around $100 a share today, which is little changed from Friday. But this is normal. Blockbuster sales are already priced in, and Wall Street has a history of selling on the news. Check out this chart from BTIG Research, which demonstrates that Apple's stock price drops an average of 1.4% the week it releases new phones: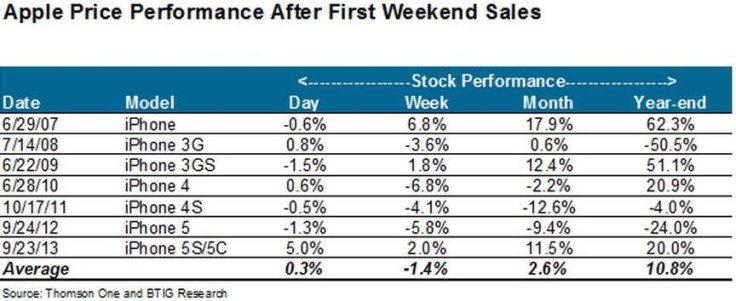 Apple could have sold even more. Sales of this iPhone (and others in the past) are limited to Apple's supplies on-hand, and probably don't reflect overall demand for the device. None other than CEO Tim Cook says the company could have posted better numbers — Apple "could have sold many more iPhones with greater supply and we are working hard to fill orders as quickly as possible." Shortages of the bigger-screen iPhone 6 Plus were pretty immediate, meaning unmet demand.
The numbers don't include China. Unlike the iPhone 5s and 5c, which went on sale in China on the global launch day, the iPhone 6 has not yet been approved for sale there, a very big, very important market for Apple. If the $4,000 price tags we've seen on iPhones in Beijing are any indication, there's a lot of unmet demand in China.
Apple made it easier to buy an iPhone this time. This year the iPhone 6 was available for preorder, whereas last year's iPhone 5 devices were not. This drastically reduces the barrier for entry and makes it a cinch for Apple to sell more phones. After all, it's much easier to send your credit card number to Apple and wait for UPS to show up at your door rather than camp out in front of an Apple Store for a couple weeks.
Bigger screens are making the iPhone attractive to Android users, and in foreign markets. The dramatically increased screen sizes on the iPhone 6 and 6 Plus (4.7 inches and 5.5 inches, respectively) will make them appealing devices to consumers that might have previously written off iOS smartphones. The phablet form factor has found ready homes among older people glad to have more screen real estate, as well as in developing countries around the world where some might rely on them as their sole or primary computing devices.
Last year's numbers included the iPhone 5c, which was a flop. The iPhone 6 and 6 Plus are both safely described as premium phones, whereas the "bargain" 5c presented a more affordable counterpart to the then-top-of-the-line 5s. The 5c is largely acknowledged as a flop, meaning the 5s was the one driving this number. For the iPhone 6, Apple's offering consumers a choice between two "gotta have it" phones versus the previous option of one hot phone or one not-as-hot phone almost certainly played a role here. Neither of the new phones was portrayed as a "more affordable iPhone," and customers clearly responded positively.
© Copyright IBTimes 2023. All rights reserved.