Regal Cinemas Parent Company Files Bankruptcy: What Chapter 11 Means For Cineworld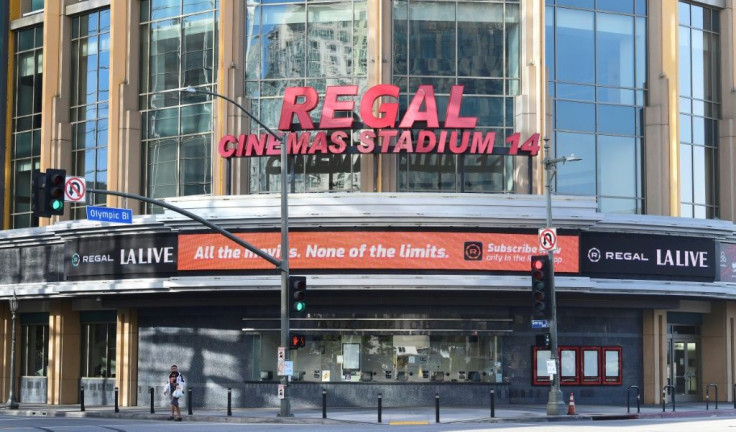 As movie theaters continue to struggle, Cineworld announced that it has filed for Chapter 11 bankruptcy protection in the U.S. on Wednesday.
The entertainment company, which is the second largest theater chain in the world and the owner of Regal Cinemas, has more than 500 movie theaters in the U.S.
Cineworld said the Chapter 11 filing will help it reduce its nearly $5 billion in debt while also strengthening "its balance sheet and provide the financial strength and flexibility to accelerate, and capitalize on, Cineworld's strategy in the cinema industry."
The company said it has secured $1.94 billion in debtor-in-possession financing from its existing lenders to continue operations while it reorganizes. Cineworld expects to emerge from Chapter 11 as "expeditiously as possible" with its sights set on the first quarter of 2023.
The bankruptcy filing is anticipated to optimize its real estate strategy in the U.S. Cineworld also said it intends to improve its U.S. cinema lease terms through discussions with its landlords.
Cineworld also "expects to operate its global business and cinemas as usual throughout this process."
The news of Cineworld filing for bankruptcy protection doesn't come as a surprise as the movie theater chain warned back in August that a Chapter 11 filing was possible as it looked to reduce its debt.
"The pandemic was an incredibly difficult time for our business, with the enforced closure of cinemas and huge disruption to film schedules that has led us to this point," Cineworld CEO Mooky Greidinger said in a statement. "This latest process is part of our ongoing efforts to strengthen our financial position and is in pursuit of a de-leveraging that will create a more resilient capital structure and effective business.
"This will allow us to continue to execute our strategy to reimagine the most immersive cinema experiences for our guests through the latest and most cutting-edge screen formats and enhancements to our flagship theatres. Our goal remains to further accelerate our strategy so we can grow our position as the 'Best Place to Watch a Movie,'" Greidinger added.
Movie theaters around the world were shut down during the pandemic to prevent the spread of the virus, costing theater owners significantly. Cineworld lost $2.7 billion in 2020 and $566 million in 2021 due to the decline in moviegoers, CNN reported.
Recent new-release films such as "Top Gun: Maverick" and" Jurassic Park: Domination" have increased cinema attendance in recent months, providing hope for a rebound.
"The outstanding success of recent blockbusters such as 'Spider-Man: No Way Home;' 'No Time to Die;' 'Top Gun: Maverick;' 'Dune;' 'Minions: The Rise of Gru;' 'Thor: Love and Thunder' and others proves clearly that people love to go to the movies and that, once supply of product returns, our business will reap the benefits," Greidinger said.
Cineworld also owns movie theaters in the U.K., Ireland, Poland, the Czech Republic, Slovakia, Hungary, Bulgaria, Romania, and Israel. These operations are not affected by the Chapter 11 bankruptcy filing. The company has about 28,000 employees worldwide.
© Copyright IBTimes 2022. All rights reserved.
FOLLOW MORE IBT NEWS ON THE BELOW CHANNELS