Retina iPad Mini 2 Release Date: Device Could Arrive With Samsung-Made Retina Display In Q4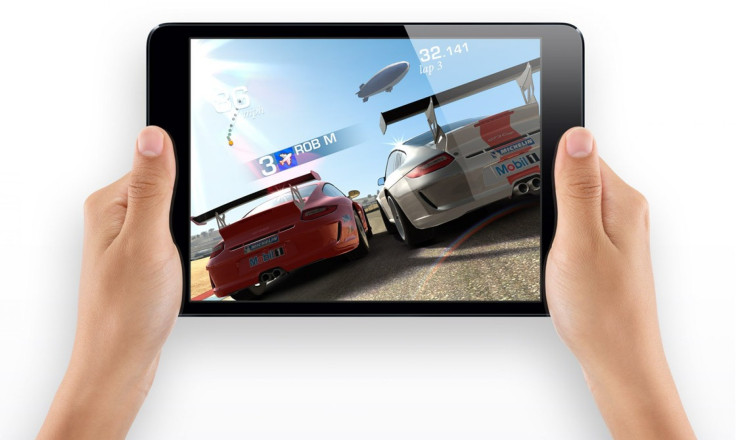 Apple (NASDAQ:AAPL) is preparing for the mass production of its next-generation iPad mini with high-resolution retina display from Samsung (KRX:005935), and is expected to release the device in the fourth quarter of this year, a new report said.
Apple was previously rumored to be reducing its reliance on Samsung for components. However, a report from The Wall Street Journal, on Thursday, said the Cupertino, Calif.-based tech giant is now working with its Asian suppliers for the production of its iPad mini 2, which will feature retina display panels produced by Samsung.
According to the WSJ report, Apple has decided to shift its retina display orders for the new iPad mini to Samsung from AU Optronics (NYSE:AUO), which is said to be less efficient than the Korean company.
The retina iPad mini 2 will feature the same 7.9-inch screen as the current version of the device, which was released in November last year; but, the new model could have back covers in multiple colors, the report said, citing "people familiar with the matter."
In addition to Samsung, Apple may also order screens for the iPad mini 2 from Japan's Sharp Corp. (TYO:6753) and South Korea's LG Display Co. (NYSE:LPL). The sources said that Apple initially planned to use displays only from Sharp and LG Display, but later decided to bring Samsung, its biggest rival, in to ensure sufficient supply of screens.
The existing version of the iPad mini features display panels from LG Display and Taiwan's AU Optronics.
The WSJ report comes hot on the heels of a rumor saying Apple is testing a new iPad mini model for this year with a faster A6 processor, but without the retina display. Given the fact that Apple is known for testing various product designs before settling on a particular one for the final release, it is likely that the non-retina model of the iPad mini was just an internal-only device, which was not meant for shipping.
There is also a possibility that Apple might have planned a minor update to the current iPad mini by incorporating a faster processor to provide users with a better experience with iOS 7, but ultimately scrapped the plan after Google (NASDAQ:GOOG) released its latest Nexus 7 tablet last week with an ultra-high resolution screen.
The new Nexus 7 features a 7.02-inch IPS display with a resolution of 1920x1200 pixels, 2GB of RAM, Snapdragon S4 Pro quad-core processor clocking at 1.5GHz and the latest Android 4.3 Jelly Bean as its key features. The retina iPad mini 2, on the other hand, is rumored to have a display with a higher resolution of 2048x1536 pixels and the re-designed iOS 7 as its operating system.
Another reason why Apple might be unable to entirely disentangle itself from Samsung is that the South Korean conglomerate is one of few suppliers that can produce components on time while meeting Apple's quality requirements.
"There are not many display choices for Apple," Wanli Wang, an analyst with CIMB Group in Taipei, told the Journal, adding that only Samsung, LG Display and some Japan-based manufacturers can make the high-quality displays that Apple wants to use for its next iPad mini.
© Copyright IBTimes 2023. All rights reserved.