RFID Wristband: About The Latest In Music Festival Technology At Bonnaroo, Bamboozle, Coachella And More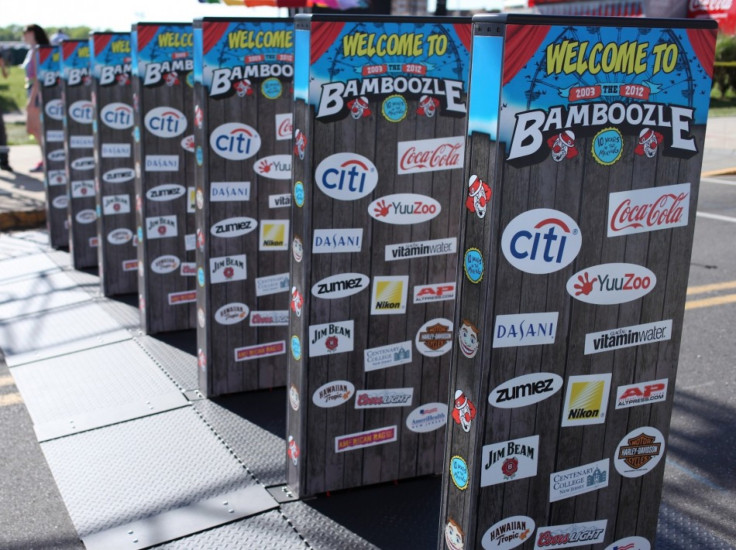 Music festival season is in full swing, and while it is pretty obvious how much work goes into organizing the event and setting up the stages, something you don't think about are the tickets. Think back to the last time you got a ticket to go into a festival? Seems like awhile ago right? You might have just received a wrist band that you flashed to security. Those days are long gone as Radio-Frequency Identification (RFID) are the latest (and honestly greatest) in festival technology.
To put it in the easiest terms, RFID is an actual chip (no not your average bag of Ruffles) that sends out a signal. RFID technology has made its way into music festival wristbands. You may have noticed at the last festival you attended (Bonnaroo 2011, Bamboozle 2012, Coachella 2012) that to enter the grounds you had to walk through what looked like a fun metal detector. These fun metal detectors had an outline of a hand that security kindly asked to place your hand by. Placing your hand in the outline like a missing puzzle piece, your wristband was validated within a millisecond, letting festival organizers know that you, (place name here), have made it to the festival!
While attending the Bamboozle festival in Asbury Park, NJ this past May, I had the pleasure of not only rockin' the RFID wristband (along with every other festival attendee), but I also had a chance to talk with Greg Parmley, the Chief Information Officer for Intellitix, who told me a little bit more about how the RFID technology works to connect people.
Intellitix, a provider of RFID access control activated over one million RFID tags at festivals last year. What's the big deal, you may ask? They're the reason why queues have been cut and ticket fraud is almost extinct. Intellitix's RFID wristband is some of the next-generation festival technology.
Maybe you don't care all that much about shorter entrance lines or the extinction of ticket fraud, but RFID wristbands can actually expand your festival experience. These RFID wristbands can connect festival goers with bands and other fans through social media, and can even be used to pay for items.
Rather than carry a wallet or worry about losing credit cards, in advance or at the event you can load funds onto your wristband to spend around the site, Greg explained. It's really fast, he said, stating that transactions occur generally between one and three seconds.
I know that I am personally tired of festival ATM charges and having a twenty dollar bill slip out of my wallet to be lost in the abyss.
By loading funds onto wristbands, it actually becomes a lot easier for the festival organizers as well. Gone are the long queues due to waiting for credit card transactions to go through, and organizers don't need to worry about the cash. It's much more efficient, much more convenient, he says of the wristbands.
According to Greg, within the coming year we're going to see more festival attendees registering their wristband online and link it to their Facebook profiles. At this year's Coachella, around 30,000 fans did just that.
You can have points around the site where you can buy stuff or update your [Facebook] status, he explains about the exciting new opportunities linked to the RFID wristband.
But besides music festival goers, bands can actually prosper from the new technology as well. Greg explained that a person might discover a band at a festival that they really like. The wristband could help connect a person with the band, letting that person download tracks, along with growing that bands fan base.
Those afraid of damaging the wristband and being denied entrance into a festival need not fear. Greg states that the RFID wristbands are pretty much indestructible. Don't worry about getting them wet either. The wristbands can survive being submerged in up to 18 inches of water. So please continue washing your grubby hands at festivals.
I checked out people walking into the Bamboozle festival all three days. During day one some seemed timid, waiting with their hands at the hand outline for a couple seconds before continuing through. By day three, Bamboozlers were cruising through with their wristbands, getting the hang of the fast validating technology that has them in and enjoying live music in a flash.
Those attending Bonnaroo this year in Manchester, T.N. from Thursday, June 7 to June 10 will have the opportunity to check out the RFID wristbands in person. Register your wristband online beforehand to link to Facebook, and see how else you can socialize with other Bonnaroo-ians. Registering your wristband for Bonnaroo can also give you access to merchandise discounts, set lists and free music from Bonnaroo bands.
If you'd like to learn more about the RFID technology in music festival wristbands you can visit intellitix.com.
© Copyright IBTimes 2023. All rights reserved.