Ridiculously Photogenic College Football Player, Cam McDaniel Of Notre Dame, Memes Are A Touchdown [PHOTOS]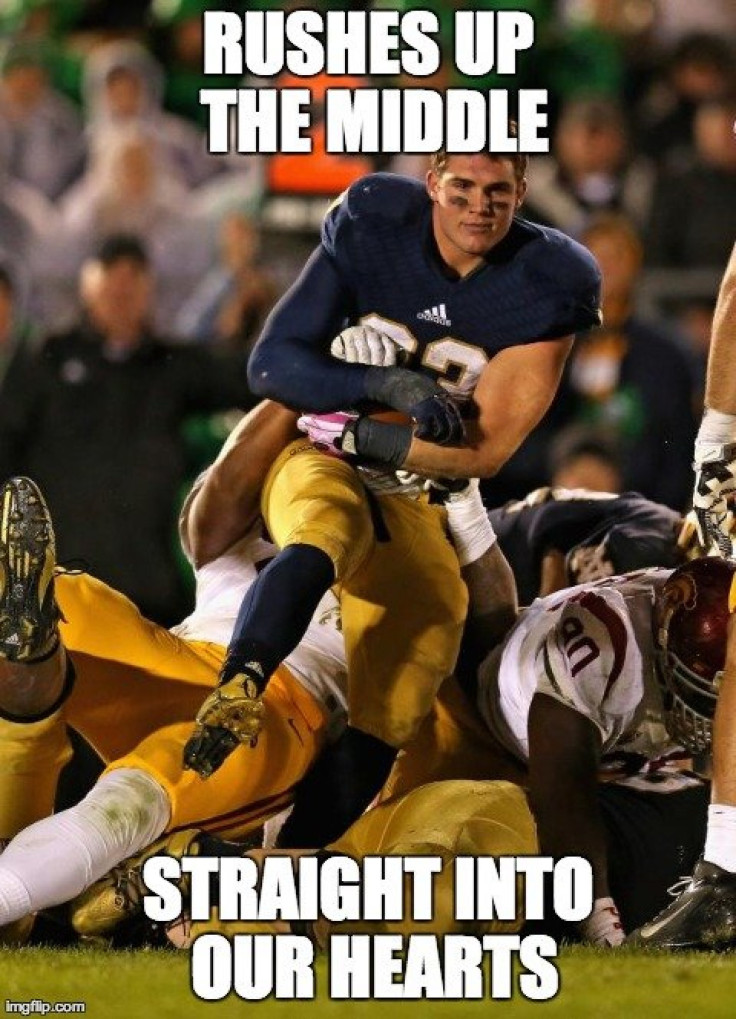 It's hard to imagine a real-life football player, in the middle of a game, mid-tackle, looking like an Abercrombie & Fitch model, but one college player seemed to do it effortlessly.
Meet Cam McDaniel, a running back at the University of Notre Dame in Indiana, who has been dubbed the "ridiculously photogenic college football player," after a photo of him striking a pose right out of "Zoolander" during a game went viral.
According to The Daily Mail, McDaniel was playing in an Oct. 19 game against the University of Southern California Trojans when his helmet fell off during a pileup. But instead of a labored, grunting and sweaty mug, McDaniel -- without a helmet -- looked like a model with a chiseled jaw, sexy stare and gently tousled hair.
And of course, the Internet did not miss the photo of McDaniel. Already, there have been countless memes making the rounds, like: "Takes quarterback's handoff... and his heart" and "Guy trying to tackle him... just wanted to touch him" and "Scores touchdown... wins America's next top model."
But for female fans, The Daily Mail reported McDaniel is already taken, as he's engaged to Stephani Sterrett.
McDaniel is brushing off his fame, based on a recent interview. "I think the most important thing to realize here is that I'm playing on one of the premiere teams in the United States of America," he said. "I just want to honor my coaches. I want to honor my teammates with my play and my character off the field. I just want what everybody else on this team wants. I want to have an amazing year and a legendary year."
McDaniel joins a long list of "ridiculously photogenic" Internet memes made from photos captured during athletic activities. Last year, a photo of Zeddie Little, a 25-year-old man who was running at the Cooper River Bridge Run in South Carolina, became a sensation when he was photographed by Will King looking handsome while running.
Little, who also has a girlfriend, looked great in his runner's attire, styled hair, slight facial stubble and bright smile while running the marathon. The photo became inspiration for Internet users to create memes like: "Goes for a jog, whole town follows him" and "Gets arrested, mugshot submitted to GQ magazine" and "Wins 'America's Next Top Model,' didn't enter."
A similar meme of a football player also emerged last year of former New England Patriots receiver Brand Lloyd who was photographed about to face plant while catching a pass but still had a giant smile on his face.
© Copyright IBTimes 2023. All rights reserved.