RIM Opens Pre Orders for Blackberry Playbook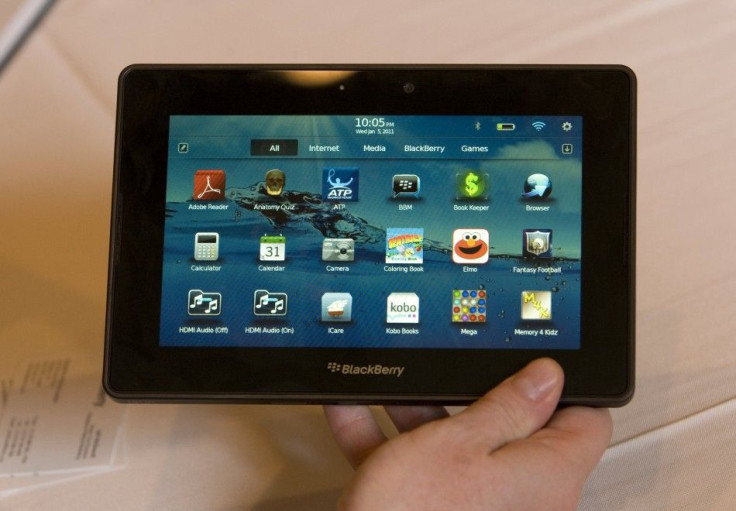 Seven months after announcing the Blackberry Playbook, Research In Motion has released a number of key details about the device.
Most significant was the price. RIM is offering its cheapest model, a 16 GB version of the Playbook, for $499, the same price as the 16GB version of Apple's iPad 2. RIM, which is the first company to offer a tablet at a price point close to Apple. RIM is also offering 32 and 64 GB models of the Playbook, which will cost $599 and $699, respectively.
RIM says the tablet will be available in Canada April 19 at a variety of locations, including Best Buy, Radioshack, and Staples.
At 7 inches, the Playbook is a bit smaller than the iPad 2, but offers similar functionality to Apple's tablet. Like the iPad 2, the Playbook features a pair of cameras, one at 5 megapixels on its back for photos and one at 3 megapixels on the front for video conferences.
Absent from the device's specifications, however, is any mention of its battery life, which has led to some speculation that the Playbook's battery life may have taken a hit.
RIM has not announced US release date, but has opened up pre-orders for the device.
The full specifications are:
7 1024x600 WSVGA capacitive LCD touch screen
Ultra-portable at less than a pound and less than one-half inch thick: 0.9 lbs (425g) and 5.1 x 7.6 x 0.4 (130mm x 194mm x 10mm)
1 GHz dual-core processor
BlackBerry® Tablet OS with support for symmetric multiprocessing
MP3, AAC and WMA audio playback
Support for high resolution video playback (H.264, MPEG4, WMV)
1080p HDMI output
Dual 1080p HD cameras for video conferencing and video capture (3MP front and 5MP rear)
1 GB RAM memory
Up to 64 GB internal storage (16, 32 and 64 GB models)
GPS, Orientation Sensor (Accelerometer), 6-Axis Motion Sensor (Gyroscope), Digital Compass (Magnetometer)
Stereo speakers and stereo microphones
Wi-Fi® (802.11 a/b/g/n) connectivity
Bluetooth® 2.1+EDR support
© Copyright IBTimes 2023. All rights reserved.