Russia Military Capabilities: MiG-35 Fighter Jets Being Equipped With Laser Weaponry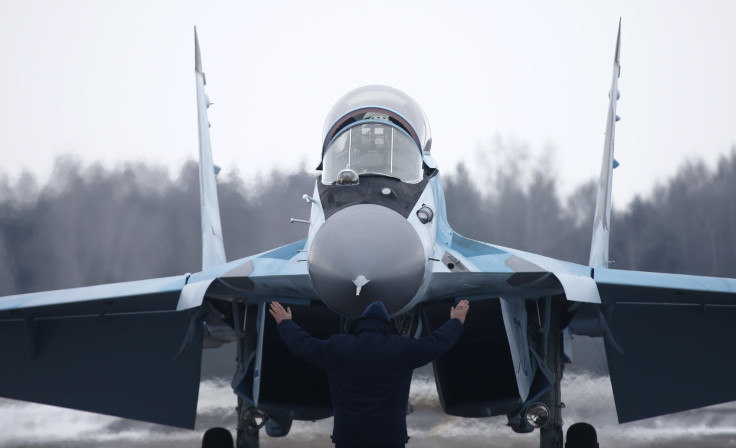 Russia's MiG-35 fighter jets will soon be equipped with laser weaponry capable of destroying "potential enemy warplanes' electronics," Russian aviation expert Dmitry Drozdenko said Thursday. In a recent interview with Sputnik News, Drozdenko focused on how the changes in the MiG-35 will add to the warplane's combat capability.
The latest development to the MiG-35 will begin immediately after flight-testing is completed this summer, the official said, adding that the weapons are capable of destroying the "eyes" of a modern aircraft that include various kinds of optical sensors and electronics.
"Laser weapons [including those installed on the MiG-35] can disable these components and create massive interference, thereby nullifying the famous Western advantage in electronics," Drozdenko said, praising the weaponry as something that will be able "to cause irreparable damage to potential enemy warplanes' electronics."
The MiG-35, which is an advanced model of the original MiG-29 fighter, is armed with a 30 mm cannon and capable of carrying 1,500 rounds of ammunition. The fighter jet can also use air-to-air and air-to-surface missiles, as well as guided and unguided rockets and bombs. The jet has a speed of 16,700 miles per hour, an effective range of 620 miles.
Read: China Plans To Become The Biggest Military In The World
Drozdenko also said Thursday that the MiG-35 might be purchased by several countries, including India, Kazakhstan and Peru.
"India earlier bought the MiG-35s and other countries may follow suit, especially given the fact that the plane is armed with laser weapons," the expert said.
The United Aircraft Corporation President Yury Slyusar said serial purchases of the MiG-35s under the state arms procurement program is likely to begin in 2019.
Last year, Russian President Vladimir Putin said that his country was looking to increase its military exports.
"The exports of Russian-made weapons and military equipment have reached $4.6 billion, and our contract portfolio is worth more than $50 billion," Putin said at the time.
© Copyright IBTimes 2023. All rights reserved.