Russia To Test New Long-Range Nuclear Capable ICBMs Within Next 24 Months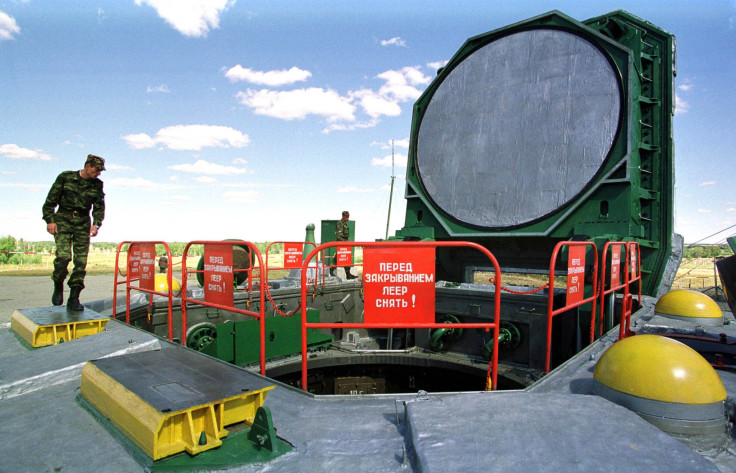 The Russian military was pressing ahead with the design and manufacture of new nuclear-capable heavy intercontinental ballistic missiles that were expected to be ready for testing in 18-24 months, the Russian government-backed news agency Tass reported. The Kremlin has prioritized the modernization and strategic location of its ICBM missile fleet during the last year because of renewed hostility between Moscow and NATO over the annexation of Crimea and the Kremlin's continued involvement in the Eastern Ukraine war.
"As of today, the third stage of the design and development work is underway. I believe we'll reach the stage of tests of this heavy missile in 18-24 months," an aide to the Strategic Missile Force Commander Igor Denisov said Tuesday.
The missile, known as Sermat, will reportedly have an operational range of 10,000 kilometers (6,200 miles) and be able to travel at 24,500 kilometers per hour (15,220 mph). The missile, which can reportedly also deliver up to 15 separate warheads to independent targets, will likely be stationed in the East or West of the country to maximize its delivery range.
Nuclear Arsenal by Country | FindTheData
In recent weeks Russia has continued testing its shorter-range Iskander missile, which it was threatening to place in its Baltic Sea exclave of Kaliningrad. Such a move would provoke Russia's main nuclear rivals in Washington to consider placing U.S.-made and -operated missiles back in Britain, from where it removed intermediate-range missiles at the end of the Cold War in 1991.
The move by Russia and the U.S. would be in breach of the 1987 Intermediate-range Nuclear Force Treaty, which prohibits the use of ballistic and cruise missiles with ranges of 500 to 5,500 km (300 to 3,400 miles).
British Foreign Secretary Philip Hammond said of such a move in June that "we have got to send a clear signal to Russia that we will not allow them to transgress our red line," and that actually hosting the missiles in Britain "would be a decision that we would make together, if that proposition was on the table."
© Copyright IBTimes 2023. All rights reserved.
FOLLOW MORE IBT NEWS ON THE BELOW CHANNELS