Russian 'Military Supermarket' Opens In Moscow With Ships, Weapons Among Items For Purchase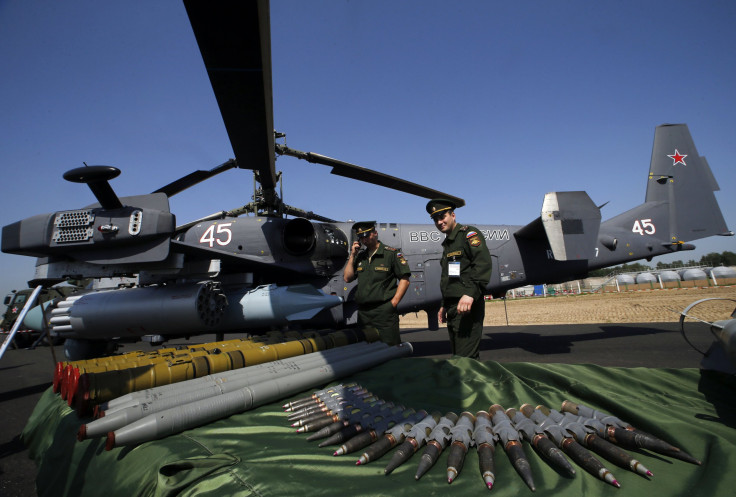 Russia opened its first Army-2015 military technology forum, dubbed the "military supermarket," in Moscow Tuesday. The goal is to showcase its weaponry and allow countries to shop for arms and equipment. Companies from China, France, Germany and South Korea were among those taking part in the forum, according to Sputnik News.
The forum's organizers expect representatives from over 70 countries to attend. "The newly built complex can be called a military supermarket, where representatives of other countries' armed forces can look at, try out, test-drive and buy arms and military equipment," Russian Defense Minister Sergei Shoigu said at the exposition's opening, according to Sputnik. Ships and weapons systems were among the items being auctioned off to the public during the event.
Russian President Vladimir Putin spoke at the opening ceremony to the event, saying he hopes the Russian military will continue to modernize and replace most of its outdated equipment by 2020. He said there is an international demand for Russian weaponry and that the "efficiency of the military-industrial complex is a most important resource for the growth of the entire economy." Arms exports represent a $50 billion industry for Russia.
Among the Russian military's recent innovative weaponry is a so-called microwave gun capable of disabling drones and other airborne projectiles. It can also deactivate low-flying planes, according to Russian officials. The country is expected to unveil its latest aircraft, the Yak-130, at the exposition. The military aircraft can be armed with air-to-air and air-to-surface missiles, the Russian Defense Ministry said Monday.
In addition to its own developments, Russia is building a new wide-body aircraft with China. The partnership was seen as the countries attempting to secure a spot in the competitive wide-body aircraft segment of the military market, which is currently dominated by America's Boeing and Europe's Airbus.
© Copyright IBTimes 2023. All rights reserved.