S.Africa's rand headed for firm close, bonds rally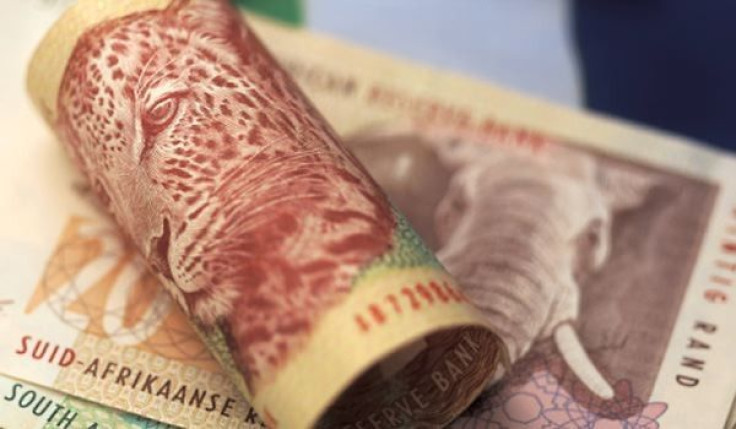 The rand reversed earlier losses against the dollar on Tuesday and looked set to close stronger in New York for the first time in three days as optimism that countries in the euro zone are dealing with their debt problems boosted overall risk sentiment.
Government bonds also latched on to the gains, pushing yields sharply lower as foreigners ventured back into local debt which still offers relatively higher returns than those in more developed countries.
The rand came off a session low of 7.98 to the greenback and was trading at 7.8675 by 1543 GMT, up 0.82 percent from Monday's close.
I think basically there's been some optimism that the EU situation is going to improve going forward. The fact that Greece is getting their house in order improves sentiment, said ETM analyst Luke Barnett.
Bonds have also rallied -- demand was good at the auction which indicates that foreigners' interest in local bonds is still strong.
At the weekly auction, South Africa's Treasury sold 1.1 billion rand worth of the 2020 bond at a bid to cover ratio of 3.85 and sold 1 billion rand of the 2026 issue at a bid-to-cover of 3.025.
On the secondary market, the yield on the benchmark four year bond fell nine basis points to 6.37 percent, while that for the equally highly traded 2026 paper shaved off 12 basis points to 8.18 percent.
The market is pricing in rates staying on hold when the Reserve Bank concludes its last policy meeting for the year on Thursday, balancing concerns about sluggish economic growth with those about rising inflation.
The consensus at this stage is definitely for rates to stay on hold. There are some market players that are looking for a rate and there's a small chance of that, but it's mostly been priced in, a market analyst said.
People have got their positions ready for Thursday and I don't think they're going to change much before that.
© Copyright Thomson Reuters 2023. All rights reserved.