S.Africa's rand sees biggest daily loss since Sept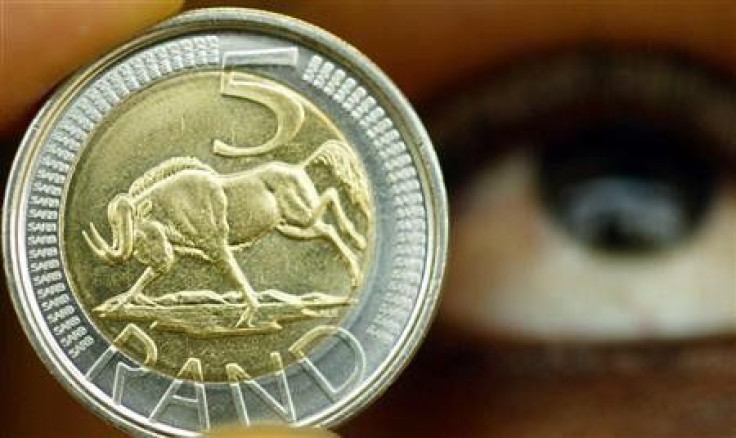 South Africa's rand weakened against the dollar on Tuesday as a Greek plan for a referendum on a bailout package raised worries that the euro zone debt crisis is far from over.
The rand had trimmed its losses though after Germany and France leaders said they were determined to see through a three-point plan agreed last week to contain the debt crisis, which had calmed markets.
Most emerging market currencies were in the red and the rand -- a very sensitive barometer of global risk sentiment -- was the fifth worst performer of 20 units tracked by Reuters.
It tumbled as much as 3.43 percent, its heaviest single-day decline since September 21. It hit 8.2096, its weakest since October 21.
By 1525 GMT, it had come back to 8.09 to the dollar, 1.93 percent weaker than Monday's New York close of 7.9370.
This referendum threatens everything they've been working on, said George Glynos, managing director at ETM.
Greek Prime Minister George Papandreou called a referendum on Monday on the EU bailout deal for his debt-ridden country. If Greeks reject the bailout, it could set the stage for a disorderly default, causing ructions across Europe's financial system.
Data that showed China's factory activity in October was its slowest since February 2009 also weighed on the currency of South Africa, a major exporter of raw materials to China.
If there is a no vote out of the referendum it spells a lot of bad news for risk assets and the rand and unfortunately this has the potential, I think, to become something a lot more serious, Glynos said.
The rand is a heavily traded currency at the mercy of global investor sentiment. The impact of local data, including PMI and unemployment numbers on Tuesday, has been muted.
After hitting a 28-month low of 8.4950 in September, the rand seemed to be on a tentative recovery path but failed several times to break resistance at 7.70 to the dollar.
Government bonds followed suit, with yields hitting one week highs.
The yield on the 2015 bond up 10 basis points to 6.695 percent and that on the 2026 issue climbing 15 basis points to 8.46 percent.
Bonds are likely to remain soft until there is some stabilisation within the global backdrop, said Anisha Arora, emerging market analyst at 4CAST.
© Copyright Thomson Reuters 2023. All rights reserved.