Samsung Confirms Galaxy S5 LTE-A Won't See US Release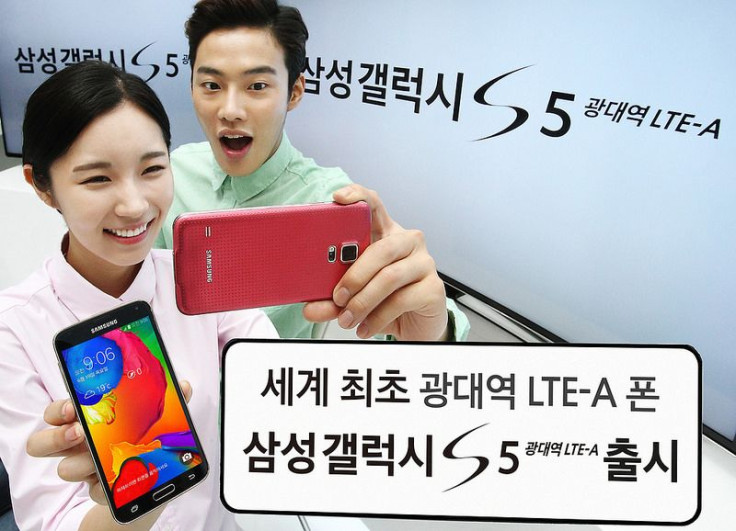 A newer, faster Galaxy S5 model, which includes a number of updated specifications, was just unveiled in South Korea, and Samsung Electronics Co. (KRX:005930) has confirmed that the model will not be made available in the U.S., nor in any other global markets.
The newly announced Galaxy S5 LTE-A appears to be the long-rumored Galaxy S5 model, once referred to as the "Samsung Galaxy S5 Prime," which features a QHD (2560 x 1440 resolution) display, a Qualcomm Snapdragon 805 chipset and 3GB of RAM, all features that consumers had vainly hoped would be announced in the original Galaxy S5. We predicted in May that this model, now confirmed as the Galaxy S5 LTE-A, would probably not be available in the U.S., and Samsung has now backed up our call in a statement to tech website Android Central:
"At this moment, there is no specific plan to provide the product to the global market."
The primary feature on the Galaxy S5 LTE-A is its compatibility with Broadband LTE-Advanced mobile networks. The LTE-A mobile communication standard connects electronic devices to the Internet wirelessly at faster speeds than most common networks allow, and with the Qualcomm Snapdragon 805 the Samsung Galaxy S5 LTE-A supports upload and download speeds of up to 300 megabits per second (Mbps).
Currently, most mobile networks around the world do not have the speed capacity for LTE-A networks, which may explain why Samsung is offering such a limited release of the Galaxy S5 LTE-A. The manufacturer had a similar release of the Samsung Galaxy S4 LTE-A, which launched in June 2013 in South Korea, but later became available in a few European countries such as Sweden and Germany. The Galaxy S4 LTE-A was the first device compatible with the first wave of LTE-A networks, which then supported data speeds of up to 150 megabits per second.
The Galaxy S4 LTE-A was not released in the U.S. because American mobile carriers do not have established LTE-A networks like some Asian and European countries. However, LTE-A with 150 megabits per second speeds now comes standard on the Samsung Galaxy S5 after the Galaxy S4 LTE-A proved successful overseas and more mobile networks began adopting LTE-A connectivity.
Consumers can likely expect to see the new features introduced on the Samsung Galaxy S5 LTE-A to be included in future Galaxy flagships such as the Samsung Galaxy Note 4 and the Samsung Galaxy S6. There are also rumors still circulating about the Samsung Galaxy F, which could be the manufacturer's first device with a metal exterior.
© Copyright IBTimes 2023. All rights reserved.