Samsung Galaxy F Sightings May Revive Months Of Unconfirmed Rumors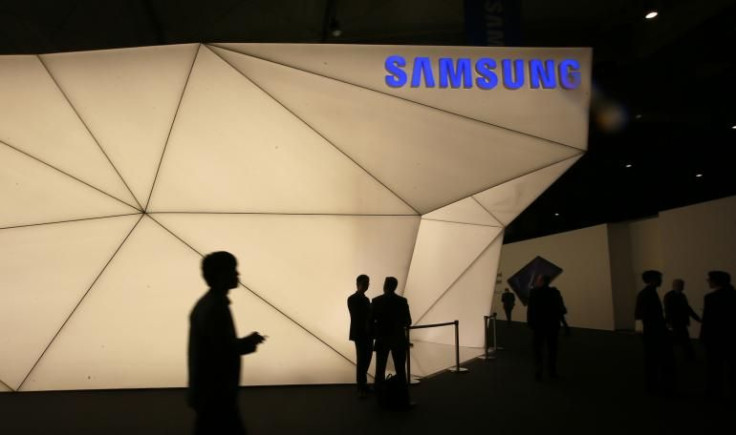 The Samsung Galaxy F has remained elusive despite nine months of rumors, but new official documents may give some insights on the new smartphone, expected to be Samsung Electronics Co.'s (KRX:005930) first made of metal.
Filings submitted by the Federal Communications Commission (FCC) last Friday indicate that a device under the model numbers SM-G906S, SM-G906K and SM-G906L is compatible with NFC, Bluetooth and Wi-Fi connectivity regulations. Many believe this device is the Samsung Galaxy F, but others think it could be the similarly long-rumored Samsung Galaxy S5 Prime. Or maybe these devices are one and the same.
There have also been some recent image leaks for the proposed Samsung Galaxy F or Galaxy S5 Prime. Tech website Phone Arena on Monday shared images of a device that appears to have a brushed-metal finish on its back panel. While the images cannot be confirmed as the Samsung Galaxy F, Galaxy S5 Prime, nor is it clear the back panel is made of metal, Samsung branding is clearly visible. The size and shape of the device is also on par with other Samsung devices. Prior to this leak, tech informant Evleaks shared on Twitter images of a similar device in a different color.
Reports have suggested that Samsung was on the cusp of releasing a device made of metal for many years. Flagship smartphones like the Samsung Galaxy S5, the Galaxy S4 and Galaxy S3 were all rumored, pre-release, to feature aluminum exteriors, but ended up having the same polycarbonate plastic material for which Samsung is known.
Pre-release rumors for the Samsung Galaxy S5, however, were slightly different. In addition to suggesting that the Galaxy S5 would be made of metal, there were also rumors of at least two other devices expected to usher in an age of aluminum for Samsung.
Reports of Samsung having a metal device in the works surfaced in September 2013, supposedly to be called the Samsung Galaxy F. Subsequent reports indicated that Samsung was selecting metal suppliers and working on Galaxy F prototypes prior to mass production. News at that time indicated that the Galaxy F was supposed to replace the Galaxy S series as Samsung's premium, high-priced line, primarily with the introduction of a metal design. The Galaxy S series was expected to remain on the market to introduce new software features.
As the Samsung Galaxy S5 release date approached, a Samsung executive was quoted as saying the manufacturer was considering a "new material" for the Galaxy S5. This further fueled expectations of a metal device. Some of the last rumors to surface before the release of the Galaxy S5 were that the device would release in a standard version made of plastic and a premium version made of metal, similar to how Apple Inc. (NASDAQ:AAPL) released its plastic iPhone 5c and metal iPhone 5s in September 2013. The metal version was reportedly to be called the Galaxy S5 Prime.
Though the Samsung Galaxy S5 released with a plastic design, rumors about the Samsung Galaxy F and Galaxy S5 Prime have not died. Some have wondered if the Samsung Galaxy F and Galaxy S5 Prime was the same device due to the fact that they are both reported as high-end devices made out of metal.
For months after the Galaxy S5 announcement, variants of the model number SM-G906 have surfaced and were connected with the Galaxy S5 Prime. During this time, rumors for the SM-G906 focused on updated hardware, suggesting that the device might feature a Quad HD (2560 x 1440) resolution display, a Qualcomm Snapdragon 805 processor and a water- and dust-resistant IP67 rating like the Galaxy S5.
Now that rumors about a metal design have surfaced once again, so has the Samsung Galaxy F name. But the Galaxy F remains as elusive as ever.
© Copyright IBTimes 2023. All rights reserved.
FOLLOW MORE IBT NEWS ON THE BELOW CHANNELS