Samsung Galaxy Note 4 Launches Friday: Everything You Need To Know Before You Buy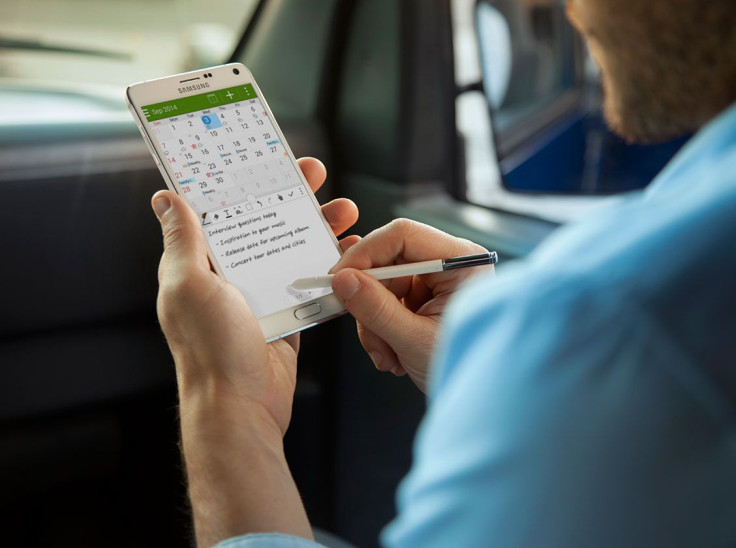 Samsung Electronics' flagship phone, the big-boned Galaxy Note 4, goes on sale in the U.S. on Friday, following launches in several other markets, including China and Korea. Samsung's phone will take on some heavy competition from Apple Inc.'s iPhone 6, which has already sold more than 10 million units.
The Korean manufacturer plans to ship 15 million units of its of its new phone in the first month of release, which would be more than the manufacturer has ever shipped of a single device. And Apple is not the only competitor that will give Samsung a run for its money: Many manufacturers, including LG Electronics and Google Inc., are now embracing the phablet, which is a big change from past launches, when Samsung had the phablet market pretty much to itself.
Considering an upgrade to the Galaxy Note 4 when it comes out Friday? Here's what you need to know:
Display
The Samsung Galaxy Note 4 includes a 5.7-inch high-resolution quad HD (2560 x 1440) display. With a pixel density of over 500 pixels per inch, it allows for sharper images and brighter, more true-to-life colors. The Galaxy Note 4 has the same screen size as its predecessor, the Galaxy Note 3, but is slightly longer, thicker and heavier in terms of overall dimensions.
Design
The Galaxy Note 4 is Samsung's first premium device to feature a metal frame. Made of out aluminum and magnesium, Samsung markets the Galaxy Note 4 design as durable and stylish. The Galaxy Note 4 will be available in four colors: Charcoal black, Frost white, Blossom pink and Bronze gold, but only the black and white color options will be available at launch time. Various carriers and retailers will likely begin carrying the pink and gold color options a few months after launch. Often, Best Buy has the best availability of different colors.
Specifications
The Galaxy Note 4 contains a Qualcomm Snapdragon 805 processor clocking in at 2.7 GHz. For memory, the phablet has 3GB of RAM and 32GB of internal storage. The battery is a fast-charging, removable 3,220mAh model. The device powers 3G and 4G (LTE) networks, and connectivity includes Wi-Fi, GPS and NFC. Similar to other devices in the Note series, the Galaxy Note 4 includes an S Pen stylus. Due to its metal frame, however, the Galaxy Note 4 is not dust- and water-resistant like the Samsung Galaxy S5 that launched earlier this year.
Software
The Galaxy Note 4 is powered by the Android 4.4 KitKat operating system. Google Inc. is expected to release its new Android L operating system sometime in October, and the Galaxy Note 4 is expected to receive a system update with the new Android version in December. Recently, an Android L preview video surfaced, demonstrating the OS on a Galaxy S5 handset and how Samsung has updated its TouchWiz user interface in accordance with Android L.
The Galaxy Note 4 also includes new software features for its S Pen, including Smart Select, which allows users to select content from any text, screen or application and Photo Note, which allows users to put different content together as a single image. The multiwindow app on the Galaxy Note 4 was updated to allow users to search through recent apps and to allow users to view apps in a pop-up window while other apps run behind it. Software helping to work the Galaxy Note 4 includes its Adaptive fast-charging technology, which allows the device to charge 50 percent in 30 minutes. Its Ultra power-saving Mode allows the Galaxy Note 4 to maintain a 10 percent charge for 24 hours.
Camera
The Galaxy Note 4 includes a 16-megapixel camera, which includes image-stabilization technology, a feature long anticipated for Samsung phones that allows users to capture clear photos even when the handset is not perfectly steady. The Galaxy Note 4 camera also supports 8x digital zoom, another industry first, and includes a 3.7-megapixel front camera, perfect for taking selfies. The Galaxy Note 4 camera app includes features such as Rear-cam Selfie, which allows users to take selfies without having to press a shutter button, and Wide Selfie, which composites three photos together, similar to a panorama shot.
Special Features
The Galaxy Note 4 features an updated fingerprint sensor, which includes new functions such as fingerprint shortcut and Web sign-in. Fingerprint shortcut allows users to scan different fingers in order to open different applications at login. For example, a user could an index finger to launch the massager app and use a ring finger to launch the camera app. Web sign-in allows users to employ the fingerprint scanner to log in to websites in lieu of a user ID and password.
The Galaxy Note 4 also includes a new UV sensor, which measures ultraviolet radiation and recommends various methods of skin protection to its users.
Price and Availability
The Samsung Galaxy Note 4 will be available at major carriers AT&T, T-Mobile, Verizon, Sprint and U.S. Cellular, and retailers such as Best Buy, Amazon, Costco and others. The Galaxy Note 4 will cost $299.99 with a two-year contract on most mobile carriers, but each carrier has its own retail price for the Galaxy Note 4. The device will cost $699.99 on Verizon, $720 on Sprint, $749.76 on T-Mobile, $770.16 on U.S. Cellular and $825.99 on AT&T. Samsung is offering those who preorder the Galaxy Note 4 by Oct. 16 (Oct. 22 for Verizon customers) the chance to trade in an old device for a guaranteed $200.
Miscellaneous
The Galaxy Note 4 is among devices that have been a part of recent design controversies. The Galaxy Note 4, in particular, had its issue dubbed "gap gate," when early adopters discovered a thin gap between the screen and the walls of the case on all sides that was wide enough to fit two pieces of paper or a business card. Samsung has come forward to say that the gaps are not a flaw, but rather a feature of the Galaxy Note 4. Still, many users find the feature unsightly.
Prior to gap gate, Apple Inc. had its down issue, called "bend gate," when iPhone 6 and iPhone 6 Plus users reported that their devices were bending while being carried in their pockets. Samsung quickly used its Galaxy Note 3 to take a few shots at Apple. When Bendgate first surfaced, the manufacturer released an ad that read "Bend to those who are worthy," depicting an iPhone 6 handset kneeling to a Galaxy Note 3. However, pundits have since tested the Galaxy Note 4 and discovered that it can also bend under forced pressure. Samsung also performed stress tests on the Galaxy Note 4 that simulated a 220-pound man sitting with a handset in his back pocket "several hundred times," which determined that the Galaxy Note 4 would not bend in such a situation.
FOR FREE to continue reading
✔️ Unlock the full content of International Business Times UK for free
offer available for a limited time only
✔️ Easily manage your Newsletters subscriptions and save your favourite articles
✔️ No payment method required
Already have an account?
Log in
© Copyright IBTimes 2023. All rights reserved.