Samsung Galaxy Note 8 Specs Rated A+ For Display Quality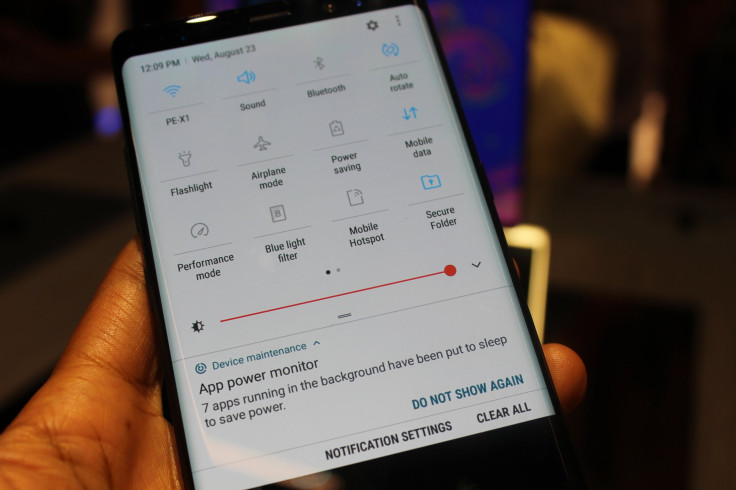 The Samsung Galaxy Note 8 has the best display on the market, according to gadget lab DisplayMate. The smartphone, which was unveiled last Wednesday has received an A+ rating for its screen quality, a first in DisplayMate history.
The Galaxy Note 8 features a 6.3-inch QuadHD+ ( 2960 x 1440 resolution ) AMOLED dual-edge curved display with a pixel density of 521ppi and a brightness capacity of over 1,200 nits. The Galaxy Note 8 display beats out DisplayMate's former top screen, on the Galaxy S8, which has a 5.8-inch QuadHD+ display with a 570 ppi pixel density and brightness capacity of over 1,000 nits.
Read: Samsung Galaxy Note 8 Release Price And Specs, Hands-On Preview
The Galaxy Note 8 display is also Samsung's largest on a premium device, beating out only the Galaxy S8+, which features a 6.2-inch display. The device features Samsung's infinity display design, which includes an 18:9:5 aspect ratio and an on screen home button.
Samsung is well known for having quality displays. With each premium device release, bills of materials often show that Samsung's displays are typically the most expensive components on their devices. Analysts have not yet revealed their cost teardowns for the Galaxy Note 8; however, the Galaxy S8 costs Samsung approximately $308 to produce, with about $85 of that being spent on the display and touchscreen alone. Considering the Galaxy S8 is considerably smaller in size than the Galaxy Note 8, it is safe to say that producing the display for the newer device would be even more expensive.
Read: Samsung Confirms Galaxy Note 8 Camera, Memory And Storage Upgrades
Like the Galaxy S8, the Galaxy Note is certified as Mobile HDR Premium by the UHD Alliance, meaning it can playback content optimized for 4K HDR in that quality. The device features four display modes, including Adaptive display, AMOLED cinema, AMOLED photo and basic. Users can also manually adjust the color balance to their preference.
While the maximum resolution on the Galaxy Note 8 is QuadHD+, its default setting is a Full HD+ (2220x1080 resolution). There is also an HD+ (1480x720 resolution). Users can set their resolution reference in the display settings.​
© Copyright IBTimes 2022. All rights reserved.
FOLLOW MORE IBT NEWS ON THE BELOW CHANNELS