Samsung Galaxy S3, Galaxy Note and Other Upcoming Smartphones to Get Ice Cream Sandwich OS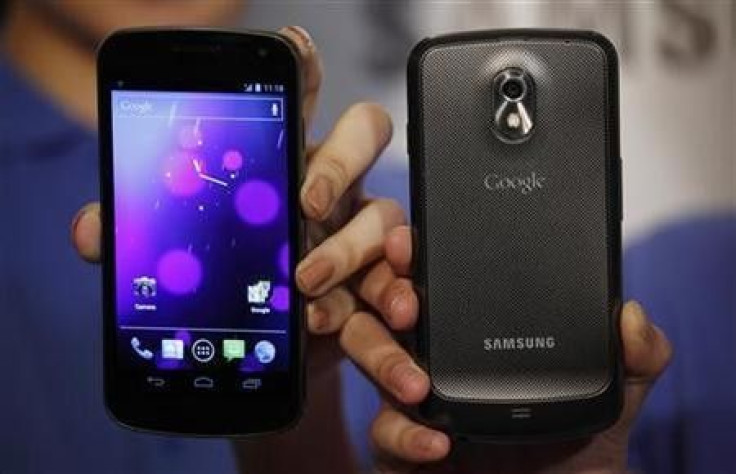 Google's latest Android 4.0 Ice Cream Sandwich (ICS) received massive attention from across the world since its preview at the May 2011 Google I/O event.
Five months later, the software titan, in collaboration with Samsung, proceeded to release its first ICS-based smartphone, the Galaxy Nexus, which was heralded as the ultimate Android smartphone, and was thereby pushed into the league of high-end devices.
The ICS platform is an absolute treat for hardcore Android fans, who are aching to try it out on their Gingerbread smartphones. And who can blame them? The ICS user interface (UI) is bold, beautiful and incredibly simple and convenient to use.
The ICS UI is actually a harmonious integration of the best elements from the Gingerbread phone and Honeycomb tablets. One of the biggest interface changes ICS brought to the smartphone department from Honeycomb was the virtual button design as seen in Galaxy Nexus.
The multitasking interface, another feature borrowed from Honeycomb and particularly new for phones, is given a boost with the ICS, thus enabling easy viewing of the last several apps used in addition to jumping instantly between tasks.
Other features include a powerful and faster Web browser that allows improved copy-and-paste functions, instant syncing and management of Google Chrome bookmarks, and an improved Gmail app with offline viewing. The software also features the ability to resize widgets which have their own dedicated tab plus a better voice integration system.
Galaxy Nexus may be the pioneer smartphone of Android's best-ever ICS OS and a pure ICS handset without any customization. However, it will certainly not be the last. Several big-name smartphone manufacturers are gearing up to release customized versions of ICS in 2012.
Here's a list of the top ten upcoming smartphones running on the ICS or expected to receive the update this year.
Samsung Galaxy S3
The South Korean electronics giant has generated so much buzz lately thanks to its much rumored and anticipated Galaxy S3. Although Samsung is yet to make an official announcement on the phone, habitually leaked details led us to believe that the smartphone will arrive on the ICS platform sometime in mid-2012.
Renowned tech blogger Eldar Murtazin, who furnished these claims, also added that the smartphone will sport an HD resolution screen, a 12 megapixel camera and a quad-core CPU that's clocked to a 1.5GHz or 1.6GHz processor.
HTC-Edge
The NVIDIA Tegra 3-powered HTC Edge is another device which is expected to be embedded with the ICS operating system. The Chinese-based software corporation is yet to confirm details on the phone's release date and specs. According to reports, HTC Edge is expected to come with 4.7-inch 1280 x 720 pixels screen, 1.5 GHz quad-core processor with 1GB RAM, 4G LTE, NFC, Beats audio technology, Bluetooth 4.0 version, 8 megapixel LED flash camera with 1080p video capture and a secondary 2 megapixel camera for video chat. The smartphone is rumored to release in Q2 of 2012.
Samsung Galaxy Note
Samsung Galaxy Note is already a smash hit since its launch in foreign shores last September. Although there's no official announcement on the release date, the phone/tablet hybrid is speculated to hit the U.S. market on AT&T's network in the coming weeks.
With Galaxy Nexus being incessantly popular for its ICS OS, it's quite likely that the Galaxy Note, which runs on Android's 2.3 Gingerbread OS, will get the ICS update at a later stage. The Galaxy Note sports an impressively large 5.3-inch WXGA Super 1280×800 AMOLED HD screen that's backed by a powerful 1.5GHz dual-core QualComm MSM8660 SnapDragon chipset and an Adreno 220 GPU processor with 16GB of internal memory.
The device also features an 8 megapixel rear-facing camera, a 2 megapixel front-facing camera, plus a new technology called WiFi direct, a feature which enables interactivity among several Wi-Fi devices without having to connect to a router.
Sony Xperia S
The super-stylish Xperia S, which is speculated for a Q1 release date with 2.3 Gingerbread OS on board, is expected to receive the latest Ice Cream Sandwich update in the Q2 of 2012.
The sleek device runs a dual-core 1.5GHz Qualcomm MSM8260 Snapdragon processor with 1GB of RAM and sports a 4.3 inch screen 720x1280 pixel LED-backlit LCD display with capacitive multi touch-screen. It also features a front-facing 1.3 megapixel camera for video calling and an impressive 12 megapixel rear facing camera with 1080p video capture capabilities. The Xperia S comes with the Mobile BRAVIA Engine and Timescape User Interface and boasts features like PlayStation certification in addition to many top-notch features.
Motorola Droid RAZR Maxx
Motorola's next generation Droid RAZR Maxx made its debut on Verizon's 4G LTE network Jan. 26. The powerful device, which runs on Android 2.3, holds promise for an upgrade to 4.0 Ice Cream Sandwich OS in the near future.
The RAZR Maxx boasts a beefed up 3,300mAH battery that claims support up to a whopping 21 hours of talk time on a single charge. The smartphone also comes equipped with a 4.3-inch Super AMOLED, 540 x 960 resolution display, an 8 megapixel rear-facing camera with 1080p video capture, a 1.3 megapixel front-facing camera and a 1.2 GHz dual-core CPU with 16 GB of onboard storage that's expandable to another 16GB.
Several other upcoming smartphones are also said to make its way to the ICS platform in 2012, including HTC Ville, HTC Primo, LG X3, and LG 3.0 Prada Phone.
MUST READ - Samsung Galaxy Note Releases Feb. 19: Top 10 Reasons Why iPhone 4S Should be Afraid
© Copyright IBTimes 2023. All rights reserved.