Samsung Galaxy S3 Leaked Photos Surface Again; Rumors Suggest Availability After One Week Of Release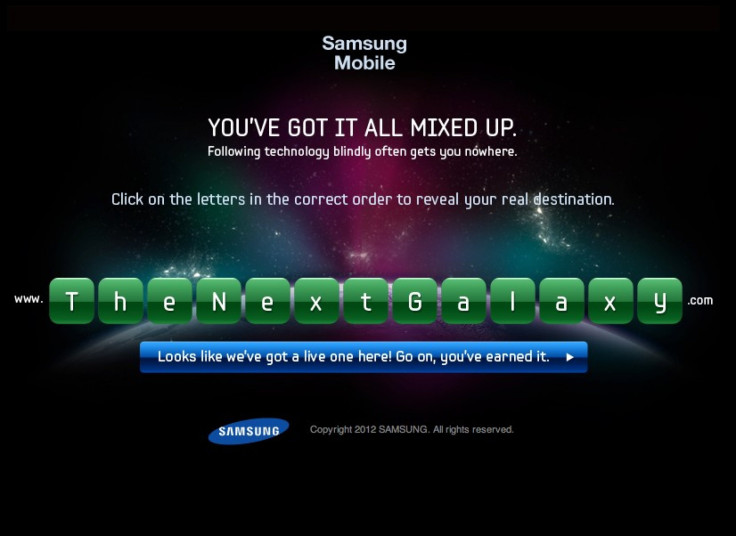 Over the past few weeks, a variety of leaked photos claiming to be those of Samsung's upcoming Galaxy S3 smartphone, surfaced online. While there is no official confirmation about the form factor of the device, many earlier reports said that Samsung used decoy cases for the test versions of its next-gen flagship smartphone to conceal the actual design of the device prior to its release.
Adding to the long list of purported leaked photos of the Galaxy S3, a couple of photos hit the Web on Tuesday. Samsung blog SamMobile published two photos of what it believes is the final release version of the next Galaxy smartphone.
As revealed by SamMobile's source, the unannounced Samsung smartphone would feature a sleek design, a unique rounded glass face and a 12-megapixel camera. One of the photos showed other details like the handset model number GT-i9300, Android version 4.0.4 and baseband version I9300UBLD8.
The site's source said that the South Korean tech giant would make the Galaxy S3 available after one week of its release and it might also unveil a second device at its upcoming press conference on Thursday.
Samsung want to show us more than only one phone! Our tipster is pointing on GT-I9800, said the website.
Meanwhile, rumors are rife that the Samsung Galaxy S3 will come with a number of key features, including a 4.8-inch full HD 1080p resolution with 16:9 aspect ratio display, a 1.4GHz Exynos 4 quad-core processor, 2GB RAM, a 12 megapixel rear camera, a 2 megapixel front-facing camera, integrated 4G LTE, Android 4.0 Ice Cream Sandwich, an ultra-thin ceramic case, Near Field Communication (NFC), Bluetooth version 4.0, assisted GPS with GLONASS, Wi-Fi with DLNA and hotspot functionality and a 2250mAh battery.
Reports surfaced last month suggesting that Samsung would unveil its iCloud competitor, dubbed the S-Cloud, during the Galaxy S3 announcement at the May 3 London press event.
Maeil Business [Google translate] reported, citing a leaked Samsung Electronics SW Consolidation Plan, that the service would be similar to Apple's iCloud, but without any limitations on the type of content users can upload. The service is also expected to offer access to popular TV shows, movies and music with free and paid content, which will be available across a range of Samsung devices. The amount of storage capacity is rumored to be more than 5GB, although it isn't clear whether that will be offered for free or for an associated charge.
Samsung, The Global Leader In Both Smartphone And Mobile Phone Market
According to a latest research report by the International Data Corporation (IDC), Samsung overtook Apple for the smartphone leadership position in Q1 2012. While Samsung captured 29.1 percent of the smartphone market as compared to just 11.3 percent last year, Apple captured 24 percent of the market share, which was a growth of around 6 percent.
Thanks to its gains in the smartphone market over the past two years, Samsung again topped the chart with 23.5 percent of the market share, dwarfing long-time global market leader Nokia with 20.8 percent of the market share.
IDC's senior research analyst Ramon Llamas said that Apple launched its popular iPhone 4S in additional key markets, most notably in China while Samsung experienced continued success from its Galaxy Note smartphone/tablet and other Galaxy smartphones.
With other companies in the midst of major strategic transitions, the contest between Apple and Samsung will bear close observation as hotly-anticipated new models are launched, said Llamas.
© Copyright IBTimes 2023. All rights reserved.