Samsung Galaxy S4 Specs: Exynos vs. Snapdragon Doesn't Matter, Says CEO JK Shin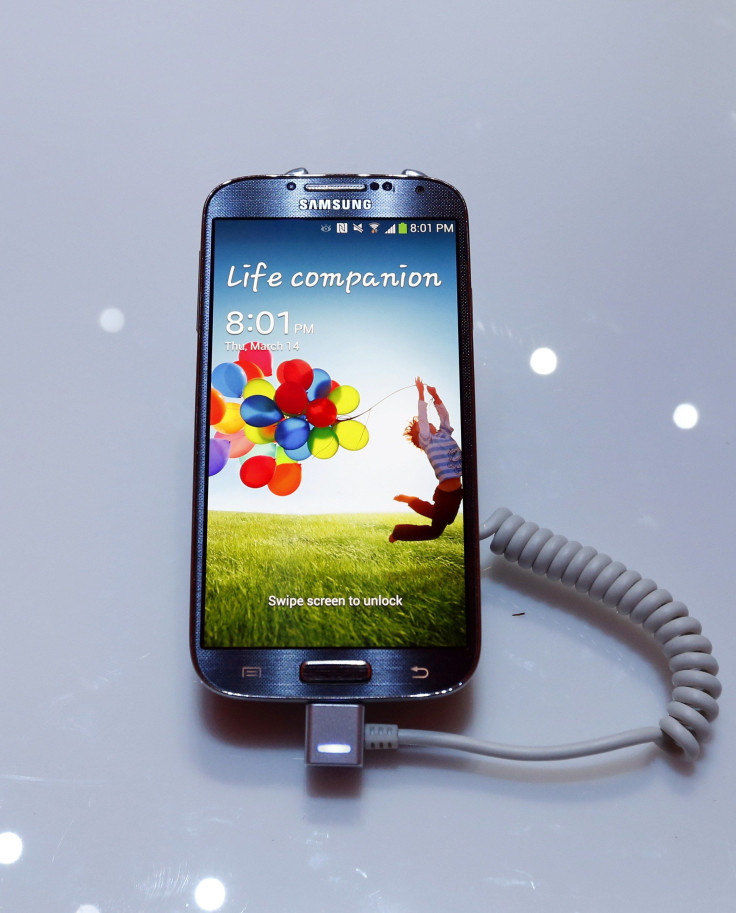 As Samsung begins the initial release of its Galaxy S4 smartphone this month, the company is telling consumers not to worry about which of the two variants they get. Two variants of the device that will be shipped to different countries.
The two different variants wil be shipped to different countries, and Samsung co-CEO J.K. Shin has spoken out to ensure consumers that it doesn't matter whether their country receives the Galaxy S4 built with Samsung's Exynos processor or Qualcomm's Snapdragon processor. They won't notice a difference in functionality, he says.
The Samsung Galaxy S4 will release in two main variants: one with the eight-core Exynos 5 Octa chipset and one with the quad-core Qualcomm Snapdragon 600 processor. While most countries in Asia and Africa will receive the Exynos variant, European countries, the U.S. and Canada will largely see the Snapdragon variant.
Samsung enthusiasts have been concerned that the Galaxy S4 with the quad-core Snapdragon processor won't be as fast or powerful as the one packing the eight-core Exynos processor. But according to Shin, the average consumer would not notice a difference between the two versions nor care once they've purchased the Galaxy S4. Speaking at a Samsung Experience store at New York's Union Square Best Buy on Wednesday, Shin explained that Samsung uses device components from several sources in order to minimize supply shortages. According to the co-CEO, the Exynos and Snapdragon processors in particular were selected because they provide complementary handling experiences.
Galaxy S4 Specs: Variants Are Nothing New For Samsung
This isn't the first time the Korea-based manufacturer has used both Samsung- and Qualcomm-built chipsets for different Galaxy S-series variants.
Samsung's 2012 flagship, the Galaxy S3, sold in two variants -- an international variant containing the Exynos 4 Quad processor, and a U.S. variant containing the dual-core Snapdragon S4 processor. Fans similarly worried that the Snapdragon variant would not be as powerful as the Exynos version, but the minor difference in the two models wasn't enough to slow down sales of the smartphone, as the Galaxy S3 went on to become the best and fastest-selling smartphone of 2012 globally. Additionally, the 2011 Galaxy S2 was sold in two versions, one with an Exynos 4 Dual for international customers and one powered by the single-core Snapdragon S3 processor.
The Galaxy S4 Exynos 5 Octa variant has already proved more powerful than the Snapdragon-powered Galaxy S4 in benchmark tests. With a 1.6GHz quad-core ARM Cortex-A15 processor and a 1.2 GHz quad-core ARM Cortex-A7 processor, Antutu benchmark scores indicate that the Exynos chipset provides faster processing speeds than the quad-core Snapdragon 600 chipset, which clocks in at 1.9 GHz.
While we agree that the average consumer will likely fare well with either the Exynos or the Snapdragon-built device, we can expect a difference when using apps that exert a lot of processing power. Developers and tech enthusiasts will likely favor the Exynos 5 Octa Galaxy S4 variant for this reason. The Exynos variant will also see better power efficiency because of its ARM big.LITTLE technology.
Samsung Galaxy S4: Exynos Favoritism Conspiracy?
Many consider that Samsung may have a bias in deciding which processor variants go to which countries. Not only has the U.S. never been designated to receive the Exynos variant of a Galaxy S series device – though consumers do have the option of importing unlocked devices – the company also reserves special variants of its flagship smartphones for its own country, Korea. The Galaxy S4 notably comes in an Exynos processor variant that is over clocked to 1.8 GHz and also features LTE capability, which the international Exynos variant lacks.
That said, component shortages may also explain why Samsung prefers to release its Galaxy S devices with different chipsets. Samsung's attempt to minimize supply shortages has not stopped delays of the Galaxy S4 now that the smartphone has begun to ship. Several U.S. carriers have already been forced to delay the release of their Galaxy S4 due to "shipping and inventory issues." While Samsung credits an "overwhelming demand" for the Galaxy S4 as the reason why availability for the device will be limited in its initial release, other reports suggest that Samsung may soon experience component shortages after being unable to produce enough RAM for its smartphones.
According to Android Authority, Samsung, which aims to produce the majority of its own components, has admitted that it will now begin outsourcing DRAM chips from rival manufacturer SK Hynix in order to keep up with an overall demand for smartphones.
Earlier reports also indicated that mass production of the Exynos processor, which is manufactured by Samsung, did not start soon enough in order to outfit all Galaxy S4 devices with the chipset, despite the fact that both the Exynos and Qualcomm processors were unveiled in early January. The Snapdragon processor will reportedly ship in 70 percent of Galaxy S4 handsets upon its initial release; however, several countries, such as the UK and many others in Europe, will eventually also receive the Exynos variant.
Though Samsung devices that exclusively carry Exynos processors do release in the U.S., such as the Galaxy Note phablet family, the company likely won't change its mind about selling anything other than Snapdragon-powered Galaxy S4 handsets in the U.S. For Exynos sticklers, however, Samsung will likely release the Galaxy Note 3 with its proprietary CPU later this year.
FOR FREE to continue reading
✔️ Unlock the full content of International Business Times UK for free
offer available for a limited time only
✔️ Easily manage your Newsletters subscriptions and save your favourite articles
✔️ No payment method required
Already have an account?
Log in
© Copyright IBTimes 2023. All rights reserved.