Samsung Premiere 2013 Event To Unveil New Galaxy And ATIV Devices On June 20: Top 5 Expectations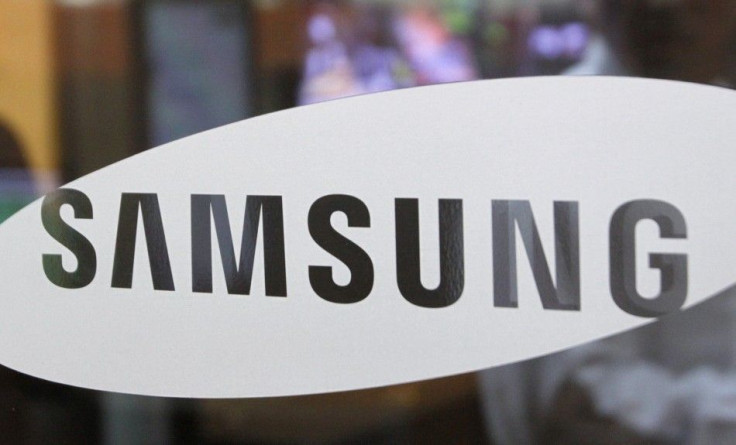 Samsung has announced yet another press event for next month, explicitly declaring that new Galaxy and ATIV-branded Windows devices will be on display. The event, called "Samsung Premiere 2013," will be held on June 20 at the Earls Court Exhibition Center in London.
The media received an invitation on Monday, which included a teaser poster with close-up images of some devices. As the invitation clearly pointed out, the event will have new Galaxy and ATIV devices from Samsung on the center stage. While Samsung's Galaxy brand is home to a line-up of Android devices, the company's ATIV brand represents only Windows-based devices from the company.
What else Samsung has up its sleeve at the event is still unknown.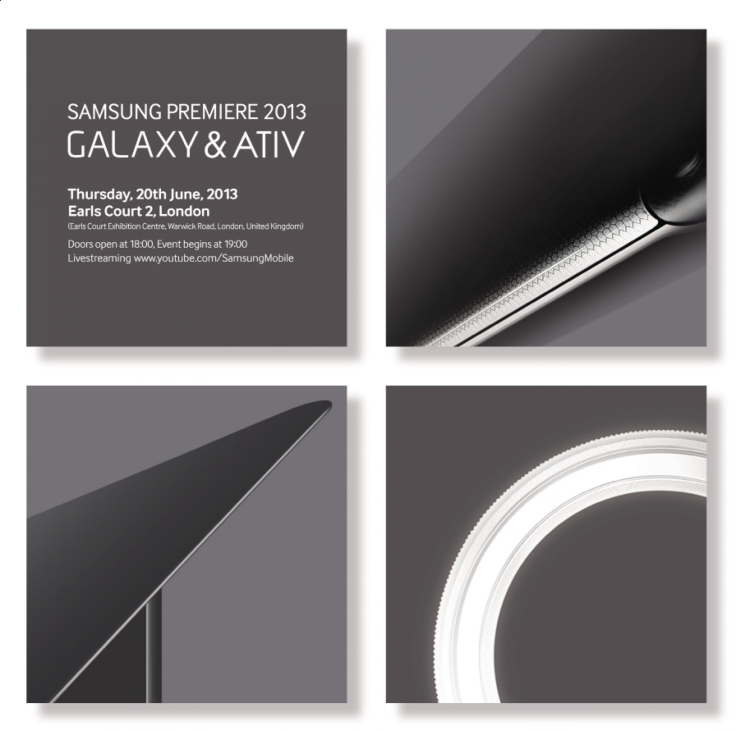 In the teaser poster shown above, the image in the upper right corner looks like the rear end of a laptop and the image in the lower left corner resembles a tablet with a slide-out keyboard. The third image in the lower right corner seems to be the most elusive one, and hints at the shape of a camera lens.
Based on all these speculations and earlier rumors, here's a list of five devices that Samsung is expected to take the wraps off next month:
1. Samsung Galaxy Tab 3
Rumors are rife that Samsung is preparing to unveil the Galaxy Tab 3 soon. The device is expected to sport a 10.1-inch display with 1280 × 800 resolution. The new tablet is rumored to be powered by a dual-core Intel Atom chipset, while running on the latest Android 4.2.2 Jelly Bean.
Another report from SamMobile on Monday pointed to device listings by a retailer called Adorama, which apparently revealed the price details of two Galaxy Tab 3 versions -- the 8-inch and 10.1-inch variants. According to the report, the Galaxy Tab 3 8.0 will cost $329.99 and the Galaxy Tab 3 10.1 will cost $379.99.
2. A New ATIV-Branded Smartphone
Samsung released the ATIV S, its first device running Windows Phone 8 operating system, at IFA 2012 in Berlin. The phone carried very similar hardware to the Galaxy S3 and had a 4.8-inch Super AMOLED display, a 1.5 GHz dual-core processor, 1GB RAM and an 8-megapixel camera as its main features.
Considering that the ATIV S received a fair review and the device is now more than eight months old, Samsung could well be thinking of introducing an updated version of the smartphone.
3. Galaxy S4 Zoom
With the picture of a lens ring-like structure, the invitation does suggest that Samsung may unveil something related to its camera products. One of the highly rumored products from the South Korean tech giant of late is a new camera phone, dubbed the "Galaxy S4 Zoom."
The device is expected to feature a 16-megapixel camera with 10x optical zoom, a 4.3-inch qHD Super AMOLED display, 8GB of internal storage capacity, Micro SD card support up to 64GB and the Android Jelly Bean operating system with Samsung's own Touch Wiz Nature UX interface.
4. Galaxy S4 Mini
Rumors of a smaller version of the Galaxy S4, presumably called the Galaxy S4 Mini, have been around for quite some time now. Various reports have suggested that the handset may include features like an Exynos 5210 1.6GHz dual-core processor, a 4.3-inch Super AMOLED display with qHD resolution (540×960), an 8-megapixel rear camera and 4G LTE among others.
5. A Windows-Based Tablet or Detachable Touchscreen Laptop
After foraying into the Windows Phone mobile OS with the ATIV S phone last year, Samsung may go for a new ATIV-branded Windows 8 tablet or laptop with detachable touchscreen. If it materializes, the device could turn out to be a competitor for Microsoft's Surface RT tablet.
The Samsung Premiere 2013 event will be streamed live on Samsung's YouTube channel at 7 p.m. BST/2 p.m. ET/11 a.m. PT.
© Copyright IBTimes 2022. All rights reserved.
FOLLOW MORE IBT NEWS ON THE BELOW CHANNELS