Samsung Premiere 2013: Galaxy S4 Mini, Active and Zoom Complete Galaxy S4 Family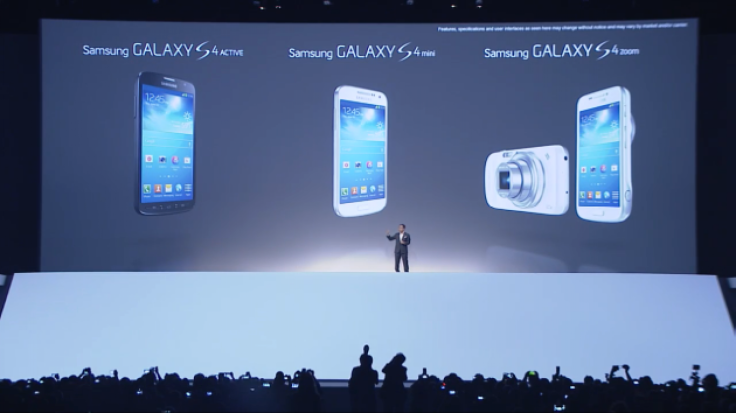 The Galaxy S4 mini, the Galaxy S4 Active and the Galaxy S4 Zoom were showcased at Samsung Premiere 2013 this evening, adding three interesting devices to the Galaxy S4 line. All three devices have already been announced. However, the media event gives a more detailed look at the smartphones designed to fit a "wide range of lifestyles."
"We're striving to take innovation one step further, and tonight we'll show you how we can bring our customers a wide variety of choices," head of sales and marketing at Samsung JD Lee said.
According to Lee, the S4 Active is designed for those who love outdoor sports, while the S4 mini is designed for those who prefer a compact design, and the S4 Zoom is favorable for those who enjoy taking lots of photos. With these three devices, the S4 range is now complete.
S4 Mini
The S4 mini is pegged as "compact yet extremely powerful" with a 4.3-inch qHD Super AMOLED screen, 8GB internal storage, a 1,900mah battery, 8-megapixel rear camera and 1.9-megapixel rear camera.
We also know that the mini features a Qualcomm Snapdragon 400 processor clocking in at 1.7GHz, 1.5GB of RAM and microSD support for up to 64GB of memory as well as full connectivity and Android 4.2.2 Jelly Bean with the TouchWiz UI on top.
S4 Active
Samsung Premiere MC Jason Bradbury introduced the S4 Active by submerging it in water and then taking photographs of the audience, showing that the device was not affected by the water. With an Ingress Protection rating of IP67, the S4 Active is waterproof, dust-proof, able to withstand various extreme conditions and protected for up to 30 minutes in one meter of water.
With aqua mode, users are able to take photos underwater. While the S4 Active's touchscreen does not work underwater, users can take photos using the volume controls in aqua mode.
Specs remain largely the same as the original S4 model, except the S4 Active has an 8-megapixel rear camera and 2-megapixel front camera. Color options include urban gray, orange flame and dive blue.
S4 Zoom
The S4 Zoom is the first smartphone to include a camera with 10x optical zoom and also features a 16-megapixel BSI CMOS sensor, a Xenon flash for low-light photographs and image stabilization.
In addition to standard S4 specs, the S4 Zoom includes special software features such as "in-call picture," which allows users to spend photos while on a phone call to the person with whom they are speaking. Its spin-dial camera interface has toggles for the camera's 25 smart modes. The "smart mode suggest" feature give options for three shooting modes that would be ideal for various conditions.
What do you think of the detailed look at the S4 mini, S4 active and S4 Zoom? Let us know in the comments below.
Follow me on Twitter @FionnaatIBT.
© Copyright IBTimes 2023. All rights reserved.