Samsung Smart Ring: Patent Shows Functionality, Usability Of The Wearable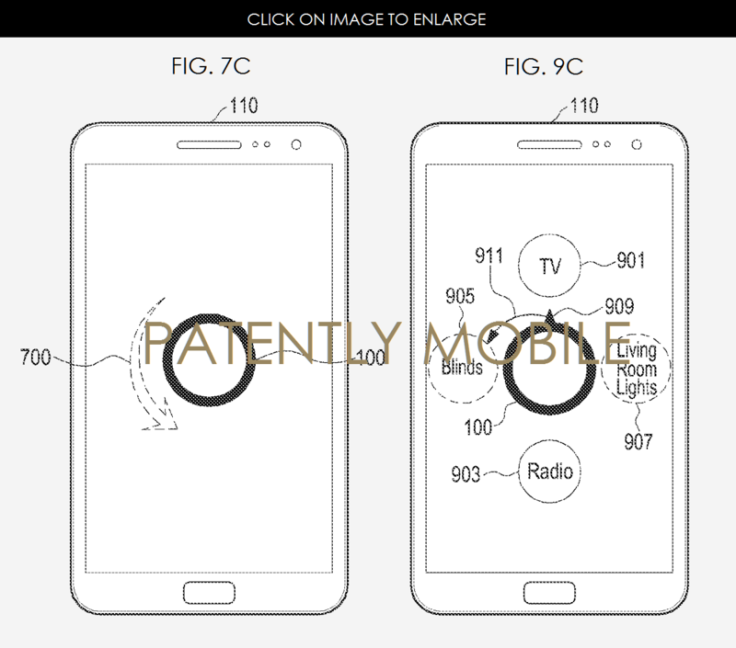 When it comes to wearable gadgets, smartwatches and smart bands have been very popular across the globe like the Apple Watch, Samsung Gear S2, Nike Fuel Band, Microsoft Band and others. They come in different sizes, price range and even colors. Meanwhile, the first-generation Google Glass looked very promising at the start, however, the popularity waned due to heavy price tag and privacy concerns. Now, a new report said that Samsung is working on a "smart ring."
According to Patently Mobile, a new patent filed by Samsung has details about the functionality of a smart ring. As it turns out, a smart ring will act as a controller for devices like smartphones, tablets, laptops, smart TV sets and smart home automation systems.
Apparently, Samsung's smart ring can be operated by rotating or turning the ring left or right. Predefined functions can be triggered by turning in the preset direction.
To top it off, upon using a compatible, paired smartphone, the ring can be used to maneuver "complex menus" with a truckload of functions. Meanwhile, GSM Arena said that Samsung already uses the rotating bezel concept in its Samsung Gear S2 and therefore, the smart ring could be an extension from there.
The patent also said that when the final product materializes, the Samsung smart ring should be able to change TV channels, adjust volumes, raise or lower the curtains and even switch on/off the lights. Apart from these routine tasks, the gadget will also be able to do certain tasks with regard to social networking sites like Twitter, Facebook and others.
Other than Samsung, Microsoft is also working on a similar gadget which will apparently understand gestures. This means, the Microsoft smart ring will ditch "rotations" earmarked for Samsung smart ring and instead, it will use gestures to turn on/off preset functionalities.
Google, on the other hand, is reportedly working on a magic ring to control the Glass. Not to forget, the search giant's next-generation Glass has already become one of rumor mill's favorite topics. Lastly, Apple seems to be working on a similar wearable ring as well.
© Copyright IBTimes 2023. All rights reserved.