Samsung, Volvo Discuss Electric Truck Partnership Ahead Of Tesla Semi Launch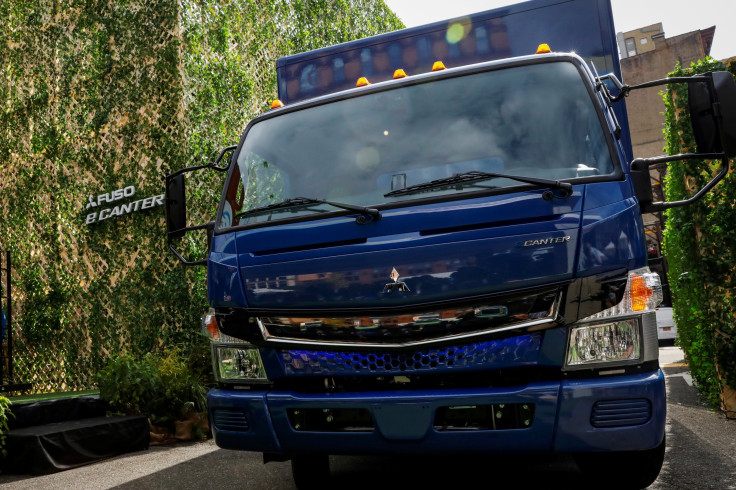 It seems like the age of electric trucks has begun. After Daimler and Tesla, it appears that tech giant Samsung might be moving into the vehicle segment.
Samsung is in talks with Swedish automotive company Volvo for developing commercial, full-size batteries that would power electric trucks, Korea Herald reported Thursday.
These big rigs are generally gas guzzlers with a large carbon footprint and are generally used in logistics, transporting large loads over long distances. Minimizing their impact could have huge benefits for the environment. Electric trucks could be a part of a 'greener' future, according to Claes Nilsson, president of Volvo Trucks.
Nilsson believes that battery technology developed by Samsung could be helpful in powering electric batteries. We are already collaborating with Samsung when it comes to battery technology. Where we are using the fully electric drivelines today is on the bus side. But as we move forward, we need (full electric lines for) trucks as well and yes, Korean industry, when it comes to semiconductors and battery and etc, are very advanced," he told Korea Herald on Thursday.
While Nilsson did not reveal the extent of collaboration between the two countries, he is confident that battery powered trucks are more promising than hydrogen powered trucks. Along with battery powered trucks, Volvo is also working on endowing its heavy duty vehicles with features such as emergency braking and lane-keeping support. Volvo plans to launch these trucks in South Korea first.
"The customer base in this county is demanding efficient types of trucks in transportation, we believe we have good product offers to this market," Nilsson said. "We also believe that (the) transportation environment here is very demanding in terms of weight and road condition and utilization, and very quality conscious customers can help us actually develop," he added.
The news about the collaboration between the two companies has come as Tesla is gearing up to launch its first electric semi-truck Thursday.
While Tesla is dependent on Panasonic for batteries, Volvo has chosen to partner with Samsung and use its battery technology.
The reason behind this might be that Samsung is working on solid stated batteries which are safer than the Lithium-ion batteries that are being currently used by companies such as Tesla and Daimler. Volvo hasn't revealed its plans about electric trucks, but, partnering with Samsung could give it access to smartphone technologies such as highly efficient semiconductors which could be scaled up for vehicles.
While the features of Tesla Semi-Truck are not yet known, it is expected to be a tough competitor in the segment.
If Elon Musk's exaggerated tweet on Wednesday is anything to go by, the electric truck will come with the evolved features of Tesla cars such as self-driving capabilities and supercharging.
© Copyright IBTimes 2022. All rights reserved.
FOLLOW MORE IBT NEWS ON THE BELOW CHANNELS